Fontaine-de-Vaucluse is a small Luberon town in Provence France. It is most famous for being the town where the source of the Sorgue River is located, which gives the town its name. The Fontaine-de-Vaucluse is the largest spring in France and one of the most powerful resurgent springs in the world. The main reason it is a tourist attraction is that the spring happens to be located in an enclosed valley at the mouth of a cave, surrounded by high cliffs with a ruined castle located high above, making it quite a picturesque site. The area is also famous for being the place where the Renaissance Italian poet and scholar Petrarch wrote about his love for Laura de Noves. Most travelers, like us, come here before or after a visit to nearby L'Isle sur la Sorgue to examine the source of all the water that runs throughout the pretty town. If you are heading to Fontaine-de-Vaucluse, we'll give you some tips and tell you about our experience visiting this little Provençal town.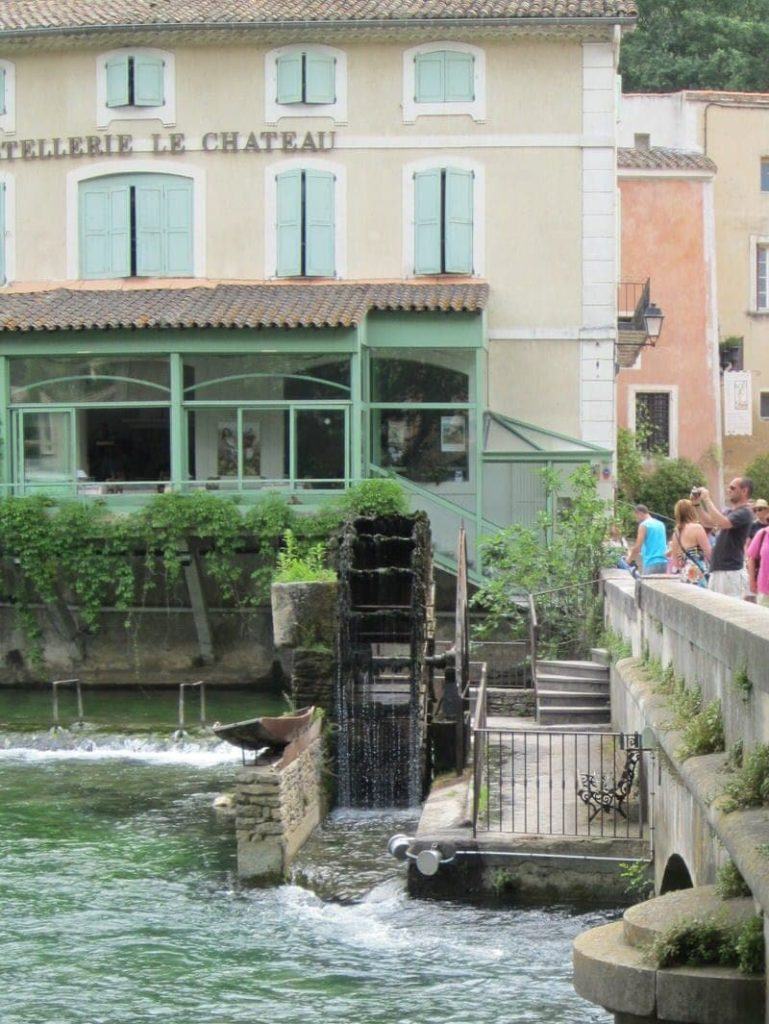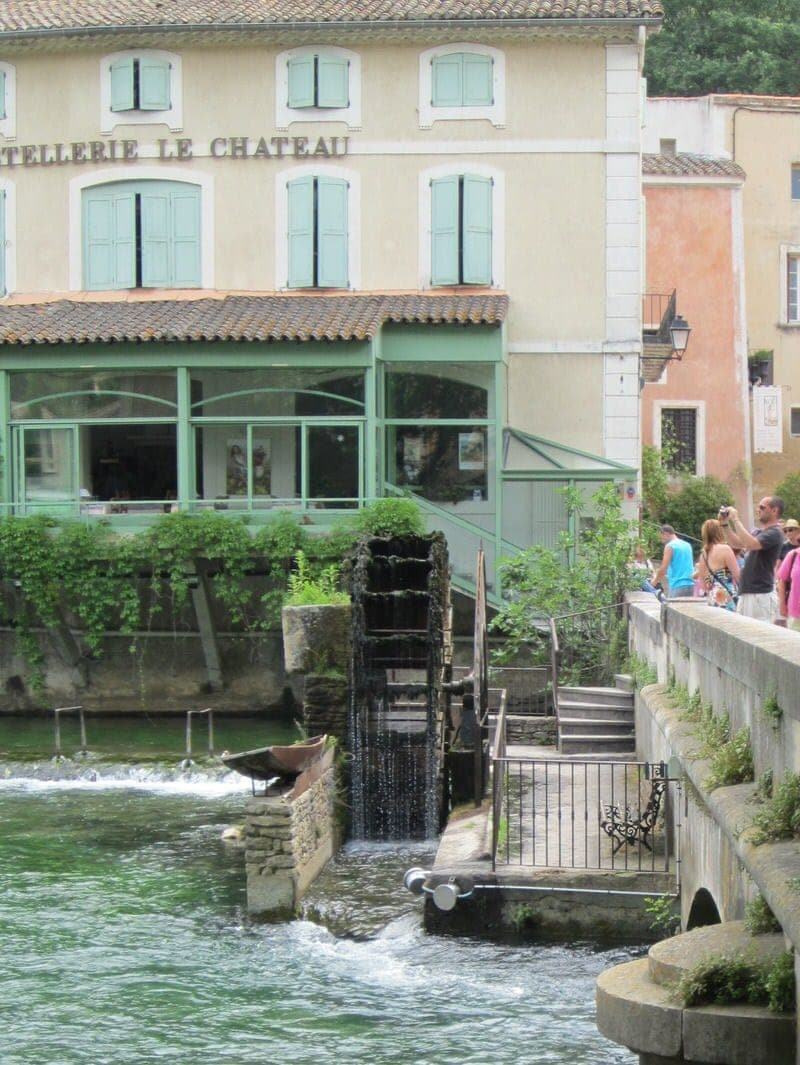 Basic Information on Visiting Fontaine de Vaucluse
Getting there?
Car: The town is located about a 15-minute drive from nearby L'Isle-sur-la-Sorgue. If you drive to Fontaine-de-Vaucluse, you'll find paid parking (3 to 5 euros) all around the outside of the town. We actually parked for free alongside the river near the Kayaks Verts; however, not sure we were actually allowed to do this.
Bus: While there is no train station in Fontaine-de-Vaucluse (you can get off in nearby L'Isle sur la Sorgue and take a cab or bus), local buses within the TransVaucluse network make stops in and around Fontaine-de-Vaucluse. The Line 6 bus that arrives and departs from Avignon stops in Fontaine-de-Vaucluse. You can check the TransVaucluse bus schedules online.
How Long is the Walk to "The Source"?
So you can't just park and walk right up to see the spring. Once you arrive, it is a 15 to 20 minute walk along the river to the actual spring. The walk is fairly level most of the way, but is a bit uphill towards the very end of the walk. Allow at least 30 to 40 minutes to walk to the source and return to your car without making any stops. Allow longer if you plan to make any stops or eat.
When is the Best Time to Visit Fontaine-de-Vaucluse?
If you are going there to see the river and "the source", the river is at its most dramatic in Winter and Spring. The very best time is after a flood as the river will be raging; however, if the river is low, it can be a much more lackluster walk. If you want to avoid crowds, try going early morning or early evening.
What else is there to do in Fontaine de Vaucluse other than walk along the river to "the source"?
There are a few unique but minor attractions to see in the town. Places in town you might want to check out during your visit, depending on your interests include: Le Musée-Bibliothèque François Pétrarque (Petrarch-related items and other artists' works related to the town) , Le Monde Souterrain Collection Nobert Casteret (underground limestone concretions and caves), Musée d'Histoire 1939–1945 (local history from 1939-1945) , Le Musée du Santon et Traditions de Provence (traditional Provençal nativity figures) , and the Vallis Clausa Moulin à Papier (reconstructed paper mill, free visits).
You can also get away from the other tourists by taking a hike in the area (ask at the Tourist Information Office for tips) or get better acquainted with the Sorgue River by taking a kayak to L'Isle-sur-la-Sorgue.
Where Can I Find More Information about Visiting Fontaine-de-Vaucluse?
The Fontaine-de-Vaucluse Tourist Information Office is located at Résidence Jean Garcin not too far from Place de la Colonne. You can also call the Tourist Information Office (tel: 04 90 20 32 22) or visit their official website for more information. Check out a Fontaine-de-Vaucluse map here. If you are in nearby Thor or L'Isle-sur-la-Sorgue, they can also provide you with information and maps for Fontaine-de-Vaucluse.
Our Experience Visiting "the Source" at Fontaine-de-Vaucluse
We arrived in Fontaine-de-Vaucluse in the early afternoon after visiting the large and colorful Sunday market at L'Isle-sur-la-Sorgue. Although there was plenty of paid parking available closer to the town, we decided to go the cheap route, and parked for free down alongside the river near the Kayaks Verts. This made our walk longer, but the weather was warm and it was a pleasant walk to the town.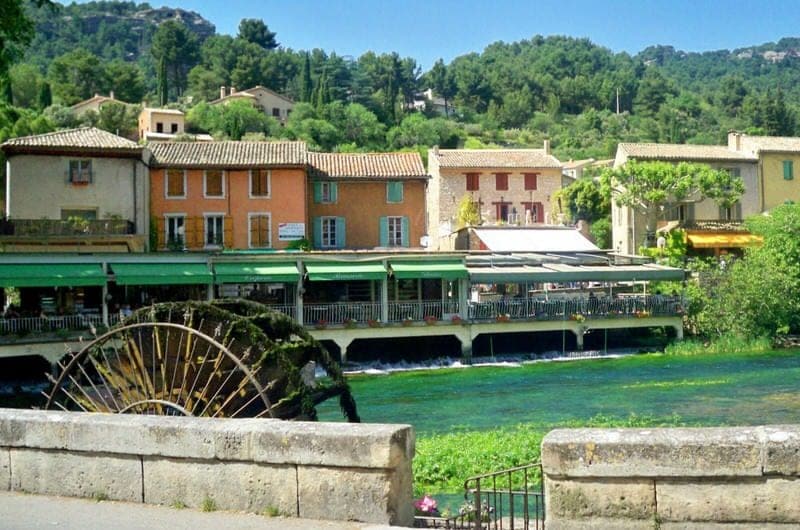 Once we reached Place de la Colonne, we saw signs for Chemin de la Fontaine which leads to the fountain. It is about a 15-20 minute walk from Place de la Colonne to the fountain. You'll see a number of places to stop along the way, including restaurants, cafés, museums, and souvenir shops. We only made a brief detour at the paper mill (worth a stop) and to stop for an ice cream cone to share since we were getting hungry, but otherwise we just headed to "the source". It was a gentle uphill walk as we followed the river. Here are pictures along our walk:
We were in luck as the water was very high and had flooded the area, so the river was raging. We were there in the Spring and were told that the walk is much less interesting when the water level is low (typically summer and fall).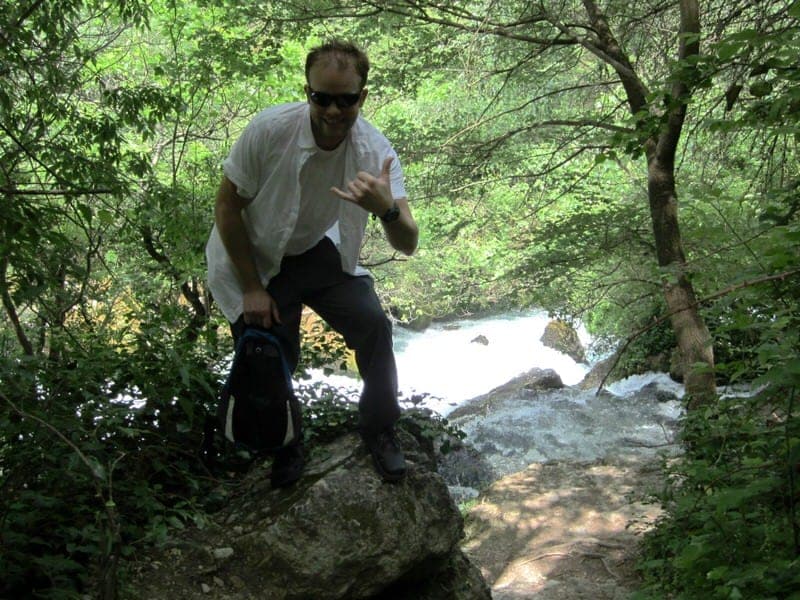 Even though the spring was high, the actual "source" was a bit of a disappointment as there isn't too much to look at other than a large pool of still greenish water. After seeing "the source," we headed back to our car and went home for a late lunch.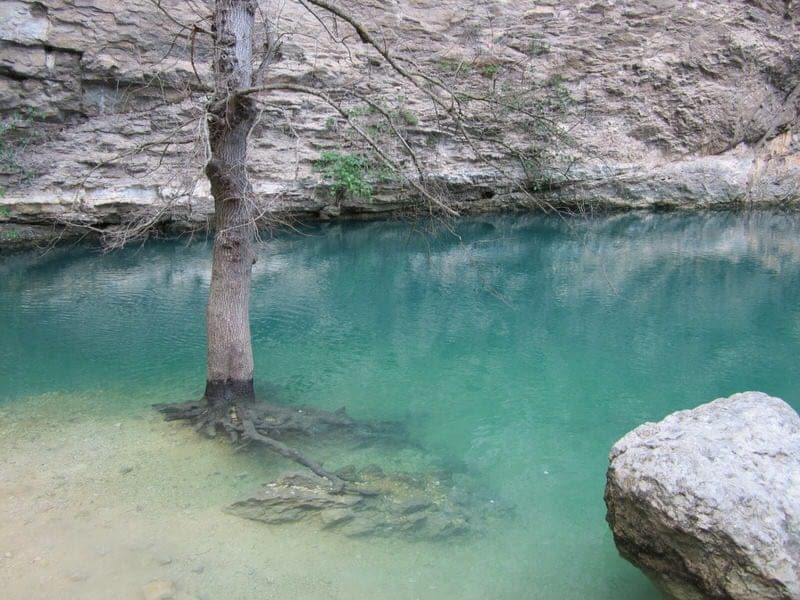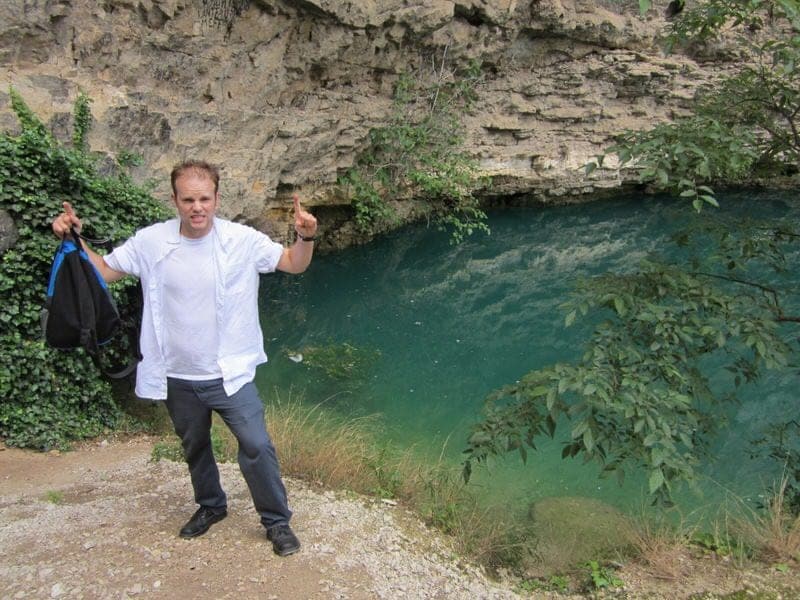 Honestly, we were glad we stopped in Fontaine-de-Vaucluse, but we didn't feel like this was a must-see sight. It was a pleasant and scenic walk and the history of the area and fountain are quite interesting; however, it was a bit crowded along the road when we visited (visit early morning to avoid crowds for a more peaceful walk) and there were quite a few tacky shops along the path that dampened our enthusiasm for the town. The museums here are quite unique and specialized, but were not about things we were highly interested in and since we were hungry, we didn't take time to explore them as we might normally. We do wish we would have stuck around a bit longer and hiked up to the castle ruins to get away from the crowds and get some great views of the valley, but we were starving and wanted to go home for lunch. Overall, we think that If you are already headed to L'Isle-sur-la-Sorgue (definitely worth a stop in our opinion, especially for the Sunday market) then this is a worthy place for a quick stop.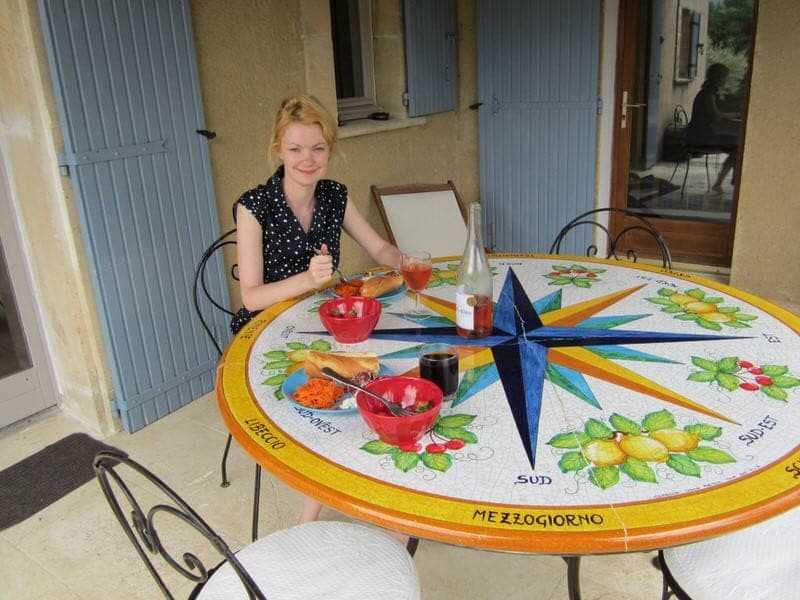 What do you think? Have you visited? We'd love to hear from you.