One of the most notable people to live in Key West was writer and avid traveler Ernest Hemingway, and as a visitor you can still find many traces of Hemingway in Key West.
In April 1928, Hemingway and his wife Pauline Pfeiffer would come to Key West to pick up a car and while waiting for the delayed car to be delivered, Hemingway would explore the city and eventually fall in love and make Key West one of his homes. It would be during this time that Hemingway would fall in love with deep sea fishing, write several novels, welcome the birth of his sons Patrick (1928) and Gregory (1931), meet his third wife, and make many life long friends.
Of course, it is impossible to recreate the Key West of Hemingway's time, a much smaller and more isolated city during the Great Depression, but one can trace and recreate a bit of Hemingway's experiences even today.
We'll share 12 ways that you can find Hemingway in Key West and share our own tips and experiences based on our own recent visit to Key West.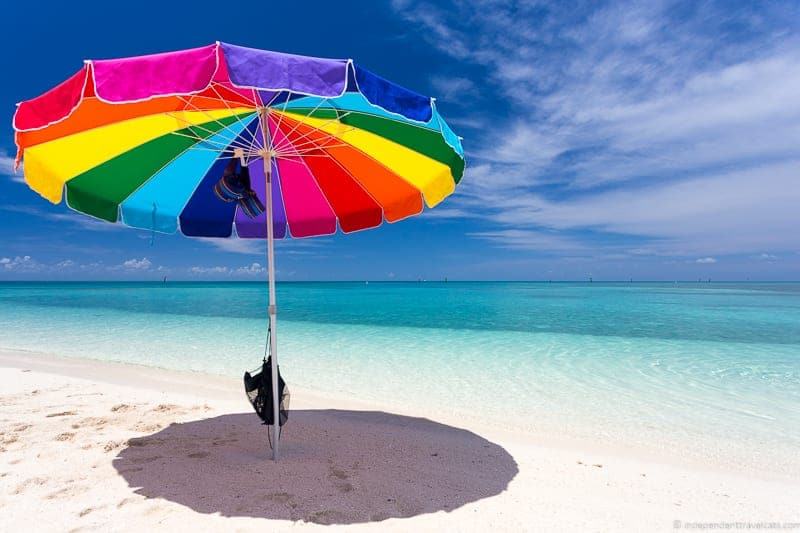 Hemingway in Florida
See Hemingway's First Home in Key West
Most visitors go to see Hemingway's home on Whitehead Street; however, it was not the only place that Hemingway lived during the ten years he spent in Florida. When Hemingway arrived in Key West in April 1928 with his wife Pauline Pfeiffer by ocean liner, they first lived in the Trev-Mor Hotel which was built in 1919 and is located at 314 Simonton Street.
Hemingway and his wife initially were housed here by the Trev-Mor Ford Agency, which occupied the ground floor of the building, to apologize for not having their car ready when they arrived in Key West. Apparently both the hotel and the town were to his liking as they resided here off and on for two years! He wrote parts of A Farewell to Arms during his time here and also developed his strong love and passion for deep water sport fishing.
The former hotel later became a private residence known as Casa Antigua in 1978. But today you'll find an escape room here in the historical building. There are several puzzles to choose from, and one even has a Hemingway theme. You can find our more about the escape room here.
Visit the Hemingway House & Museum
After two years of leaving and returning to Key West, the Hemingways decided to find and buy a home of their own in Key West. Financed by Pauline's uncle, they purchased a then-abandoned Spanish Colonial home built in 1851 by Asa Tift, a wealthy marine architect and salvage wrecker.
The Hemingways restored the house and would move in during 1931 with their two sons and it would be the primary home of Ernest Hemingway until 1940. In 1940, Hemingway would move to Cuba with his third wife Martha Gellhorn. However, this house would remain Pauline's home where she raised their two sons and also ran a fabric and upholstery business until her sudden death in 1951.
The house is now a museum, The Ernest Hemingway Home and Museum, and one of the most popular tourist attractions in Key West. It is also probably the best way to learn about Hemingway in Key West.
In addition to the house, interesting features include the swimming pool which was the first in-ground swimming pool in Key West, Hemingway's writing studio located on the second floor of the free-standing carriage house, the Sloppy Joe's urinal in the garden, and of course the many cats who roam the property!
About half of the cats at the Hemingway property are polydactyl, having 6 toes, and most of the cats are believed (or at least said) to be descended from Hemingway's six-toed cat Snowball. All cats are given the names of famous people, such as Clark Gable and Martha Gellhorn.
Guided tours here are regularly given with no reservations needed although the museum currently only accepts cash for the entrance fees. The guided tour was quite informative and afterward you are free to wander the property and commune with the gardens and of course the cute kitties! You can find out more information about visiting the museum here.
This was definitely a highlight of our time in Key West and a must-visit if you enjoy historical houses, Ernest Hemingway, cats, and/or James Bond movie filming locations (scene shot here for License to Kill). Something for everyone!
Have Breakfast or Lunch at Blue Heaven
Ernest Hemingway loved boxing and would both fight and referee matches at his Key West home; however, once the swimming pool mentioned above covered most of the boxing arena, Hemingway took to refereeing Friday night boxing matches of local fighters at a nearby saloon located at 729 Thomas Street.
That saloon is now a very popular Key West restaurant called Blue Heaven. Whereas Hemingway and his friends would often have a cheap breakfast at the long-gone Mrs. Rhoda Baker's Electric Kitchen (830 Fleming St.), I'd highly recommend a breakfast today at Blue Heaven.
The property through the years has been everything from an ice cream parlor to a bordello, hosting cock fighting, dancing, gambling and the Friday night boxing matches. This place brims with over 100 years of Key West history and is quite laid back, especially in the outdoor area where diners can sit among the roosters, almond and lime trees, and an eclectic set of Key West-style funky decorations.
We ate inside at Blue Heaven for breakfast as the outdoor area was fully booked (plan ahead and make reservations!), and I loved the BLT lobster egg benedict, which was a poached egg atop an English muffin topped with lime hollandaise with lobster, bacon, lettuce, tomato, and avocado. We also shared some of Betty's Banana Bread and a slice of their popular Key Lime pie. Best breakfast I had during my time in the Florida Keys!
Celebrate Hemingway's Love of Cuba
Hemingway's time in Key West gave him ample time to visit Cuba, only 94 miles away. He would eventually spend about 20 years living part-time in Cuba. It was in 1928 that the Hemingway family would first visit Cuba en route from Key West to Spain.
Ernest Hemingway would return later on fishing expeditions and eventually would purchase a home near Havana, named Finca Vigía, after marrying his third wife Martha Gellhorn in 1940. Key West has over 150 years of Cuban history and there is a rich Cuban heritage in Key West although it may be a bit difficult to find.
The best place to learn about the Cuban history of Key West is probably the San Carlos Institute (516 Duval Street) which was founded by Cuban exiles in 1871 as a patriotic and educational center and now hosts a library, art gallery, school, and museum with exhibits focused on Cuba's history and the history of the Cuban-American community in Florida.
Other places to look for it are in the roosters on the streets (many are believed to be descended from Cuban roosters brought to the island for cock fighting), in the remnants of the once booming cigar industry (there were once around 200 cigar factories in and around Key West – see Key West Historical Marker Tour website for good cigar industry info and locations), and in the Cuban food and coffee.
It is claimed that Key West (and Miami) offers some of the best cafe con leche, a mix of espresso shots and hot milk hand-whipped into a froth, and Cuban sandwiches outside of Cuba. Five Brothers and Cuban Coffee Queen are two places you might try for Cuban coffee (traditionally eaten with buttered toast) as well as sandwiches. El Siboney and El Meson de Pepe are both popular local Cuban dining spots.
During our time in Key West, we had iced cafe con leche at the Cuban Coffee Queen coffee stand and a dinner at El Meson de Pepe, a family owned and operated Cuban restaurant. At El Meson de Pepe, our group shared several of the appetizers and then Laurence and I happily split the sampler plate, which included lechon asado, ropa vieja, and picadillo, followed by a slice of homemade Key Lime pie.
If you are looking for something a bit more alcoholic, you can get a taste of the Caribbean at some of the local bars in the form of mixed tropical drinks like a Papa Double (daiquiri without added sugar). The drink probably most associated with Cuba is rum.
You can even tour a local rum distillery, in fact there are two you can tour. There is Papa's Pilar, which offers both dark and blonde rums and is named after Ernest Hemingway's boat Pilar, which Hemingway would sail around the shores of Key West and the Gulf Stream near the Cuban Coast (boat has been preserved in Cuba). The Key West distillery offers almost daily guided tours to visitors.
The second rum distillery in Key West, Key West First Legal Rum Distillery, opened in 2012 and is located in a former Coca-Cola bottling facility. They offer regular traditional rums as well as speciality flavored rums. The distillery offers daily free tours and tastings to visitors. A third called Key West Distilling only does tours and tastings by appointment only.
If you are looking to try some local dishes, including Cuban foods, seafood, and rum, consider doing a food tour like this small group tour.

Find Papa's Bust at the Sculpture Garden
If you do eat at El Meson de Pepe, take a short walk to the nearby Key West Historical Memorial Sculpture Garden, a small sculpture garden located in Mallory Square. This little leafy square was opened in 1997.
Currently there are 36 bronze busts of people chosen by a committee to be the most influential people who have resided in Key West. Not surprising you'll find Hemingway here along with his friend charter boat captain Edward "Bra" Saunders and many other famous former residents you may recognize.
The garden is located in Mallory Square on the corner of Wall Street and Tifts Alley. Look between the Key West Chamber of Commerce and El Meson de Pepé restaurant.
If you visit here around sunset, can can then walk over to the nightly Sunset Celebration that takes place on Mallory Square. A great place to view the sun setting over Sunset Key.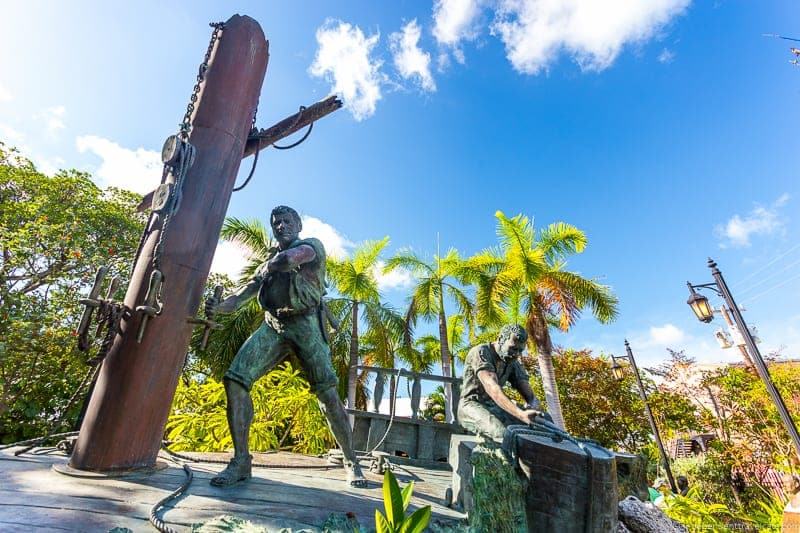 Visit the Custom House Museum
Next to Mallory Square and the El Meson de Pepe restaurant, you'll find the Custom House towering over the historic seaport. Originally home to the island's custom office, this building now serves as a museum run by the Key West Art & Historical Society, depicting over 200 years of Key West history.
Exhibits include information on events such as the European discovery of Florida, the mysterious sinking of the U.S.S. Maine, and Henry Flagler's railroad that joined the Florida Keys to mainland Florida and on famous residents such as Ernest Hemingway.
A permanent exhibit focuses on Hemingway's life in and impact on Key West, displaying a few cases of his personal items. There are also often temporary exhibits at the Customs House related to Hemingway and during our visit there was a series of 59 original pen-and-ink drawings by marine wildlife artist Guy Harvey that depict the storyline of Ernest Hemingway's novel, The Old Man and The Sea.
A great way to learn more about Hemingway in Key West and more generally about the interesting history of the city.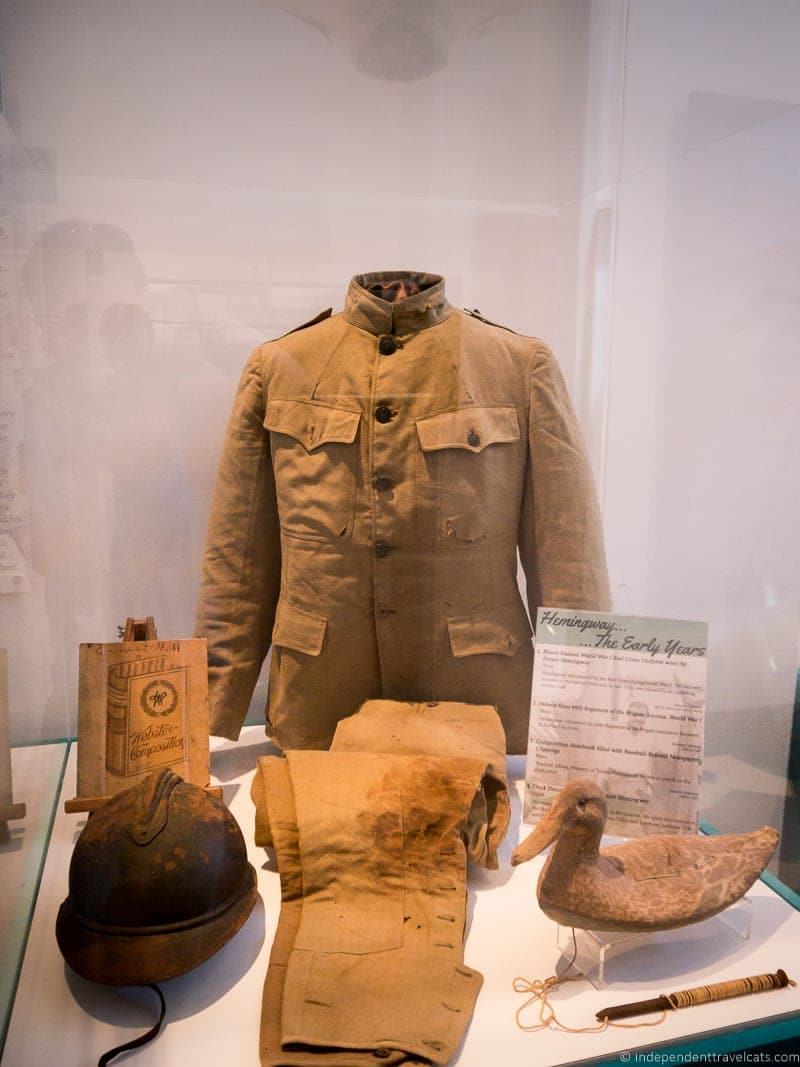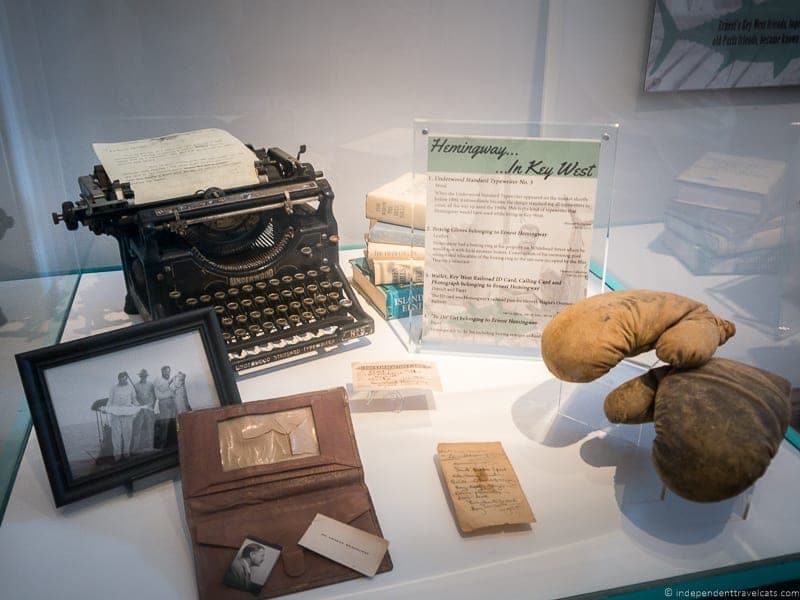 Read a Hemingway Novel During your Trip
Hemingway wrote several of his novels (or at least parts of them) during his time in Key West, including For Whom the Bell Tolls, Death in the Afternoon, The Green Hills of Africa, and several short stories including "The Snows of Kilimanjaro".
I personally love reading books written about a particular destination in which I am traveling and have read Hemingway's A Moveable Feast while in Paris, The Green Hills of Africa while on safari in East Africa, and "The Snows of Kilimanjaro" while climbing Kilimanjaro.
Perhaps the best read for Key West is the novel, To Have and Have Not which is about a fishing boat captain who runs contraband between Florida and Cuba during the Great Depression. Unfortunately, To Have and Have Not is not one of Hemingway's most acclaimed novels, so other great reads might be The Old Man and the Sea and Islands in the Stream which were both inspired by Hemingway's time on his boat Pilar in both Florida and Cuba.
Get on the Water
Hemingway's father would introduce him to fishing as a boy, but it would be in Key West that Ernest Hemingway would develop his strong love and passion for deep water sport fishing. Introduced by Key West native Charles Thompson, he would soon be fishing regularly with a group of friends and locals he referred to as his "Mob".
His love of deep water fishing would be one of the main reasons Hemingway would choose to spend much of the rest of his life in reach of the these waters, first in Key West and later in Cuba. Hemingway eventually bought his own fishing boat, Pilar (his nickname for his wife Pauline), in 1934 and regularly fished off the shores of Key West, Marquesas Keys, Dry Tortugas, Bimini, and the Gulf Stream off the coast of Cuba.
Today many people still come to the Florida Keys to go fishing and Islamorada is known as the sportfishing capital of the world. While Hemingway would catch up to 7 marlin in one day (setting a world record in 1928), today's fishers have to focus more on conservation and the depleted supply of fish, but can still find marlin, sailfish, mammoth tuna, and other fish of Hemingway's days in these waters.
You can find out more about fishing during your visit here. If you want to take part you might consider a private fishing charter tour like this one.
No one in our group of travel bloggers was very keen on sport fishing, but we did all spend most of the day on a boat off the shore of Looe Key enjoying a day at sea during the quirky Lower Keys Annual Underwater Music Festival!
During your time in the Florida Keys, you'll want to plan at least one trip out on the water. There are lots of gear rental shops and tour options. These include snorkeling, dolphin watching, joining a sunset party cruise, sailing, a sunset champagne cruise, kayaking and snorkeling, Scuba diving, deep sea fishing, or a full day out on the water.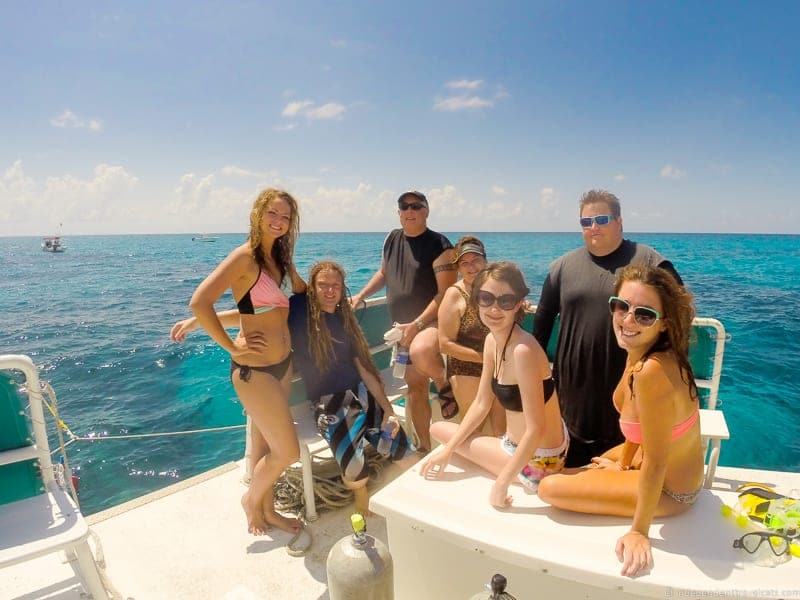 Get Marooned at Dry Tortugas National Park
The Dry Tortugas is a cluster of 7 small islands located 70 miles west from Key West. On one island sits historic Fort Jefferson which is one of the nation's largest 1800's masonry forts, helping to earn these islands National Park status in 1993.
The Dry Tortugas National Park also happens to have have been one of Hemingway's many favored fishing spots. During one such fishing trip with members of the "Mob", a strong tropical storm marooned the group at Fort Jefferson for about 2 weeks. During this time, they depended on the canned goods they had brought and seafood they were able to catch during breaks in the storm.
It is also said that Hemingway may have met his later first mate Gregorio Fuentes at Dry Tortugas while they were both marooned there during a storm (there are a few versions of how and where they met).
You probably don't want to get marooned here, but you can pretend to be as there are a handful of primitive campsites available on a first-come, first-served basis (you must take the ferry if you want to camp). After sunset, with the exception of a few park employees and your fellow campers you'll have this area completely to yourself and it'll really feel like you are on a deserted island.
Even if you are not up for primitive camping, you should still head to Dry Tortugas National Park to visit historic Fort Jefferson, explore the clear waters around the island, view the bird and marine wildlife, and take in its serene beauty.
You can get here by taking a catamaran, the Yankee Freedom ferry, or by a chartered seaplane. We visited by seaplane with Key West Seaplane Adventures, which although more expensive than by boat is quicker and more exciting. Although if I returned, I'd probably choose the catamaran tour as it also includes snorkeling and meals.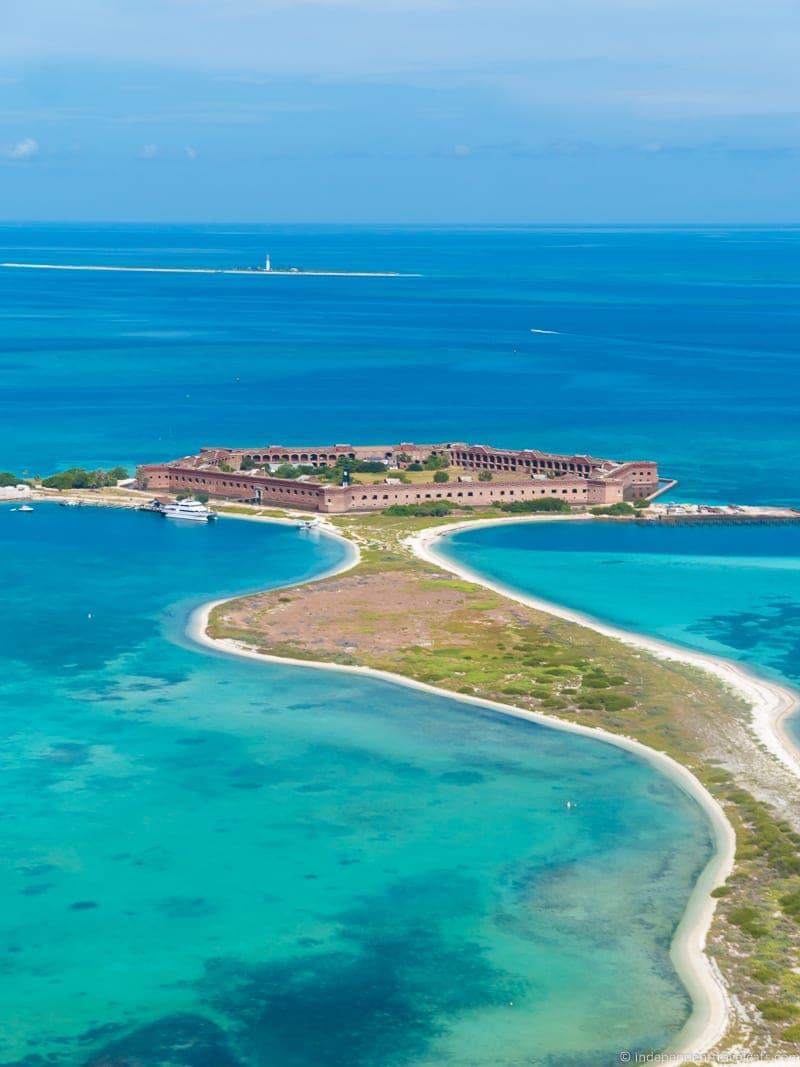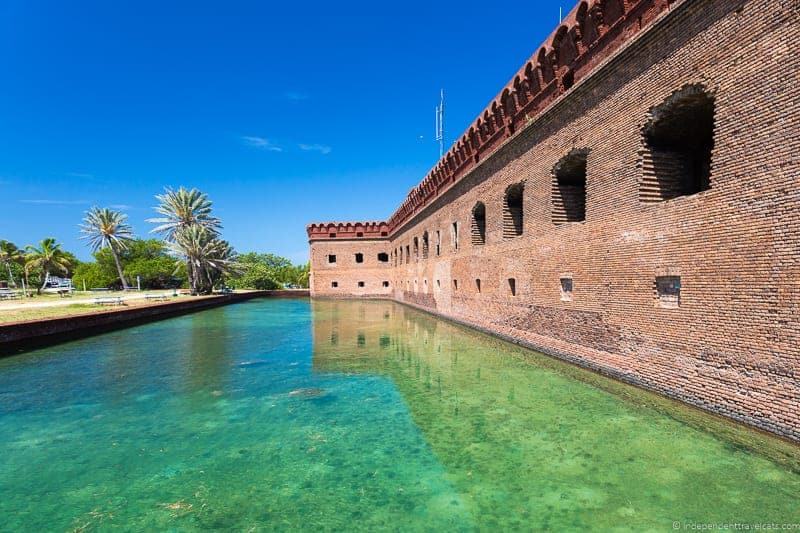 Eat Well in Key West à la Hemingway
If you didn't know that Hemingway loved sport fishing before reading this post, you do now! And he also loved to eat his catches and would eat a lot of seafood while out on the water on his long fishing expeditions. If you've read A Moveable Feast, you'll also know that Hemingway loved oysters and more generally the whole experience of eating well whenever he could.
Key West is a great place to indulge in fresh local seafood and to eat well. What is locally-caught is going to depend on the season so be sure ask at the restaurant if you want something caught in Florida waters. Just note that when you see dolphin on the menu, its mahi mahi not dolphins like Flipper. You'll also find local seafood and fish related festivals in the Keys such as bonefish fishing competitions and stone crab eating contests.
But even if you don't like seafood, you're sure to find a place to indulge in the act of eating well à la Hemingway. For instance my favorite dining experience in Key West was at Latitude's located at the 5-star Sunset Key Cottages on Sunset Key. At Latitudes, you can eat inside the Ernest Hemingway Room, where photos of Hemingway adorn the walls or choose to sit outdoors overlooking the Gulf of Mexico and watch the Key West sunset.
At Latitudes, Restaurant we chose to sit outside and watch the stunning sunset which was a perfect spot to drink a Key lime martini. Luckily we got to try a bit of everyone's food in the group (everything was good) and I would highly recommend the lobster and crab cake, the pork belly appetizer, the snapper, the waygu beef skirt steak, and the lobster tail.
But you don't have to do fine dining to get good seafood in Key West as you'll have dozens of options. We also had a nice casual seafood lunch near the waterfront at Turtle Kraals Restaurant & Tower Bar (we loved their ceviche sampler!).
Outside of Key West, we had memorable fish dishes at Marker 88 (great beachside setting in Islamorada) and the casual funky The Fish House in Key Largo (recommend trying one of the fresh catches matecumbe style!).
You can take a Hemingway inspired food tour like this if you'd like to sample some food and see some of the places Hemingway ate.
There are also more general Key West food themed walking tours. If you are looking to sample lots of local seafood dishes you might consider this seafood lovers food tour. Or for those who want some seafood but also want other local specialties, consider this food tour or this popular small group food tour.
Attend the Hemingway Days Festival
If you really love Hemingway, you'll want to book your trip to coincide with the annual Hemingway Days festival that is held each year in Key West. The festival coincides with the author's birth (July 21st) and includes several days of Hemingway related events.
These events include readings and booking signings, paddle boarding and running competitions, a Hemingway look-alike contest, and a one-of-a-kind "Running of the Bulls" event. The Hemingway Days events also often coincide with the annual Key West Marlin Tournament which includes big cash prizes.
Sadly, we missed the Hemingway Days Festival by only a week or so, but we would love to see this quirky festival in person. This is your chance to wander the streets with dozens of men dressed like Hemingway!
Have a Drink at Sloppy Joe's
Hemingway is well known for the time he spent in the bars, whether it was Paris, Key West, or Havana. In Key West, Hemingway was a regular patron at a bar run by his close friend "Sloppy Joe" Russell from 1933 to 1937 at the site that is now occupied by Captain Tony's Saloon (428 Greene Street).
In 1937, Russell decided to move his bar in order to get cheaper rent a half a block away to the site of what is now Sloppy Joe's (201 Duval Street).
It is unclear if the bar at the first location was ever officially called Sloppy Joe's or not, which has led to a recent lawsuit between the two bars in the use of the name. The two have since settled out of court. While many things are disputed, it is pretty clear that Hemingway drank at the bar at both locations.
Hemingway spent more time in the first location (Captain Tony's) and would also meet his third wife, Martha Gellhorn, there in 1936. Hemingway often stored his belongings at the bar and after his death, many of his personal effects were found in the second location and some are on display in Sloppy Joe's today.
So you can choose which to visit. Captain Tony's is more laid back, quirky, and a bit of dive bar whereas Sloppy Joe's is more upscale and tourism focused. Hemingway would have probably suggest that you take the time to have a scotch and soda, a dry martini, or a Papa Double in each!
If you are looking to discover some other bars along Duval Street and want some friends, you might enjoy doing a pub crawl tour in Key West.
There you have it, 12 different ways and places you can experience a bit of Hemingway in Key West.
If you are looking for more things to do during your time in the Florida Keys (not everything is about Hemingway!), check out Laurence's guide to things to do in the Florida Keys.
Where to Stay in Key West
There are lots of accommodation options in Key West. We've chosen some that we think you might like, including a number of properties with some kind of Hemingway theme or connection.
You can see more options for Key West on booking.com here.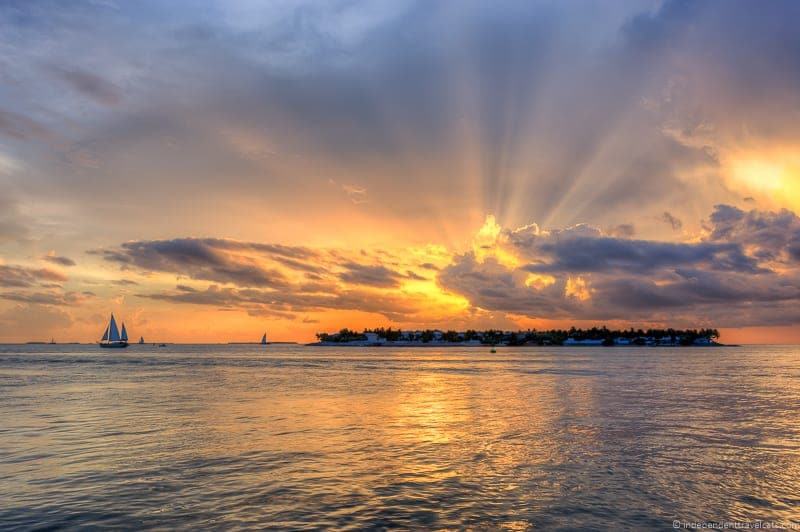 If you were in Key West, which of the above things would be on your itinerary? If you have been to Key West, feel free to share any additional Hemingway tips or share your own experiences. As always, feel free to ask us any questions about our trip to Key West.
**Disclosure: The majority of our food, lodging, attraction fees, and transportation in Key West was provided by The Florida Keys & Key West tourism board as part of a press trip; however, this article contains only our own honest thoughts and opinions. We were not compensated for the writing of this post.**