These colorful handwoven Turkish hammam towels from sorbet ltd have us dreaming of Turkey! Ethan and I have been thinking about visiting Turkey within the next year and we were very delighted to have the opportunity to review a set of sorbet-colored hammam towel hand-woven in rural Turkey. These towels, also called peshtemal towels, have a long and important history in Turkish social life and have been worn as clothing, used in ceremonial bathing of brides to be, and today are mainly associated with their use in traditional Turkish baths or hammams. Recently, Turkish hammam towels have also been popping up on beaches, pool lounge chairs, yachts, and in travelers' suitcases as these towels are not only beautiful but lightweight, quick-drying, and made of natural absorbent fibers. We've used ours mainly as beach towels, but one of the problems we have with all beach towels is them blowing away in the pesky wind, and this is a particular issue with these towels as they are so lightweight. That's where we discovered The Beach Towel Clip; these handy beach clips manufactured by jdm designs limited keep our towels firmly in place on sandy beaches. These two products have been a perfect fit for us so we thought we'd discuss them together. We have primarily featured travel-related products from American small business owners on the blog, but today we are proud to introduce two British small businesses, sorbet ltd and jdm designs ltd. The British entrepreneurs behind these companies both came up with the business idea while traveling internationally on a beach holiday—one in Ibiza and one in Turkey— and are both now selling products designed to help other beach-bound travelers.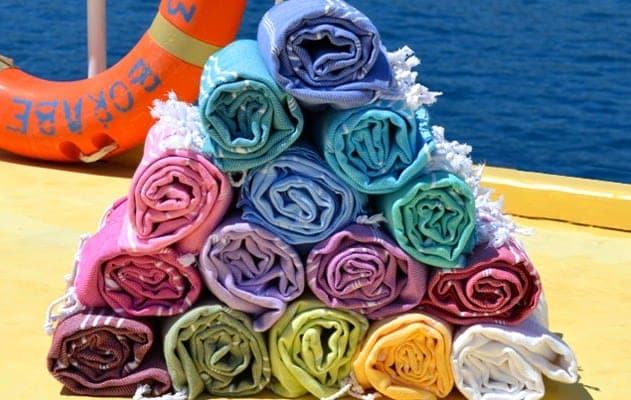 Review of sorbet ltd Turkish Hammam Towels 
The idea for sorbet ltd began on a beach in Turkey as company Director Amanda fell in love with the colorful Turkish hammam towels. She used them on the beach, at the pool, and even as a sarong. After stuffing her suitcase full of the towels to use back home and to give as gifts to friends and families, she realized that although there seemed to be a demand for the towels they were difficult to find in England. She then managed to source a family run business in rural Turkey who were still making traditional hand-woven peshtemal towels and sorbet ltd was launched in June 2011. The company was named sorbet ltd as the colors of the towels reminded Amanda of ice cream and cool fruity summer drinks.
Basics about sorbet ltd Turkish Hammam Towels
All the sorbet ltd Turkish hammam towels are made of 100% Turkish cotton and are hand-woven on looms in Turkey. Specifically, the towels are made in a small family-run factory near Denizli Turkey where the towels are individually made in a traditional way. 
They are currently available in 25 mouth-watering colors, such as Blueberry, Passion Fruit, Earl Grey, Pistachio, and Pink Grapefruit!
They are available in two different sizes. The large Turkish hammam towels are 180 cm x 100 cm (70 in. x 39 in.) and the small hammam towels are 90 cm x 50 cm (35 in. X 19 in.).
The coloring and sizing may differ slightly across towels given the nature of the dying and handweaving processes.
Pricing depends on size with the large hammam towels selling for £20.00 and the small hammam towels for £10.00, plus shipping.
The hammam towels can be purchased directly from the sorbet ltd official website:

http://sorbetltd.co.uk

You may also email sorbet ltd at sales@sorbetltd.co.uk or call the company at 020 7627 8942 for sale inquiries or for additional information.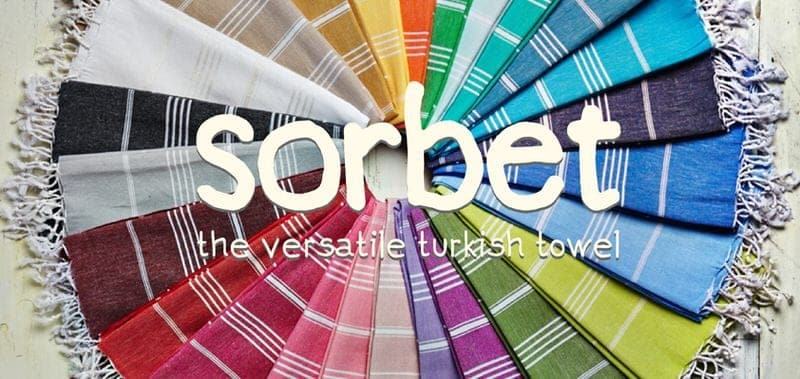 sorbet Website / Facebook / Twitter
Our Experience Using the sorbet ltd Turkish Hammam Towels 
Ethan and I expected to be offered only a couple of towels to use for the review, and were surprised when we received a very generous package from sorbet ltd containing four of the large (180cm X 100cm) towels and two of the small (90cm x 50cm) towel in six different colors! The colors are really gorgeous and we were sent towels in the following six colors: Blue Skies, Turkish Sea, Passion Fruit, Kiwi, Cucumber & Lavender. The colors and names are so yummy! The Turkish Sea and Cucumber colors were two of our favorites, but we really like them all. When examining the towels, you can really tell that these are handwoven by looking at the corners and fringes of the towels. Now one thing we were a bit surprised about is that they feel a bit rougher than we expected at first, but we found out that they become softer after the first wash. So I would definitely recommend washing them before you use them for the first time to soften them up a bit.
We've had the towels for several months and have used the sorbet ltd towels for so many different things so far as they really are very versatile and come in handy in so many situations. They've accompanied us locally to the pool and to sit on during picnics and hiking trips. We also packed two of the large hammam towels and one small towel on our recent trip to Korea, Cambodia, and Vietnam. The great thing about using the towels when traveling is that they are compact and lightweight and can come in handy for a number of travel situations. We used them at pools, at the beach, and on boats to dry off with after swimming. I also used one of the large towels a couple of times to cover up as a sarong while walking around the pool and beach in swimwear. You could also pack them in your backpack or purse to use as a wrap or shawl on chilly nights or for entering churches or other attractions that require your shoulders to be covered. We have really enjoyed the towels, they are colorful and stylish, lightweight, and really versatile. As a travel towel, they are fairly compact and quick-drying; however, if you are going to be in situations where it is important that the towel dry quickly you are better off going for one of the synthetic quick-dry travel towels as these are designed to dry much faster than natural fiber towels. But if you are looking for a natural fiber alternative, I'd consider giving these hammam towels a try. Whereas our focus has mainly been on travel related uses, we've also used the small towels as guest towels and flung the Turkish towels over outdoor tables as stylish table covers. Whether you are looking for a swimming or bath towel, a picnic blanket, a stylish gym towel, or decorative guest towel these are really great for so many situations.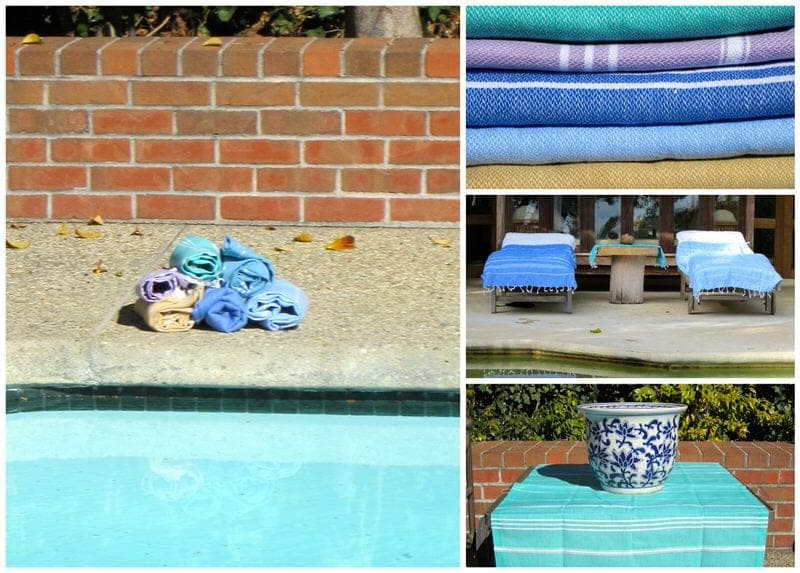 Review of The Beach Towel Clip by jdm designs ltd
Jonathan Meare was on a beach holiday with his wife in sunny Ibiza when he found himself struggling to keep the corners of his towel in place on a sandy beach. Like most of us have done, he carefully positioned shoes, bags, and bottles at the corners of the towel to keep it in place. A thought came to him that day that there must be a simpler and more elegant way to keep a beach towel from blowing away than this. After the holiday, the idea remained and Jonathan began exploring different shapes and designs for a peg of sort that would keep the towel in place. After testing and rejecting a number of ideas, he had a working prototype and launched The Beach Towel Clip in June 2010.
Basics about The Beach Towel Clip
The British manufactured towel clips are made of polypropylene. They are hinged with one side being  designed to be pushed by hand into the sand and the other side is then pressed against the top of the beach towel or picnic blanket.
Note that the clips were designed to be used in sand. They may work in sandy or soft soil, but you should be careful of bending or breaking the clips.
The clips are currently available in three colors: white, orange, and blue.
The beach towel clips come in packages of 4 clips.
Each package is currently priced at £9.99, plus shipping.
The beach towel clips can be purchased directly from The Beach Towel Clip official website:

http://thebeachtowelclip.com 

For further questions, you can also contact the company by email at enquiries@thebeachtowelclip.com
Our Experience Using the The Beach Towel Clip from jdm designs ltd.
We received one package of the blue beach towel clips to review. As noted, the clips come as a set of 4 and they are meant to fit together side by side for storing, although we found they come apart in a jumbled beach bag so perhaps store them in a plastic zipper bag. They are thick, smooth, and well-constructed. When we tried them out on one of the sorbet towels, they were very simple to use. To use them, you simple unhinge them one by one, pressing the stake part into the sand next to the towel and then press the serrated side against the towel or beach blanket. We used them on all four corners and had no issue with our towel blowing away. One issue with using them on thin and lightweight towels such as the sorbet towels is that you might want to double over the fabric at the corners before pressing the clip down to ensure a tighter hold.
These towel clips are definitely so much better in keeping one's towel from blowing away than placing random items alongside the edges of our towels or blankets as we've done in the past. They are a simple and elegant situation to stopping your towel from blowing away. The beaches we go to in the Bay area tend to be windy and these are perfect for them. I mean if you are using your backpack, water bottle ,and two shoes to keep the towel down on the sand, what do you do when you need to actually get up and use your sandals? This can be super inconvenient and we normally are not very successful in keeping our towel in place when it is windy, but hopefully with these we'll be better prepared! So far we've only used them once but hope to have the opportunity to use them at a beach again soon.
 The sorbet ltd and jdm designs ltd Summer Beach Giveaway!!!
Could you use your own colorful Turkish towels and a couple of sets of beach towel clips to keep your towels from blowing away this summer? Up for grabs are two (2) large handwoven Turkish hammam towels from sorbet ltd PLUS two (2) sets of The Beach Towel Clips from jdm designs ltd. This is a great $100+ value and includes free international shipping and handling! Best part is that you get to choose the colors (subject to availability) of both the towels and the clips! The giveaway starts today and will run until July 15th. A winner will be chosen using a random number generator and will be notified by the e-mail associated with the winning comment. Winners must reply within 72 hours or another winner will be randomly chosen, so please use an email that you check often when you comment. Just follow the easy rules below to enter the giveaway!
GIVEAWAY IS CLOSED. CONGRATS TO OUR WINNER NATALIE B.! She chose her towels in the Blueberry and Strawberry colors complimented by white beach towel clips!
**Discount Code: Don't forget that you can still take advantage of the time-limited 10% discounts available on all orders of The Beach Towel Clip from jdm designs ltd. The discount codes is listed earlier in the article.**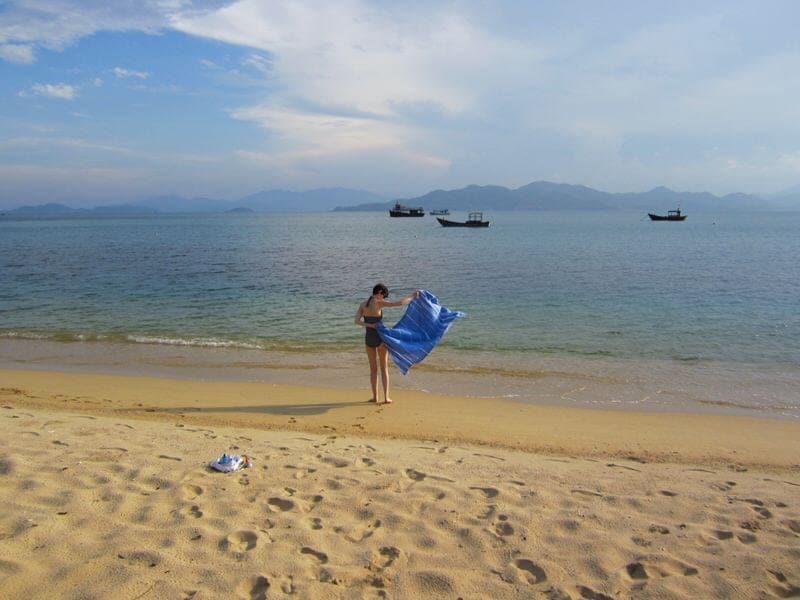 Don't forget to stop by and check out the colorful hammam towels at sorbet ltd and the innovative Beach Towel Clip! If you have any questions about the products or giveaway, just ask!
**Disclaimer: We were provided complimentary products from both sorbet ltd and The Beach Towel Clip to review; however, this article contains only our own honest thoughts and opinions. We did not receive any financial compensation for the writing of this post and do not work for either company. We do earn a small commission if you purchase The Beach Towel Clip clips directly from the links provided in the post, but you incur no extra costs (but this does help us keep offering giveaways!).**