Looking for a place to have afternoon tea in San Francisco? Look no further than the Palace Hotel tea which is served in a stunningly beautiful dining area called The Garden Court. I love tea and the act of indulging in the formal ritual of afternoon tea, and I have been wanting to come to the Palace Hotel tea for over three years after I got a glimpse of The Garden Court during our first visit to San Francisco. The Garden Court is located where the carriage entrance to the hotel used to be and offers magnificent turn-of-the-century grandeur and elegance. Imagine a large room with a magnificent glass atrium, glass chandeliers, the buzz of people softly talking, china clinking, adorable children wearing crowns, and a grand piano playing, and you'll have a good idea of the scene for afternoon tea at the Palace Hotel. Interested? Keep reading.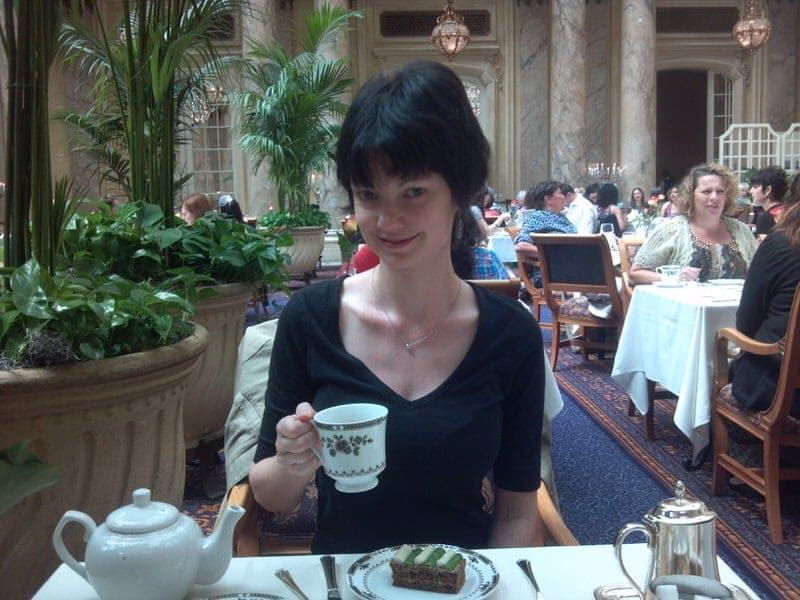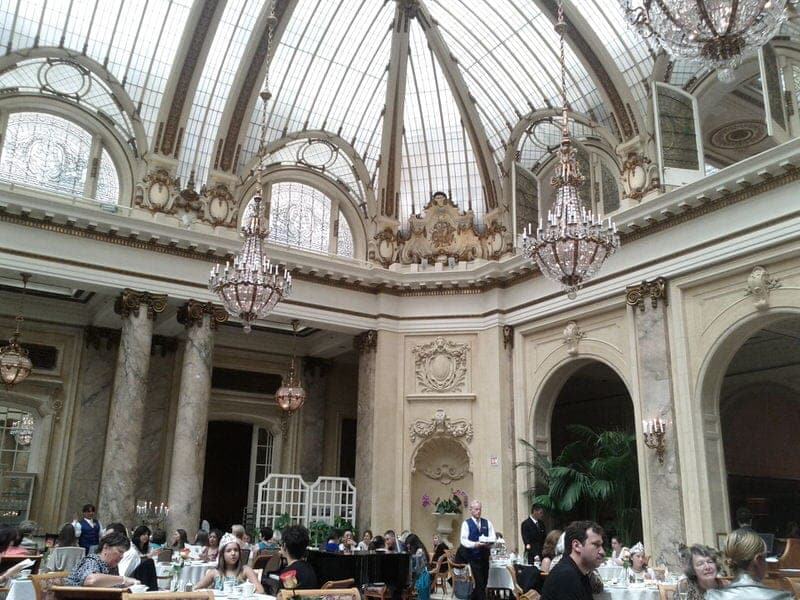 Basic Information about the Palace Hotel Tea
Where: The Palace Hotel, 2 New Montgomery Street, San Francisco, CA 94105
Tea times: Saturdays from 1:00 to 2:30pm and also on some holidays and special occasions.
Prices: Range from $47/person to $60/person plus tax and gratuity. Children under 12 are $40 and have a special children's menu.
Reservations: Reservations are necessary, but you can sometimes get same day reservations if you call in the mornings. Call (415) 546-5089 or e-mail palacerestaurants@luxurycollection.com
Getting there: MUNI/BART: Montgomery Station. All Market Street buses and streetcars stop nearby. Valet parking is also available in the hotel's garage but it is expensive ($59/day).
Our Experience of the Palace Hotel Tea
I had originally tried to do afternoon tea at the Palace Hotel three years ago but The Garden Court had been rented out for a private event during our first visit to San Francisco. Now, three years later I suddenly remembered that I had wanted to do this and Ethan lovingly made same day reservations last Saturday for us to attend the tea as a treat to ourselves since we've been frugal lately. We made reservations for 2:00pm and headed up to San Francisco. We used BART and the BART/MUNI Montgomery station exit is right across the street from the Palace Hotel. Very convenient.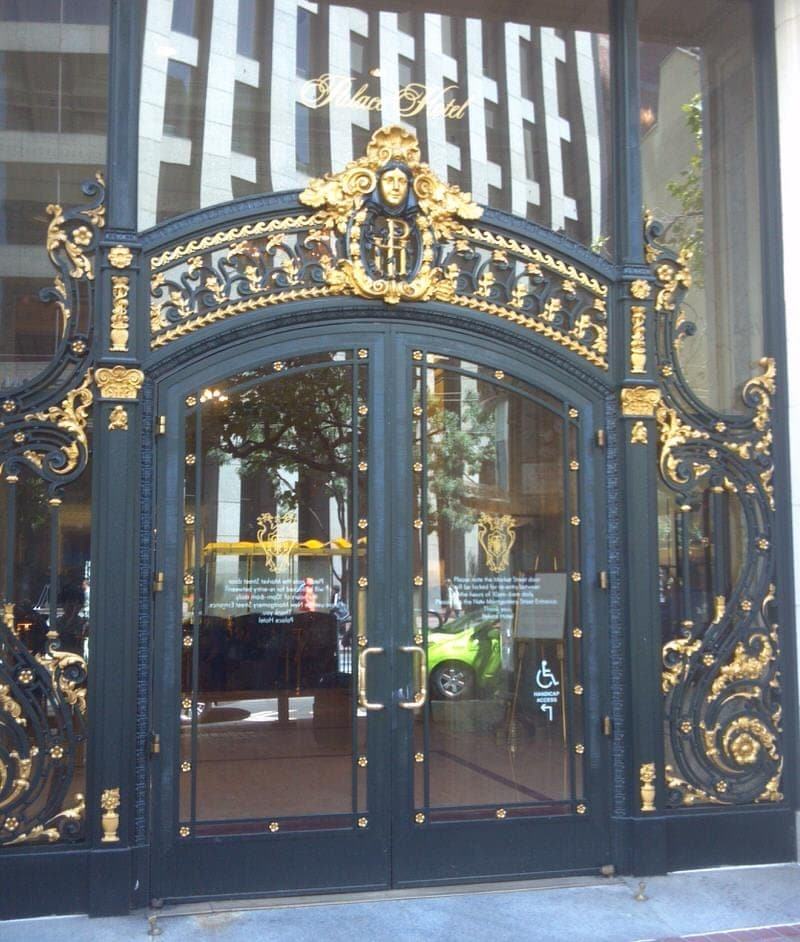 We entered the hotel and walked down the hall to The Garden Court entrance and were quickly seated even though we were 10 minutes early. Next, we were given menus. All of the Palace Hotel tea service options include the same food and a choice of tea, but some also include sparkling wine or champagne for a bit extra. We went for the most basic option for $47/person. They also offer the Prince & Princess Tea for children 12 years of age and younger which includes more children-friendly food and drink options as well as crowns and scepters. We were surprised by how many parents and grandparents had brought along their children for tea. It was fun to watch all the adorable children in their crowns and tiaras as they drank their tea or hot chocolate.
Just when we thought the atomosphere couldn't get any better, about 30 minutes into our tea service, a man began playing classic songs on the grand piano—very heavenly!
The Garden Court Tea Menu
The Tea: Each person gets to choose one tea from a selection of teas blended by Ronnefeldt. The selection included black, green, and white teas, as well as herbal and fruit infusions. The list included several decaffeinated choices.
Ethan and I are both generally black tea drinkers and he went for the Spring Darjeeling and I the Palace Blend (fruity black house blend). The loose teas are brought to your table in individual tea pots and you have a little silver strainer to put in your cup to collect the leaves. I found the tea strainer a bit difficult to manage for some reason and ended up making a bit of a mess. Both of these loose teas were quite good, and I would recommend either although Ethan's tasted better on the second and third brews when our tea pots were refilled with hot water since his tea was a bit stronger.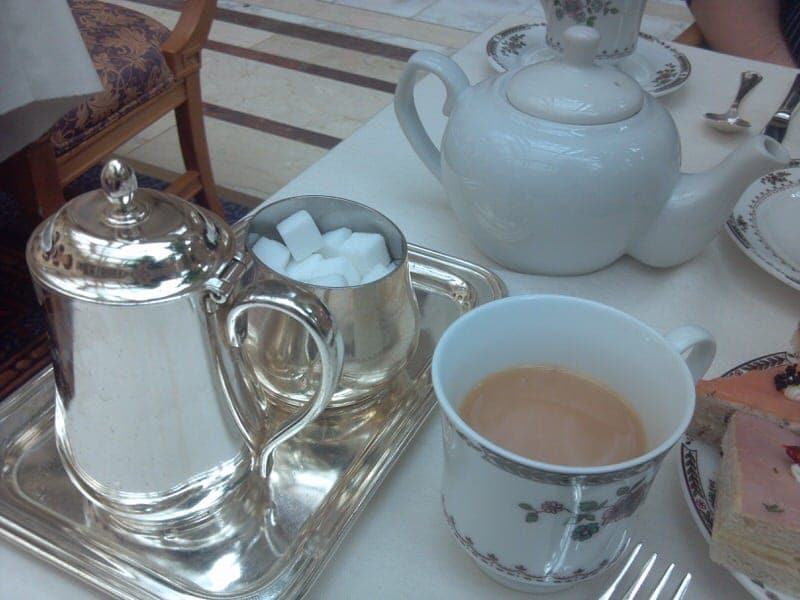 The Food: The food selection includes sandwiches, homemade scones (2 different kinds), and assorted pastries. The sandwiches are presented first along with your tea and then after you finish the sandwiches, they bring out a tiered silver tray that includes the scones and pastries.
The sandwich selection changes seasonally and during our visit it included:
-Smoked Salmon Roulade with dill cream and caviar
-Cucumber with green goddess crème
-Dijon ham with brie butter and apple
-Late summer squash with red pepper mousse
-Asparagus (green and white) with chive mousse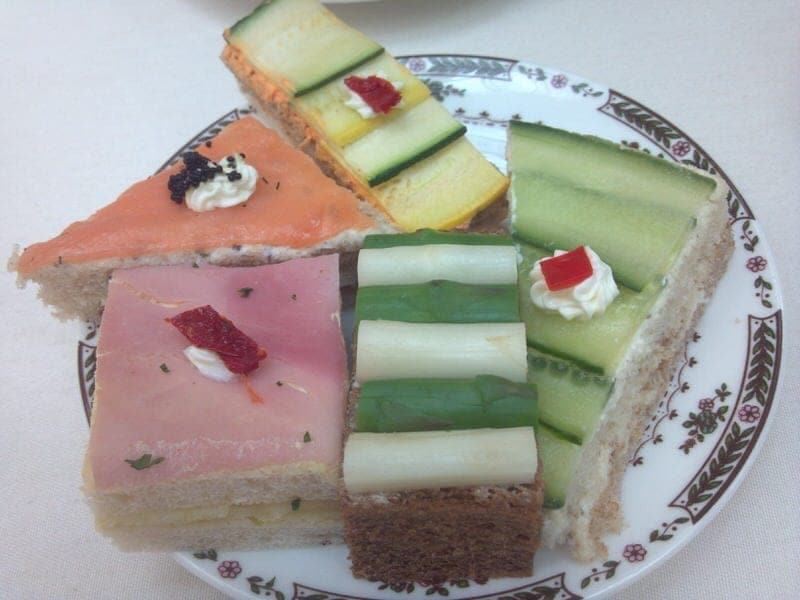 My favorites were the three veggie sandwiches. I didn't care for the ham as it was a bit strong-tasting with the Dijon mustard on it and I though the salmon one (which I thought I would love) was only so-so. Ethan loved the ham and summer squash sandwiches the best.
The Scones: We were each given one plain scone with rock sugar on top and one raisin scone each. And of course, you are given lemon curd, jam, and the heavenly Devonshire Cream. For me, tea services are all about slathering a ton of Devonshire Cream on a scone, yum!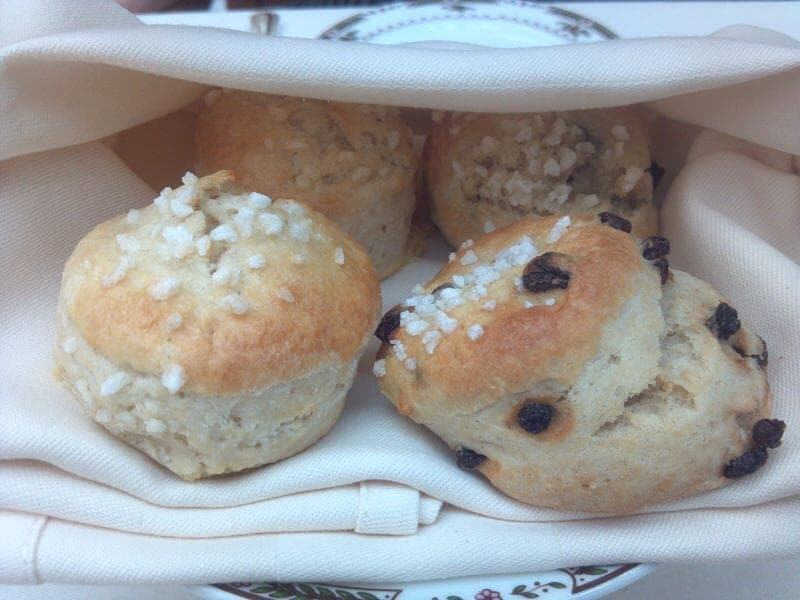 The Pastries: There were six tiny desserts for each of us: a tiny éclair with chocolate and nuts, a piece of chocolate fudge, a chocolate-dipped strawberry, a raspberry custard pastry, a lemon pastry with a blueberry on top, and an airy layered cake with cream, chocolate, and a delicious tropical flavor (passionfruit maybe?). We enjoyed the desserts very much and were stuffed at the end of the tea service. The one complaint was that there was a bit too much sugar sprinkled all over my plate which made the desserts a bit too sweet.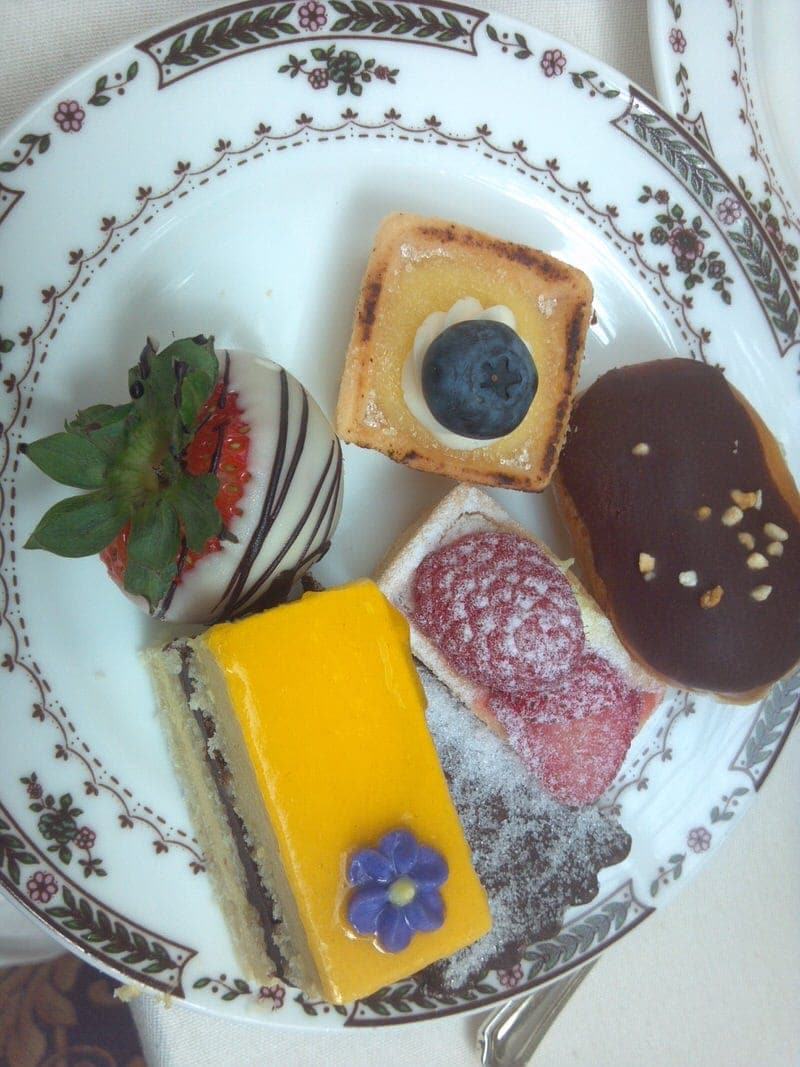 Overall Impression of The Palace Hotel tea
We really enjoyed our afternoon tea at The Garden Court and spent close to 2 hours leisurely having tea here. The tea and food were both delicious and of good quality as would be expected for such a top notch hotel. All the staff we encountered were helpful and friendly, and the service was great. I spent about half my time staring and snapping pictures of the beautiful setting—I just love the architecture of The Garden Court. While the original Palace Hotel, like much of San Francisco, was destroyed by the 1906 earthquake and fire, the hotel was quickly rebuilt and reopened in 1909. There are so few of these grand turn-of-the-century places left in San Francisco, so for me it was a special treat to be in this historical and beautiful place. We were both surprised to discover that The Garden Court afternoon tea is also a children-friendly place unlike many other tea places we've been. Overall, we would definitely recommend the Palace Hotel tea to anyone else looking for an afternoon tea experience in a historical setting in San Francisco. It would be such a lovely place to celebrate a bridal or baby shower, birthday, or anniversary.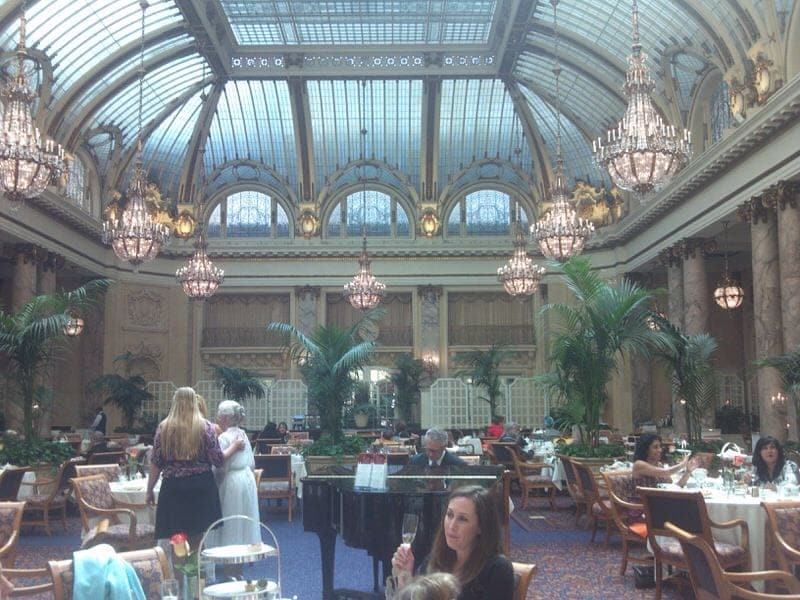 A Few Other Tips
Restrooms are located in the main hall, but require an electronic code that you can request from the maître d' or your server.
In addition to afternoon teas on Saturdays, you can also eat lunch, dinner, or Sunday brunch at the The Garden Court.
You can still stop by and get a glimpse of the historic hotel and The Garden Court without eating or having tea here, just be respectful when walking through.
Complimentary free tours of the Palace Hotel are also currently offered through San Francisco City Guides on Saturdays and Tuesdays at 10am and on Thursdays at 2pm. Meet on the right side of the main lobby of the hotel. You can also call and reserve a $20 2-course lunch to go along with your tour that will take place either before or after your tour in The Garden Court.
For another peek of turn-of-century architecture in San Francisco, you can visit the nearby Wells Fargo Bank located at 1 Montgomery Street. Look up at the ceiling of the outside entrance as you enter, and then take a peek at the ceiling inside. No photos allowed inside the bank, but respectful visitors are welcome to walk inside if they are quiet. There is a small glass case inside explaining some of the history of the bank and its location.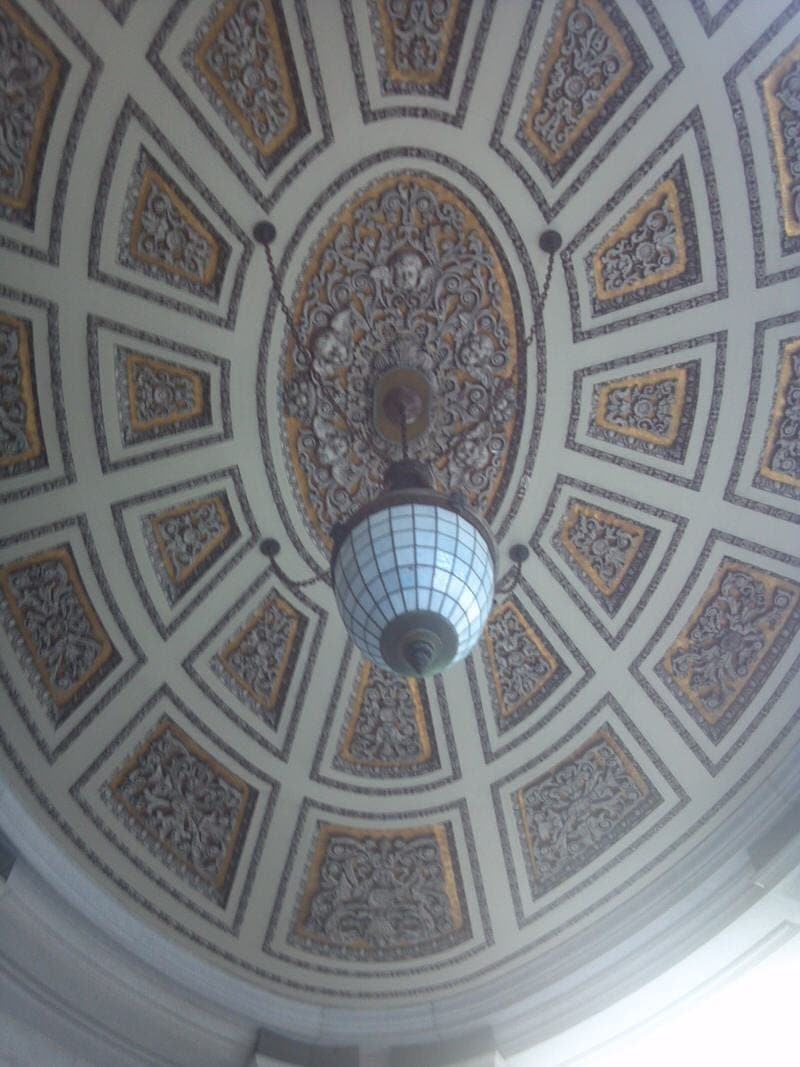 Feel free to ask us any questions about our experience at the Palace Hotel tea. Have you been to The Garden Court or know of any other great tea places in San Francisco? We'd love to hear from you!