We have put together a list of the top Winston Churchill sites in England and tips on visiting each of these places. As admirers of Winston Churchill ourselves, we know that many people want to visit places associated with Churchill during their travels in England.
Best known for his powerful speeches and role in leading Britain victoriously through World War 2, Winston Churchill led a complex and extraordinary life that affected people from all over the world. He served in the military, spent over 50 years serving as a Member of Parliament with two terms as Prime Minister, won the Nobel Prize in Literature, and was even awarded the first honorary United States citizenship.
There are thousands of buildings, sites, statues, memorials, plaques, and museum exhibits associated with Winston Churchill throughout England and the United Kingdom, but we've narrowed it down to the top 8 places we think were most significant to Winston Churchill. These include his birthplace, where he got married, where he served as a parliamentarian and Prime Minister, where he ran the country during World War II, his favorite home, and his place of burial.
We'll provide the history of each site and its association with Churchill, as well as tips and advice on visiting based on our own visits to each of these Winston Churchill sites in England.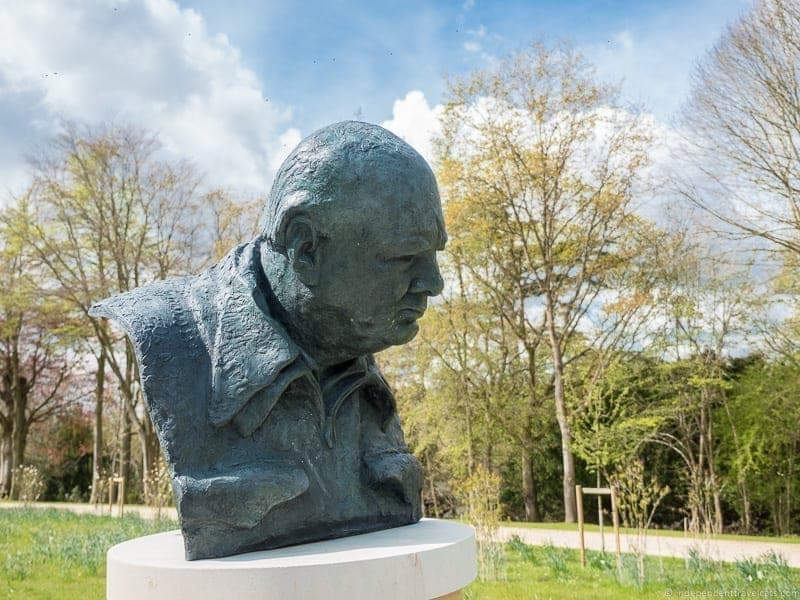 Top Winston Churchill Sites in England
As noted, there are thousands of places associated with Winston Churchill throughout England, but we've narrowed it down to the top 8 recommended places we think were most significant to Winston Churchill. All of these places can be visited by the public and each helps tell the story of one of the most significant men in contemporary British history. We provide the history of each site and its association with Churchill, as well as tips and advice on visiting.
We have ordered this list of Winston Churchill sites in England in relation to their chronological importance in Churchill's life from birth to death. However, this ordering may not make sense from a travel viewpoint. So for those wanting to visit all these places, I've included all the addresses as well as marked them on a map below so you can place them in the best order based on your own travel itinerary.
If you are planning base yourself in London, Blenheim Palace (and nearby Bladon) and Chartwell can easily be visited as day trips or overnight trips from London. Group and private day tours are also available to both of these attractions. In addition to these top Winston Churchill sites in England, we also urge you to add and discover some of your own!
If you are wanting to visit all these sites as part of a guided tour, the only tour that we know of that we think includes them all is this 3-day guided tour from London that is focused on Winston Churchill's life and achievements and spends time in London, Oxfordshire, and Kent.
The map below shows the locations for each of the mentioned top Winston Churchill sites in England. Click here or on the map below for a closer look and to see exact locations: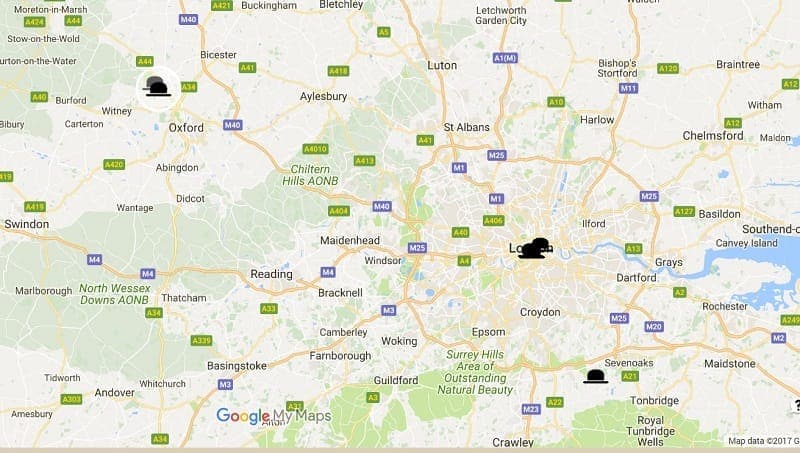 1. Blenheim Palace
A good place to start you visit of Winston Churchill sites in England is Blenheim Palace, Churchill's birthplace. Blenheim Palace is one of England's largest country houses, and serves as the principal residence of the dukes of Marlborough. The Palace was built between 1705 and 1722 in the English Baroque style, and was designated a UNESCO World Heritage Site in 1987. Today it is still used as a residence by the current Duke's family, but is open to the public for tours and events.
Winston Churchill was born on November 30, 1874 at Blenheim Place. His mother, American-born Jennie Churchill (née Jerome), and his father, Lord Randolph Churchill, had been at Blenheim visiting family and attending a ball. Churchill was born a few weeks earlier than expected so the birth was a bit of a surprise for the family. This was not his intended birthplace, and the bedroom he was born in had been used that evening as a cloakroom for guests.
Winston Churchill would never live at Blenheim Palace as his father was the third son of the 7th Duke of Marlborough and neither his father nor himself would inherit the dukedom or the house. However, Churchill liked Blenheim and would visit often both as a child and as an adult and was close friends with his cousin "Sunny" who would become the 9th Duke of Marlborough.
Perhaps the most significant event at Blenheim Palace for Churchill was asking Clementine Hozier to be his wife. Churchill had asked Clementine to visit him at Blenheim with the goal of proposing. But it was not until her third visit that he mustered the courage to ask, which required some urging from his cousin Sunny. He asked her to marry him while the pair took shelter from the rain in the small Temple of Diana in the gardens. She of course accepted his proposal.
Over the years, Churchill would also use Blenheim as a place to write and he and Clementine would spend the first days of their honeymoon here before going on to Italy.
Blenheim is a spectacular country house filled with great art and furniture, and the gardens are beautiful and worth taking time to explore. In relation to Winston Churchill at Blenheim Palace you can visit the room of his birth, a small exhibition on his life that includes some childhood artifacts, and stroll the gardens and see the Temple of Diana where he proposed to Clementine. There is a cafe, restaurant, and gift shops at the palace.
Located in Woodstock in Oxfordshire, Blenheim Palace is a short distance from Oxford and about 2 hours from London. You can read more about recommended things to do in Oxford and also read about planning a London day trip to Blenheim Palace.
Address: Blenheim Palace, Woodstock, Oxfordshire OX20 1PP
Getting here: By car, it is about 25 minutes from central Oxford or 1.5 to 2 hours from London. Free parking is available at the palace for visitors.
By train, you'll want to head to Oxford and then get a bus or taxi to the palace. Bus services from Oxford run to Blenheim Place from Oxford train station, Oxford's Gloucester Green bus station, and Oxford Parkway.
You can also join a group tour bus or private tour that stops at Blenheim Palace from either London or Oxford. You can explore group and private tour options here.
Admission Fee?: Yes. Tickets can be booked online in advance or purchased in-person at the palace entrance on arrival.
Things Churchill admirers should Not Miss: Bedroom birthplace, Winston Churchill exhibition, and Temple of Diana. There are also a few busts of Churchill on the property, at least one was on display in the house and one was in the garden when we visited.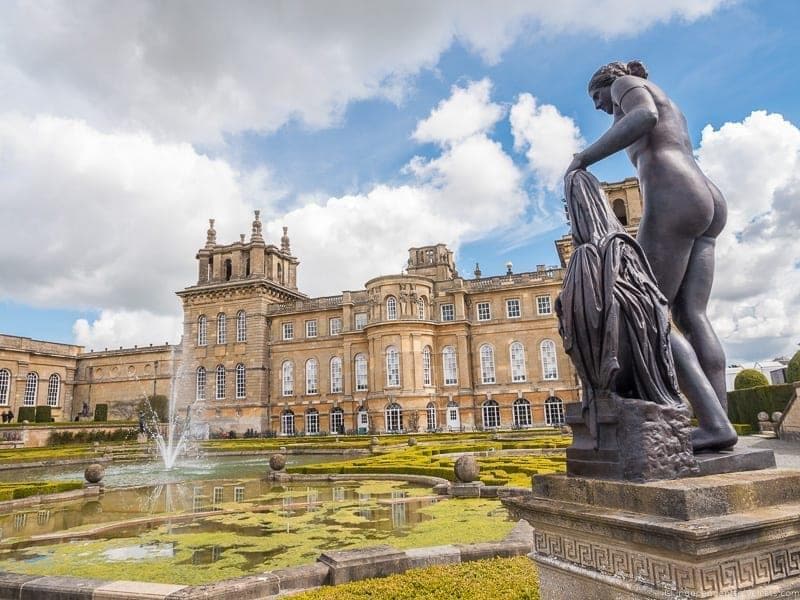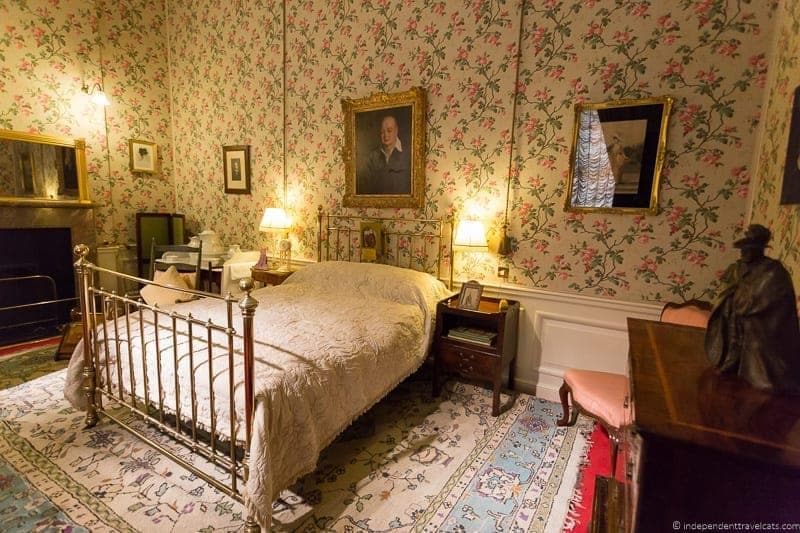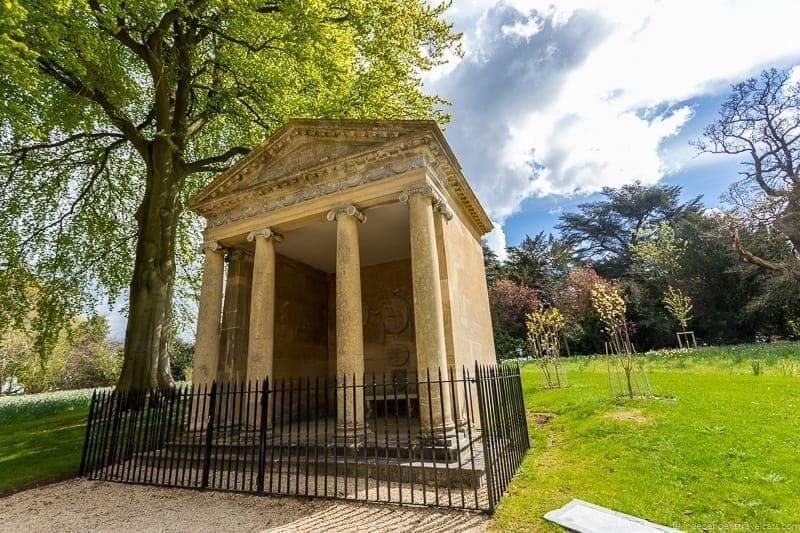 2. St. Margaret's Church
St. Margaret's Church is the site of several happy and significant events in Winston Churchill's life, including his wedding. The church, founded in the 11th or 12th century but later rebuilt from 1486 to 1523, is located next to Westminster Abbey on Parliament Square.
The Anglican church has a strong history of ministering to Members of both Houses of Parliament and is often called the "parish church of the House of Commons". It was designated as a UNESCO World Heritage Site in 1987 along with Westminster Abbey and the Palace of Westminster.
On September 12, 1908, Winston Churchill and Clementine Hozier were married at St. Margaret's Church. Churchill was 33 years old and Clementine was 23, 10 years his junior. Churchill would write to his mother from Blenheim the following day: "What a relief to have got that ceremony over! & so happily". The Churchill marriage would be a strong one despite a multitude of stressors and would last until Winston's death.
Other members of Churchill's family would also get married at the church. Churchill's eldest daughter, Diana, married her first husband, John Milner Bailey, here in December 1932. Unlike her parents' marriage, Diana's first marriage was not a happy one and they divorced in 1935. Churchill's youngest daughter Mary Churchill would marry Christopher Soames at St. Margaret's in February 1947. Their marriage was a successful one, lasting until his death in 1987.
In addition to the Churchill family weddings, the church was associated with the House of Commons, where Churchill would serve for over 50 years, and was often used to celebrate important Parliamentary events.
For instance at the end of World War I, Prime Minister David Lloyd George gave a short address about Germany's signing of the armistice and surrender on November 11, 1918 to the House of Commons. His address in the House of Commons included the infamous words: "I hope that we may say that thus, this fateful morning, came to an end all wars." He then moved to adjourn and the Members of Parliament (MPs) went to St. Margaret's Church for a service of thanksgiving.
Winston Churchill was one of those present during David Lloyd George's 1918 German surrender statement. After the fighting in Europe ended in World War II on May 8, 1945 (VE Day), Churchill would similarly address the House of Commons and then lead a procession MPs to a thanksgiving service at St Margaret's church.
Address: St Margaret Street, Westminster, London SW1P 3JX
Getting here: Located in central Westminster next to Westminster Abbey and Parliament Square. Easy to reach by bus or metro from throughout London.
Admission Fee?: No. Free to visit, although closed to visitors for services and special events. Worshippers can attend services here each Sunday and on holidays.
Things Churchill admirers should Not Miss: You'll find a memorial plaque to World War I and World War II in this historic church as well as traces of bombing damage from World War II, but there are no specific Churchill related items inside the church.
Heading next door to Westminster Abbey?: If you also plan to visit Westminster Abbey, be sure to take a look at the Winston Churchill green marble memorial stone on the floor just inside the west entrance, near the grave of the Unknown Warrior. He's not buried here, but the stone was laid as a memorial in 1965. There is an admission fee to visit Westminster Abbey, and entry is included if you are using a London Pass.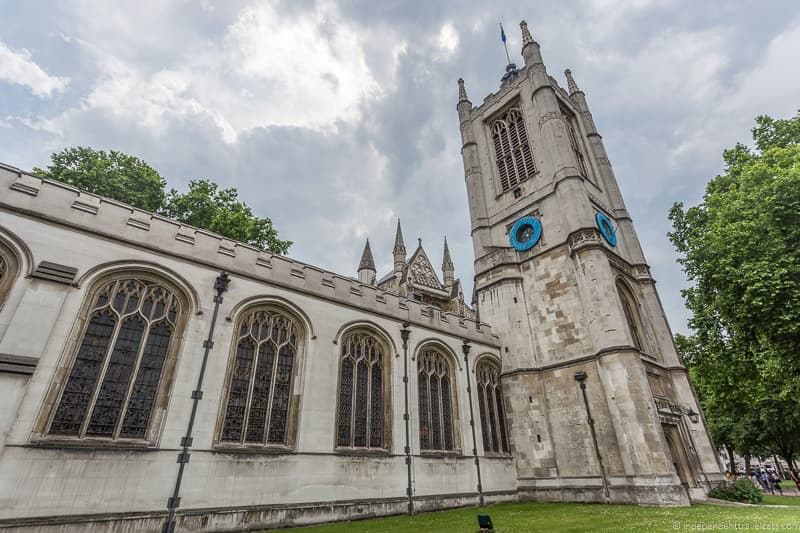 3. Houses of Parliament
Across from St. Margaret's church, you'll find the Palace of Westminster which is home to the Houses of Parliament. This iconic building is the main government building in the UK and here you'll find the Elizabeth Tower with its famous bell, Big Ben. You can get great views of the outside of the building from Parliament Square (don't forget to stop to see the Winston Churchill statue here) as well as from Westminster Bridge.
There are few places in London that reverberate more with the memory of Churchill than the Houses of Parliament. I would suggest that Winston Churchill's main professional ambitions in life lay in two areas: publishing his writings and serving in Parliament. Churchill would serve in Parliament for over 50 years with his public career in politics spanning from 1900 to 1964.
He held numerous ministerial offices in the cabinet, including First Lord of the Admiralty, Home Secretary, Chancellor of the Exchequer, and of course two terms as Prime Minister from May 1940 to July 1945 and from October 1951 to April 1955. Churchill would begin his political career within the Conservative party like his father, but would "cross the floor" not once but twice to join the Liberals and then return to the Conservatives.
Politics are in the family blood, and Winston Churchill's grandfather, father, son, and grandson all served in the British Parliament. Winston Churchill left politics in 1964 due to poor health and made his final visit to the House of Commons on July 27, 1964.
In January 1965 his body would return here for a lying in state in Westminster Hall for three days. Hundreds of thousands of people would visit to see the coffin and pay their respects before the state funeral took place at St. Paul's Cathedral on January 30, 1965 followed by his burial in Bladon.
The Victorian House of Commons where Churchill would have spent most of his career was destroyed by an air raid bombing and fire in 1941 during WW2. It was rebuilt and reopened in 1950. At Churchill's suggestion the Commons archway was rebuilt from the damaged stonework of the original arch to symbolize the continuity of the old chamber to the new. The arch was renamed the Churchill Arch and today a bronze statue of Churchill stands to one side.
The Houses of Parliament is an active government building so it is not always open to the public and there is airport-style security screening for visitors. The public can visit the Houses of Parliament on certain dates, and debates are free for the public to watch. But if you want to actually tour the building, tours are available on certain days of the week.
UK residents can contact their local MP or a Member of the House of Lords to request and arrange a free tour. Otherwise, you can book a tour ticket online for a self-guided audio tour or guided tour. Tours normally include (barring security or renovation closures) visits to a number of the most significant rooms, including Westminster Hall, St. Stephens Hall, Commons Chamber, and the Lords Chamber. We did a guided tour plus a Thames-side afternoon tea here and really enjoyed being able to finally see inside this iconic building!
Address: Palace of Westminster, Westminster, London SW1A 0AA
Getting here: Located in central Westminster next to Westminster Abbey and Parliament Square. Easy to reach by bus or metro from throughout London.
Admission Fee?: Yes, and you must book a tour in advance. UK residents can contact their local MP or a Member of the House of Lords to request and arrange a free tour. Both self-guided and guided tours are available, and you can also book to have afternoon tea here.
Things Churchill admirers should NOT Miss: The memorial plaque for Churchill's lying in state on the floor in Westminster Hall, the Churchill statue in the Members' Lobby, the Churchill Arch as you leave the Members' Lobby to enter the House of Commons, and the House of Commons chamber. Also, don't miss the giant Winston Churchill statue outside in Parliament Square!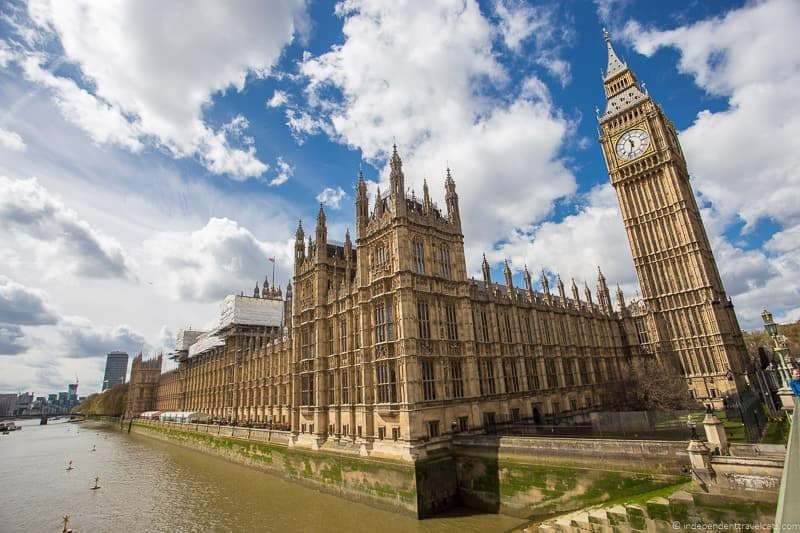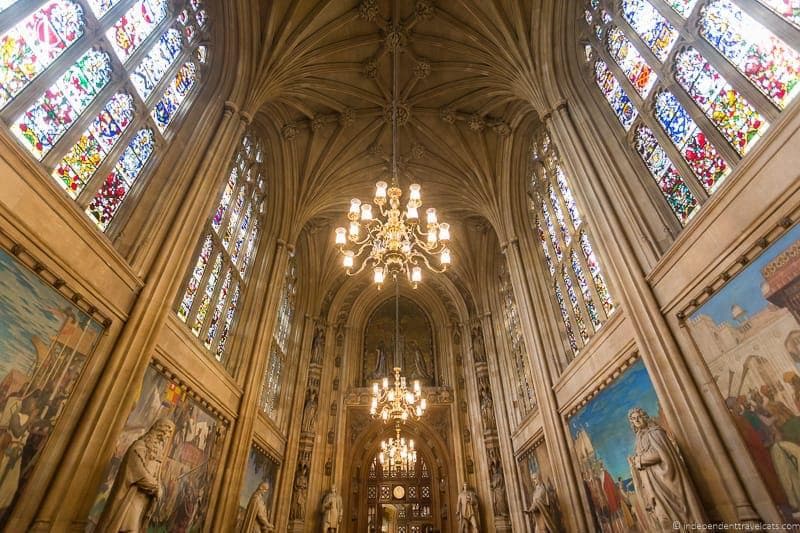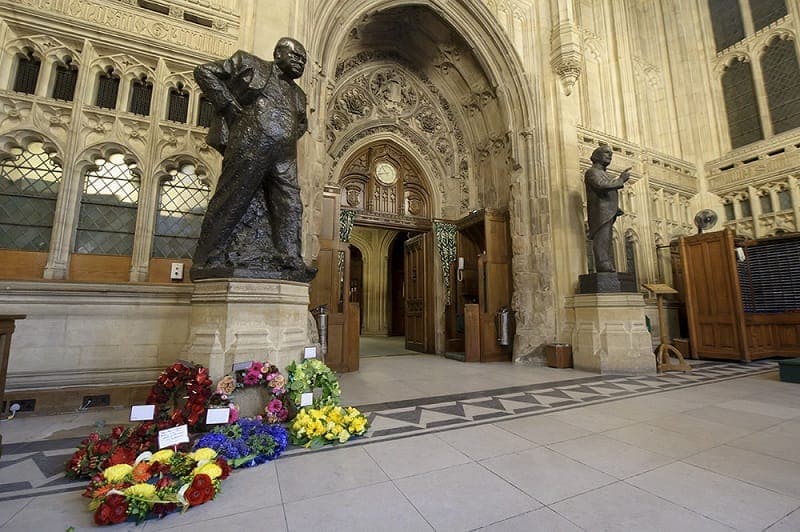 4. Churchill War Rooms
One of the most interesting and informative Churchill sites in England is the Churchill War Rooms run by the Imperial War Museums. It was here in a series of underground rooms beneath the Treasury building that Churchill and his war cabinet ran the war efforts from August 1939 to August 1945.
The then secret underground bunker was chosen as a safe place for the Cabinet to meet during air raids, although it is believed that the basement rooms would not likely have survived a direct hit. Luckily it never sustained a direct hit and served as the British government command center throughout World War 2.
Today, you have a chance to visit the interesting maze of rooms to see where communications and strategizing happened as well as where staff ate, slept, and cooked during WW2. These include the famous Map Room and the Transatlantic Call Room (where Churchill would make calls to Roosevelt) as well as rooms for typists and switchboard operators, bedrooms, dining areas, kitchens, and offices. Most of the rooms look as they would have done during WW2, and many of the artifacts were the items left behind when the rooms were shut down in August 1945.
In addition to the secret underground bunker rooms where Churchill and his staff worked, there is a large museum area devoted to Winston Churchill's life. The Churchill Museum has the best collection of information and exhibits on Churchill I have visited, and it covers his life from birth to death, not just the war years. There is an interactive table that includes information, records, letters, and films organized by date from his birth to his death so you could spend months reading it all!
Displayed artifacts include everything from photos of Churchill, clothing he wore, cigars he smoked, letters he wrote or received, paintings he painted, military uniforms, and even the door of No. 10 Downing Street from the time he was Prime Minister. If there is one must-visit place in London for Churchill fans (or those interested in British WW2 history), the Churchill War Rooms would be it!
Visits to the Churchill War Rooms are self-guided with an audioguide. For those interested in exploring the Churchill War Rooms with a guide, private tours are possible with museum staff that allow you to get behind the ropes and step into a few of the Cabinet War rooms to hear stories by the staff. These private tours start at £500 for a group of up to 10 people and must be booked well in advance.
For those with an interest in Churchill and the London Blitz, we can also recommend this Churchill and the Blitz tour by Context Travel which includes a guided visit to the Churchill War Rooms as well as a guided tour of parts of London related to the Blitz. You can join a small group tour or request a private tour.
We love Context Travel walking tours, which are geared to the intellectually curious travelers, and we have taken them in several countries. If you book this tour or any other tour with Context Travel, using the link above or this one you'll receive 10% off any Context Travel tour anywhere in the world. Be sure to book any tours in advance of your trip.
Address: Clive Steps, King Charles Street, Westminster, London SW1A 2AQ
Getting here: Located in central Westminster, the Churchill War Rooms are a short walk from Westminster Abbey, the House of Parliament, or the Horse Guards Parade.
Admission Fee?: Yes. Tours are self-guided and there is an audioguide included for the Cabinet War Rooms section of the visit.
Visiting Tips: This is a popular tourist attraction, and it can get crowded, particularly during summer afternoons. The best times to visit to avoid crowds are near opening or later in the afternoon. If you arrive during a particularly crowded time, visit the Churchill Museum section first (as it is usually much less crowded then the War Rooms) and then head into the Cabinet War Rooms later. If you arrive and it is not too crowded, visit the Cabinet War Rooms first and then visit the Churchill Museum.
Things Churchill admirers should NOT Miss: There are numerous Churchill-related things to see here (just about everything!) and I'd plan to spend at least 3 hours here (some may want to block off half a day) to fully explore the Cabinet War Rooms, the Churchill Museum, and browse the gift shop.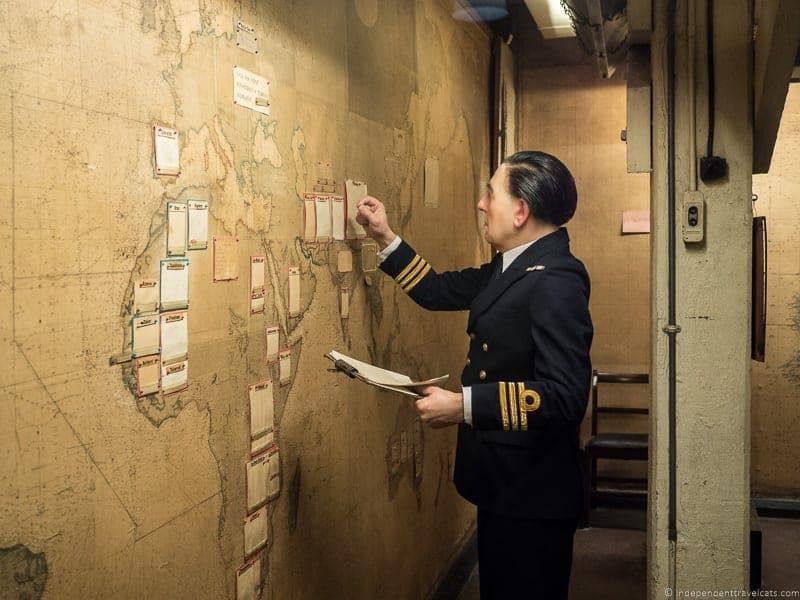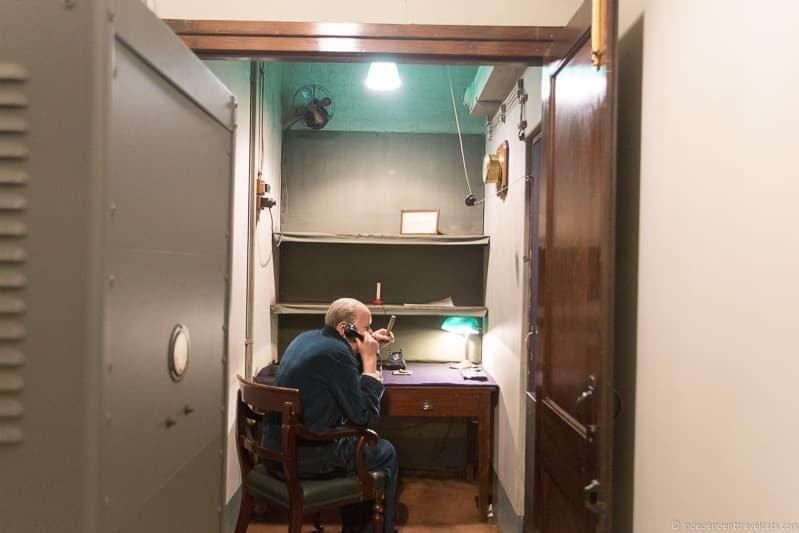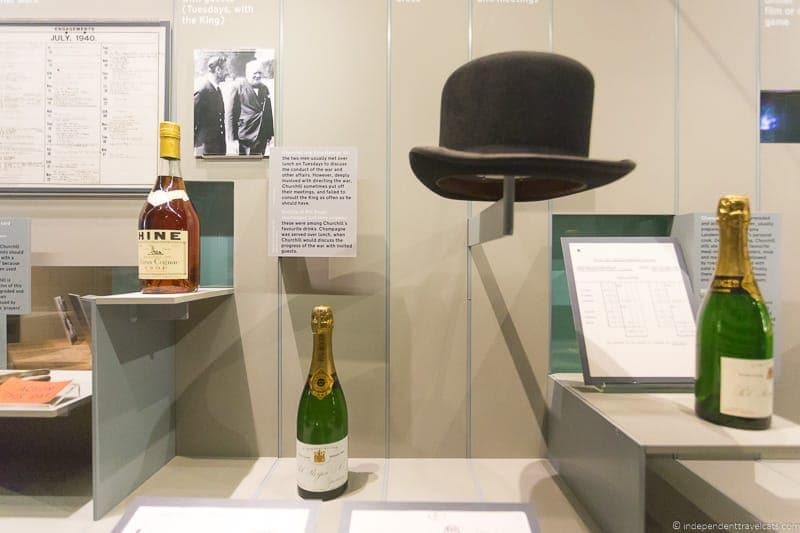 5. Other London Locations
Churchill spent most of his life in London. It was here that he would live with his parents for some time as a child, go to school, sit at Parliament, marry, live as Prime Minister, and coordinate much of the war effort during WW2.
We have chosen to highlight a few places in London (e.g., Houses of Parliament, St. Margaret's Church) in this article that we think are particularly important Winston Churchill sites, but if you have more time there are hundreds of other places you can visit in London with a Winston Churchill connection. See our in-depth guide to Winston Churchill sites in London if you are interested in visiting more Churchill attractions.
In London, you can see his former homes and private members clubs (from the outside), stay at one of his favorite hotels (e.g., Claridge's), eat at restaurants and pubs he frequented, shop for his favorite clothing, cigars and food brands, see the door of 10 Downing Street (official resident of the British Prime Minister), and tour the State Rooms of Buckingham Palace (summer only).
You can also see his portraits in the National Gallery, visit the Allies statue in Mayfair, visit WW2 memorials such as the Battle of Britain Monument near the Thames, have a drink in the Churchill Arms pub, and take a selfie with his wax figure at Madame Tussauds. There are hundreds of places in London with a Churchill connection and you can build you own itinerary depending on your interests!
If you are interested in a walking tour around London to learn more about Churchill and see some Churchill related sites, you can check out this private walking tour which has taken many of the places from our Churchill London guide and turned them into a walking tour and includes entry tickets to the Churchill War Rooms.
Other Churchill and WW2 related walking tours include this one and this one. Most walking tours also include tickets to visit the Churchill War Rooms.
For more itinerary and planning tips for the rest of your time in London, you may want to have a look at our 2 day London itinerary, 3 day London itinerary, and our detailed 6 day London itinerary which includes walking routes.
Address: All over London.
Getting here: Almost any place in London can be visited by using London public transportation such as the Underground (the "Tube") and bus system. If you plan to use public transportation a lot during your trip, you may want to consider getting an Oyster Card.
Admission Fee?: Many of the places listed are free to see or visit (e..g, statues, National Gallery, monuments), whereas others (e.g., Buckingham Palace and Madame Tussauds) charge an entry fee.
Visiting Tips: Check out our Winston Churchill London guide to find out more about all the mentioned places and more!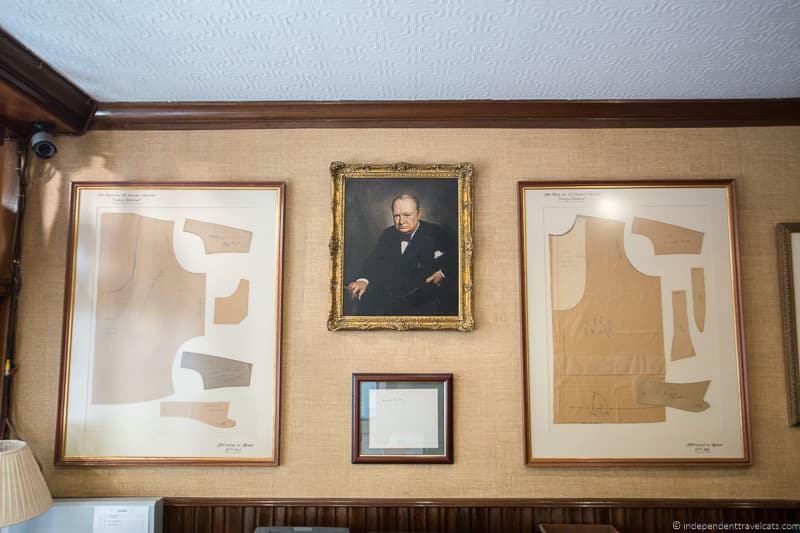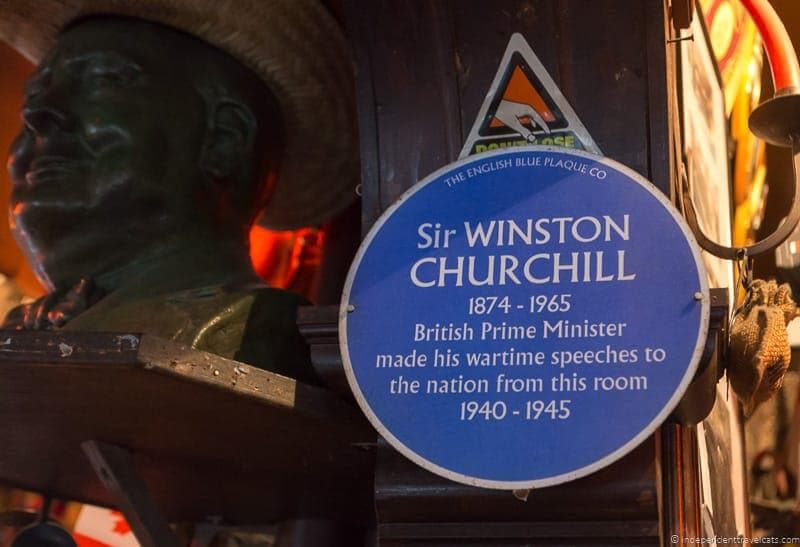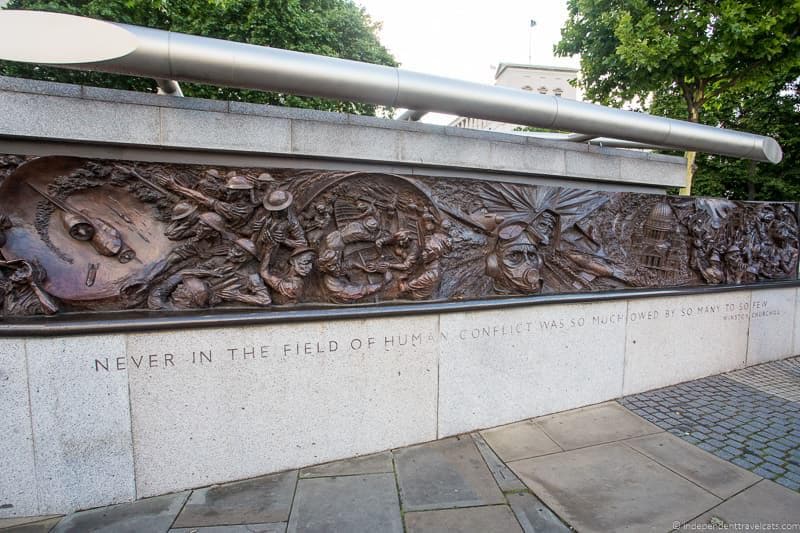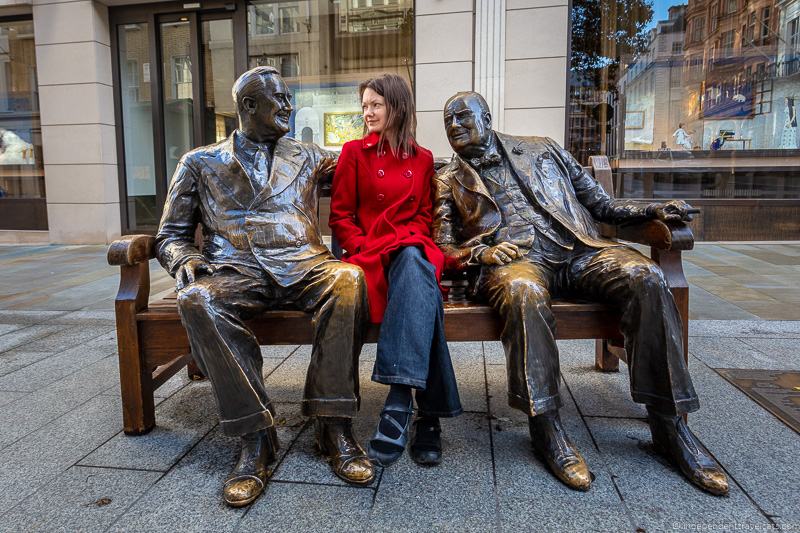 6. Chartwell
Chartwell is a country house located near Westerham, England that the Churchills purchased in 1922. The Churchills would substantially rebuild and extend the existing house and do extensive work to the gardens during their tenure. In the summer of 1923, Churchill would stay at a nearby house, Hosey Rigge, where he would supervise the rebuilding and decorating at Chartwell.
Winston Churchill loved Chartwell and used it as a refuge and a place to write, compose his speeches, paint, play with his children, recuperate, and entertain. He was very proud of the grounds and gardens, where he organized the building of walls, ponds, and dams, and he enjoyed showing visitors around his estate.
At first, Chartwell was only sporadically lived in by the Churchills. It became a place where Churchill would visit to seek solitude and recuperation during times of disappointment, stress, or poor health (lost elections, tense wartime periods, strokes). After Winston Churchill resigned as Prime Minister in 1955, it became a regular residence for the Churchills with the couple splitting time between Chartwell and their London house in Hyde Park Gate.
Despite her husband's love for their home, Clementine was never keen on living at Chartwell, thinking it as expensive and too far from London. Clementine worried about the cost of upkeep of Chartwell and perhaps with good reason, as the Churchills were close to selling or losing Chartwell on a few occasions.
In 1937, after the crash of the American stock market where the Churchills lost a lot of money, the couple discussed selling the house to help stabilize their financial situation. Then again in 1946, Churchill felt that he needed to sell Chartwell as his income was not sufficient to maintain the upkeep any longer.
However, his friend Lord Camrose and a number of his friends helped raise money to purchase the house from Churchill for £50,000 (a fortune at the time) with the stipulation that it would be left to the National Trust after Churchill's death as a memorial. Churchill was charged only a nominal annual rent and could live happily at Chartwell for the rest of his life without worrying about its cost.
He was grateful for his friend's kind intervention and vowed to leave the house in great shape and to leave lots of documents and personal effects at Chartwell for the National Trust. He would write to Lord Camrose in 1945: "You may be sure that Clemmie and I will do our utmost to invest the house and gardens with every characteristic and trophy that will make it of interest in the future." After Churchill's death, Clementine would move out and leave the house to the Trust, and it would open to the public for the first time in 1966.
Today, Chartwell is still maintained by the National Trust and it has become one of the Trust's most popular properties. Visitors can see many of the Churchills' private rooms decorated as they would have been in the 1930's, visit a museum exhibit that contains a number of significant objects such as Churchill's Nobel Prize in Literature medallion, visit his studio that has a large collection of his paintings, and stroll the grounds and gardens.
If you are a cat lover, keep an eye out for Jock, an orange cat with white feet and chest, as the Churchill family requested that a marmalade cat name Jock always be present at Chartwell. The original Jock was one of Churchill's last pets before his death, a gift from his personal secretary Sir John "Jock" Colville.
Self-guided visits of the Chartwell are timed, so you'll want to book in advance or arrive in the morning to be guaranteed a visit to the house. A cafe is also on site if you are hungry after your visit.
Address: Mapleton Road, Westerham, Kent, TN16 1PS
Getting here: Chartwell is easy to reach by car, and is located a 5 minute drive from the town of Westerham. There is parking at Chartwell although there is a small fee to park.
You can also travel here by bus (can check the National Express website), although you will likely need to stop at a nearby village and take a taxi to reach Chartwell. The 246 London Bus route from Bromley North stops at Chartwell but generally only on Sundays in the summer months and holidays.
If you are traveling by train, the nearest stations are at Edenbridge, Oxted, and Sevenoaks, and then you'll need to take a taxi to Chartwell.
Taking a tour from London is also possible, usually as a private tour, and you can check out tour options here and here.
Admission Fee?: Yes. There is an admission fee and small parking fee. Free entry and parking for National Trust pass holders. Since entry into the house is limited and timed, we recommend pre-booking your ticket or arriving early to guarantee entry into the house.
Things Churchill admirers should Not Miss: There are loads of things to see here which include the rooms of the house and the museum exhibits in the house which contain some priceless Churchill objects like his Nobel Prize medallion, manuscripts, and gifts sent to him from dignitaries around the world.
Don't forget to check out the detached studio which contains a number of Churchill's paintings and to wander around the estate. Outside there is a large bronze statue by Oscar Nemon of Winston and Clementine near the main lake. You'll want to spend at least 2 hours here.
If you stop in Westerham, there is a statue of Churchill there as well on the village green.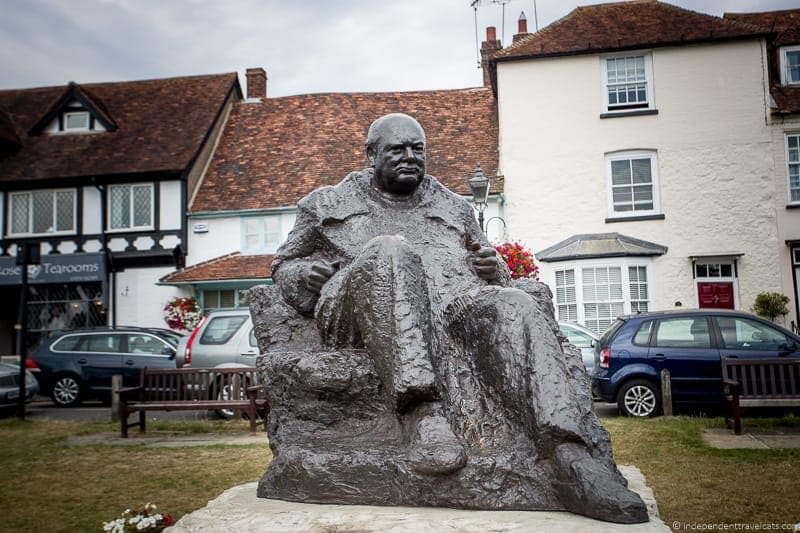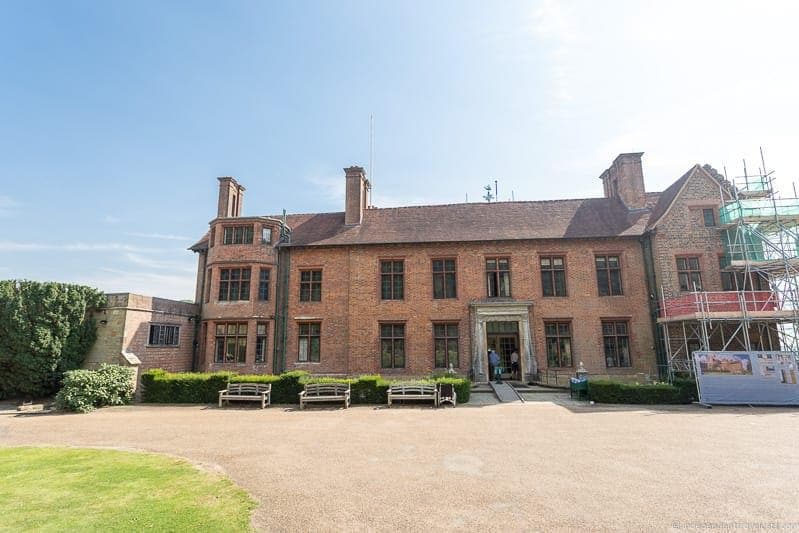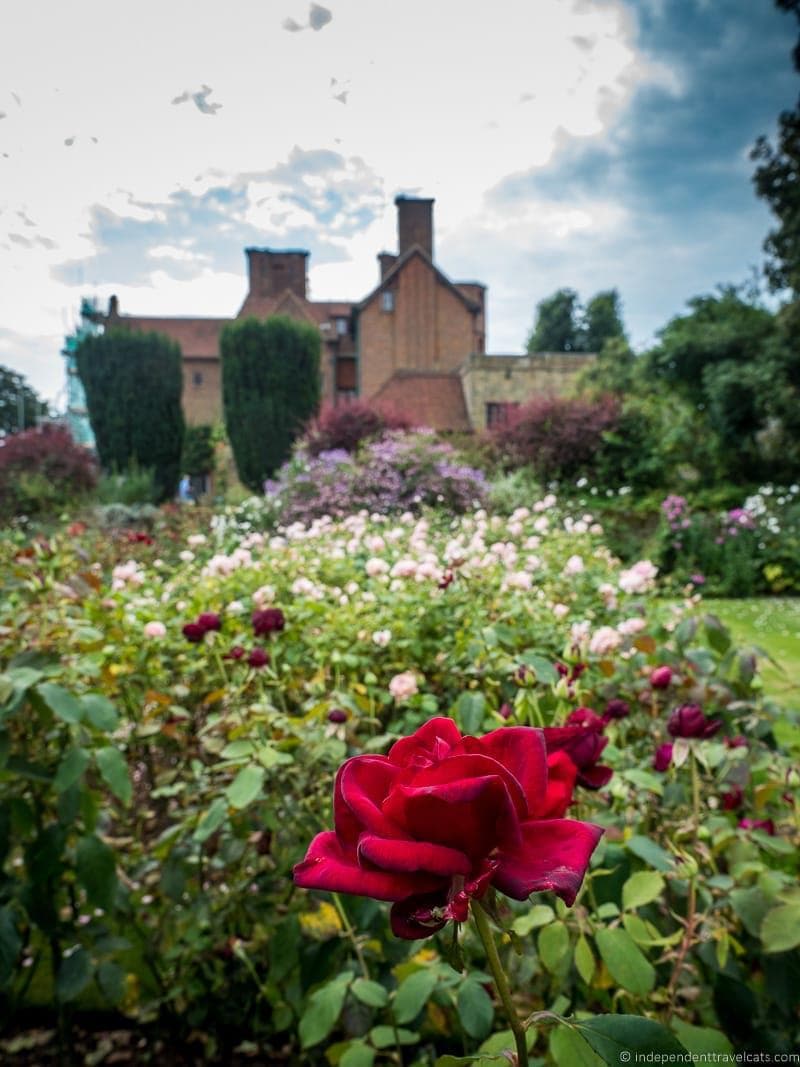 7. St. Paul's Cathedral
St Paul's Cathedral is an Anglican church in London designed by Sir Christopher Wren in the English Baroque style. The present church was consecrated in 1697; however, it sits on the same site as the former medieval church of the same name which was badly damaged by fire. Today it is the seat of the Bishop of London and one of the most important churches in London, sometimes called the religious soul of the city.
The Cathedral has been the site of many famous services and events, including the state funerals of Lord Nelson and Winston Churchill, jubilee celebrations for both Queen Victoria and Queen Elizabeth II, and royal weddings such as that of Prince Charles to Princess Diana. The Cathedral can be seen from many places in London and is one of the most recognizable places on the city skyline.
During World War 2, St. Paul's Cathedral became a symbol of resilience and resistance as despite heaving bombing by the Germans during the Blitz, the Cathedral famously survived although it was damaged. Churchill would give orders to the fire brigade to try to protect the church at all costs as he knew how important it was symbolically to the morale of Londoners in the dark days of the Blitz.
There was one night when there were so many bombs and incendiaries that one American reporter described it as the "Second Great Fire of London" and it was only with the help of a vigilant crew of volunteers that St. Paul's was able to escape significant damage. There are some amazing photos, particularly "St. Paul's Survives" by Herbert Mason, of the Cathedral's recognizable dome peering out from the wreckage of a fiery and smoldering London after nights of severe bombing.
After the war, Churchill and Clementine would attend a thanksgiving service at St. Paul's Cathedral on May 13, 1945 to celebrate VE day.
Probably the event most associated with Churchill is that his funeral service that was held here. On January 30, 1965, Winston Churchill's funeral was held at St. Paul's Cathedral. Churchill was given a State Funeral, a significant honor normally only reserved for the monarch, and which must be approved by both the monarch and the Parliament. Churchill's funeral service included dignitaries from over 100 countries, including Queen Elizabeth II (her first non-royal funeral attendance), French President Charles de Gaulle, and former U.S. President Dwight Eisenhower.
Queen Elizabeth II in her address to Parliament would call him, her first Prime Minister, "a national hero" and former Prime Minister Clement Attlee would describe him as "the great Englishmen of our time—I think the greatest citizen of the world of our time." As of now, Churchill is the last person to receive a state funeral in the UK.
Churchill's state funeral is commemorated in St Paul's by a bronze memorial plaque designed by John Skelton and set before the choir steps which reads: "The catafalque of Sir Winston Churchill stood here at his state funeral on 30 January 1965". Note the plaque is currently not viewable (as of July 2021) as an altar now sits on top of it.
Then in 2004 the Winston Churchill Memorial Screen was added, commissioned by the Cathedral Chapter and designed and made by the blacksmith James Horrobin. The steel and bronze memorial screen is currently located in the crypt.
Today St. Paul's is both an active church and a busy tourist attraction. You can visit the church on a self-guided visit with an audioguide or you can join a guided tour of the church. St. Paul's Cathedral is a busy tourist attraction so be sure to allot enough time, especially if you want to climb the steps to the dome which can have a long line. Visitors usually spend about 2 hours visiting the church. Note that the church is closed to visitors during worship services and special events.
Address: St Paul's Churchyard, London, EC4M 8AD
Getting here: Located in central London, in the City of London, it is easy to reach by public transportation from throughout the city. It is within walking distance of the Tate Modern, Shakespeare's Globe, and the Museum of London..
Admission Fee?: Yes. Free entry is included if you are using a London Pass. Tours are self-guided with an audioguide or you can join a guided tour at the church (check schedule). Worshippers attending a church service or wanting to pray in one of the side chapels can enter for free.
Things Churchill admirers should Not Miss: The bronze memorial plaque (not currently viewable) and Churchill Memorial Screen. Americans, in particular, may also want to visit the American Memorial Chapel at the east end of the cathedral, a part of the Cathedral destroyed during the Blitz. Here the 28,000 Americans who gave their lives while stationed in the UK during World War II are commemorated in a Remembrance Book.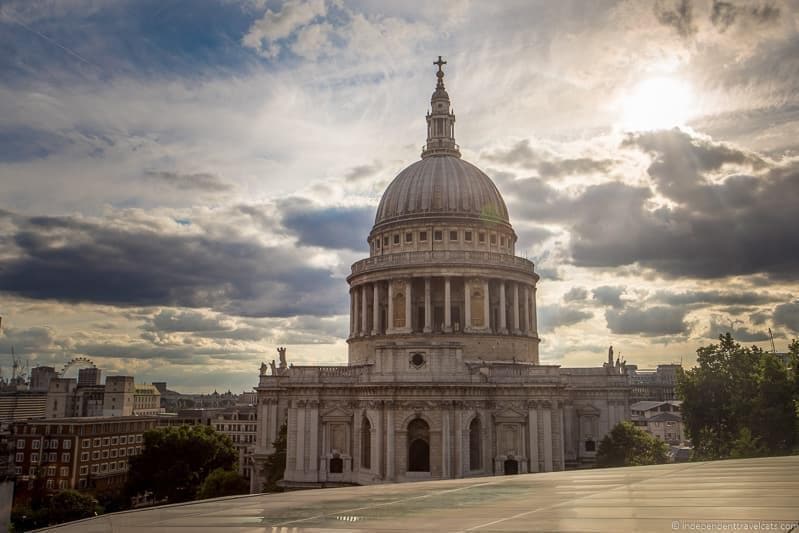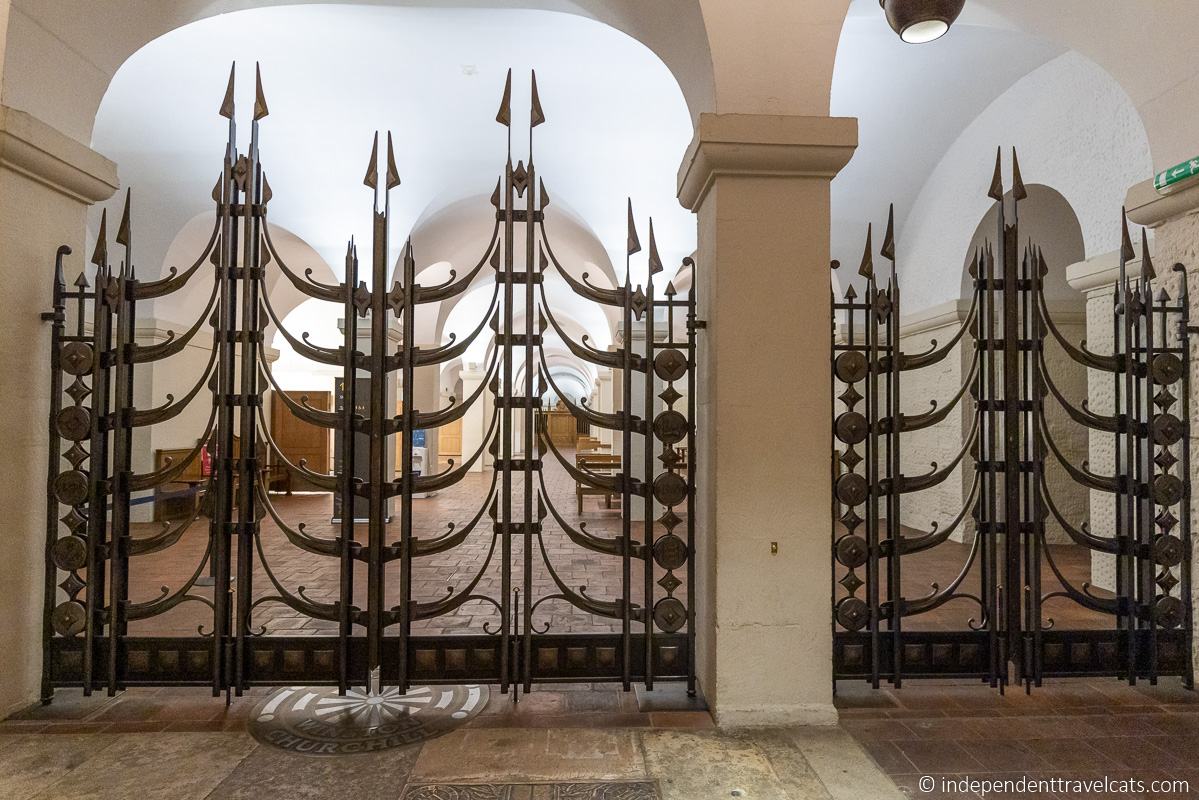 8. St Martin's Church
Although many people would guess that Churchill is buried at Blenheim, Chartwell, or one of London's grand churches, you'll actually find his grave in the churchyard of a small Anglican parish church in Oxfordshire. St. Martin's Church covers the parish that includes Blenheim Palace, and as the family seat of the dukes of Marlborough most of the non-titled members of the family are buried there. Most of the dukes and duchesses, with a few exceptions, are buried at Blenheim Palace chapel instead of St. Martin's Church.
It is believed that a church has existed at the site since the 11th or 12th century with much of the current St Martin's Church dating from 1891. The church is still an active church and holds a weekly Sunday service (visitors welcome) as well as special ceremonies.
In 2015, the church added a Churchill Memorial Window, a beautiful stained glass window dedicated to Churchill designed by artist Emma Blount.
Unlike most people's funerals, Winston Churchill's funeral was thought of long before it happened and was extremely well-planned. Codenamed Operation Hope Not, the planning began in the 1950's and was headed by the Earl Marshal, Bernard Fitzalan-Howard, the Duke of Norfolk. Churchill's funeral would include 3 days of lying in state at Westminster Hall, an elaborate procession through London with his coffin on a gun-carriage, a funeral ceremony at St. Paul's Cathedral, a river transfer aboard the Havengore, a military fly by, the dipping of cranes along the Thames, and then a transfer at Waterloo Station to a special train that took the coffin to Bladon.
The Churchill funeral train was pulled by the Churchill locomotive (currently preserved and often on display at the National Railway Museum in York) and most of the train cars have been preserved. At least one of the Pullman carriages (Perseus) is in operation as part of the Belmond British Pullman train which we have ridden.
At Bladon he was buried at a private ceremony attended by only family and friends on January 30, 1965. For a more detailed account of his funeral this article by The Telegraph gives a nice account, published exactly 50 years after his funeral.
Winston Churchill is buried next to his wife Clementine (who would pass away in 1977) and near other Churchill-Spencer family members. In the churchyard, you'll also find the graves of his parents, brother Jack, children, Consuelo Vanderbilt, and other relations.
Sadly, Churchill's original tombstone has had to be replaced because of damage by visitors. Please be respectful when visiting the churchyard as St. Martin's is an active church and graveyard.
Address: Church St., Bladon, Woodstock OX20 1RS
Getting here: It is located about 2 miles from Blenheim Palace so a short drive (parking within village) or you can take a local public bus from Oxford or Blenheim Palace to Bladon and then walk to the church. Best to combine with your visit to Blenheim Palace.
Admission Fee?: No, it is free to visit St. Martin's Church and churchyard, although the church interior is not always open. If you want to make sure you get to see the interior, visit on a Sunday after services (services every Sunday morning) or call ahead.
Things Churchill admirers should Not Miss: The grave of Winston Churchill, his wife, parents, children, brother, and other Spencer-Churchill family members. They are all located outside in the small graveyard behind the church. If the church is open, you'll want to go inside to see the Churchill Memorial Window and small exhibition.
Tips for Visiting: There is only a small amount of parking at the church itself so you may need to park on a street nearby (free) and walk up to the church. Please be respectful when visiting by not walking on, touching, or leaving things at the graves as visitors have done significant damage in the past. Here are some words from the church: "We ask all visitors to remember that, although in a public place, Sir Winston's grave is a private grave, maintained by a family trust – so we ask you not to leave memorabilia or flowers of your own. Fresh flowers are always placed on the grave every week, the cost being met by the trust and members of Sir Winston's family."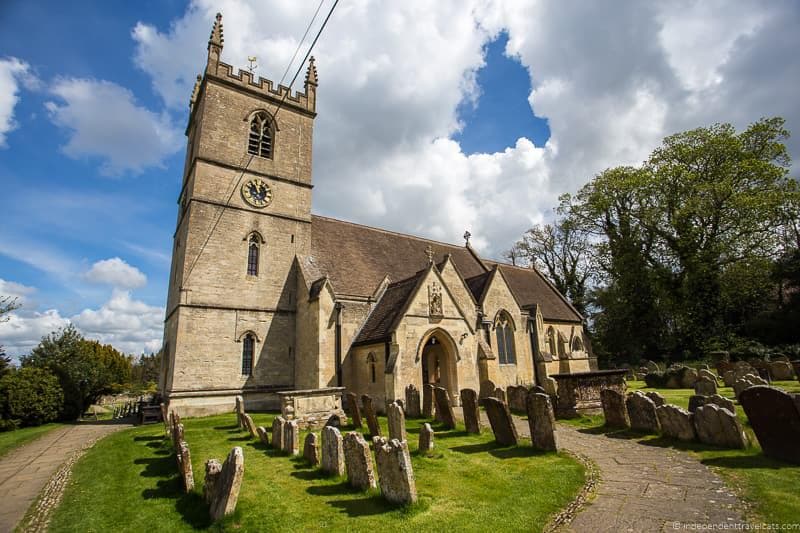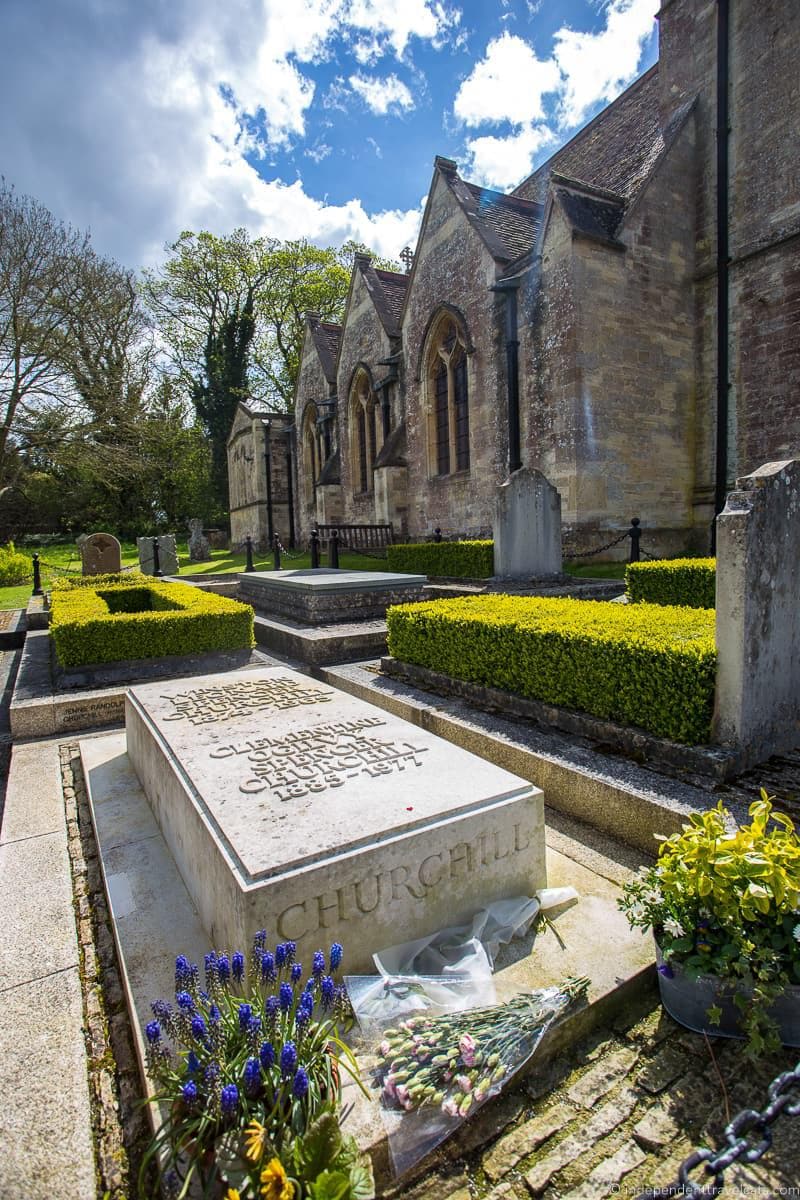 There you have it, our recommend listed of top Winston Churchill sites in England! Have you visited any of these sites, or are any of them on your list for future trips to the UK? We'd also love to hear of any Winston Churchill sites in England you'd recommend that are not on the list!
As always, feel free to ask us any questions in the comments below that you may have about Winston Churchill sites in England or any other travel questions related to the UK!