Glasgow is the largest city in Scotland and there are so many things to do in Glasgow! The city is home to fantastic art galleries, historical National Trust properties, leafy green spaces, amazing street art, and a plethora of live music venues. Glasgow is perhaps not as well-known as Edinburgh to international travelers, but the reward of visiting here is a less crowded city where experiences seem less rushed and more authentic.
Glasgow is an easy city to love with its friendly and welcoming residents, dozens of free museums and attractions, burgeoning focus on craft food and drink, thriving live music scene, large number of Charles Rennie Mackintosh buildings, and beautiful country homes and parks. There is something in the city for everyone from those who love art and architecture to those who prefer breweries and music.
We'll share our guide to Glasgow attractions, highlighting all the top things to do in Glasgow, from central Glasgow to the surrounding area.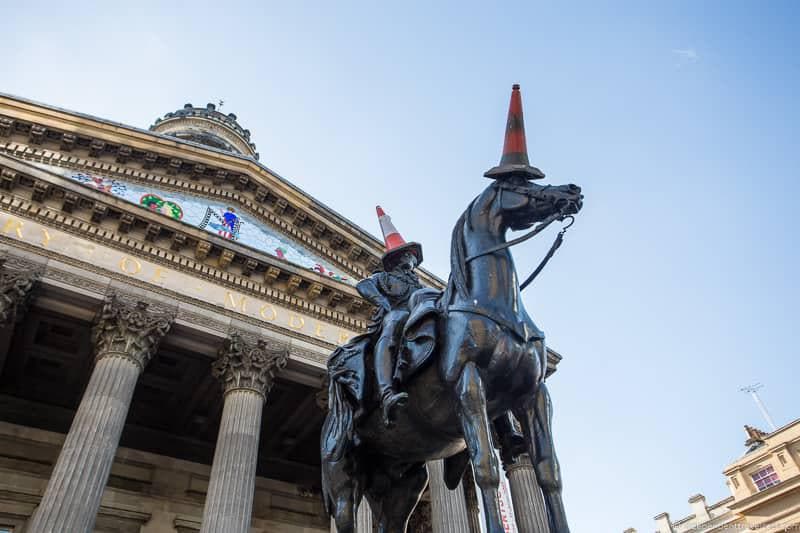 Basic Info on Visiting Glasgow
Where is Glasgow?
Glasgow is the largest city in Scotland and is situated alongside the River Clyde in the country's West Central Lowlands. If you are looking at a map of Scotland, it is the southwestern quadrant of the country.
Getting to Glasgow
By Plane. There are multiple options for getting to Glasgow. First, you can fly into the Glasgow Airport, which has flights from a number of domestic and international destinations. If there is no direct flight, connecting flights from London, Edinburgh, or Dublin are frequent. The airport is a short shuttle bus or taxi ride from the city.
If you fly into or out of Edinburgh Airport instead, you can book a CityLink shuttle bus which provides direct service between central Glasgow and Edinburgh Airport.
By Train. Glasgow is well-connected by train from locations throughout England and Scotland. You can save money on fares by booking train tickets well in advance. ScotRail and Trainline are good websites to check for train tickets.
By Sleeper Train. If you are interested in taking an overnight sleeper train (runs between London and Inverness), you can check the routes and schedule as most services stop in Glasgow. For more info, you can read about our Caledonian Sleeper train experience.
By Bus. If you are in the UK and would rather travel by bus, there are daily coach connections to Glasgow from a number of cities which generally take longer but may save you money compared to train fares. You can check National Express for coach connections and prices.
By Car. For drivers, Glasgow is about 50 miles from Edinburgh (about 1 hour, 10 minutes), 170 miles from Inverness (about 3 hours), 215 miles from Manchester (about 3 hours, 30 minutes), and 415 miles from London (6 hours, 30 minutes).
Getting around Glasgow
Glasgow has an excellent public transport system which includes buses and an easy to use metro (there's only one line and it goes in a circle, so you can't get lost!). There are also taxis of course.
Driving in and around the city is also fairly easy although finding parking in the central area and around the university can be difficult, and using a bus or walking is recommended for reaching central locations.
There's also the CitySightseeing Bus which is a hop-on, hop-off bus that will take you to all the highlights in the city and provides commentary so you can learn a bit more about the city and the sites you see.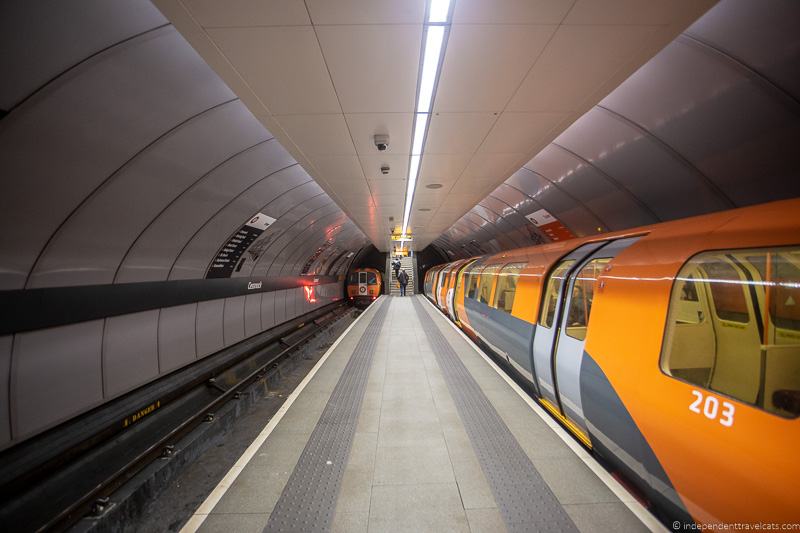 Best time of year to visit Glasgow?
The best time of year to visit depends a lot on what you want to do, but one of our favorite times of year to travel in Scotland is May and June. The weather is generally decent, the days are long, and the attractions are not too crowded. Although note that Glasgow is rarely as crowded as Edinburgh gets in the summer months.
However, any time of the year is a a good time to visit Glasgow as most attractions are open year round. Generally it will be warmer in summer and colder in winter, but predicting the weather is impossible as it can be sunny in January or cool and raining in August.
We'd suggest just checking the weather forecast before you visit, and be prepared for variable weather by bringing plenty of layers and rain gear no matter when you plan to visit.
How many Days should I Spend in Glasgow?
This depends primarily on how much time do you have and what you want to do. But I would recommend spending at least 2 full days and nights in Glasgow to get a good taste of the city, although you can of course see a few highlights on a day trip or spend a full week in the city and not run out of things to do.
The city is well-positioned for some excellent day trips as well to visit national parks, whisky distilleries, historical sites, and castles. We highlight a few of these at the end of the article, but you can also see our guide to the best Glasgow day trips for more suggestions.
To figure out how many days to spend in Glasgow, I would suggest using this post which lists all the main highlights and things do in Glasgow to create a list of places you want to visit. I would then figure out how many days it will take you to see all the Glasgow attractions you want (e.g. 3-5 attractions per day), and that should give you a good answer.
Where to Stay in Glasgow?
Glasgow has many lodging options, ranging from budget to upscale, and you should not have a problem finding an option that suits your style and budget. If you are looking for a hotel, then we'd recommend you check out the Glasgow accommodation listings on Booking.com which lists a large variety of hotels, apartments, guesthouses, and hostels.
We recommend staying in a central location so you are within walking distance (or a short bus or tram ride) from the city center (George Square).
Here are several suggested accommodation options in Glasgow for a variety of budgets:
We've also stayed in an apartment in Drygate, which was great value for money and within walking distance of the cathedral and city center. You can also take a look at this list of Airbnb alternatives for more apartment rental options.
Discount Passes in Glasgow?
Unfortunately there are no general discount passes for Glasgow; however, you'll find that many of the city's attractions are either free or inexpensive. Sometimes entry into one attraction may give you a discount into another as for example our City Sightseeing bus ticket came with a discount for the Science Museum.
If you are planning to visit several National Trust of Scotland (NTS) sites or Historic Scotland properties during your travels in Scotland, you may consider getting a traveler friendly and/or the Scottish Heritage Pass (valid April to October) to save money on entry fees. We have listed several National Trust sites in this Glasgow guide (i.e., Pollock House, Tenement House, Holmwood House, and Hill House) and there are over 120 properties cared for in Scotland by the NTS.
Where to find more Information?
If you are looking for additional information about planning your trip to Glasgow, you can check out the Glasgow tourism website.
Once in Glasgow, you can get information from local experts, pick up maps and brochures, and make accommodation and ticket bookings at the VisitScotland iCentres located within the Domestic Arrivals Hall of Glasgow International Airport and the Gallery of Modern Art (Royal Exchange Square, Glasgow, G1 3AH).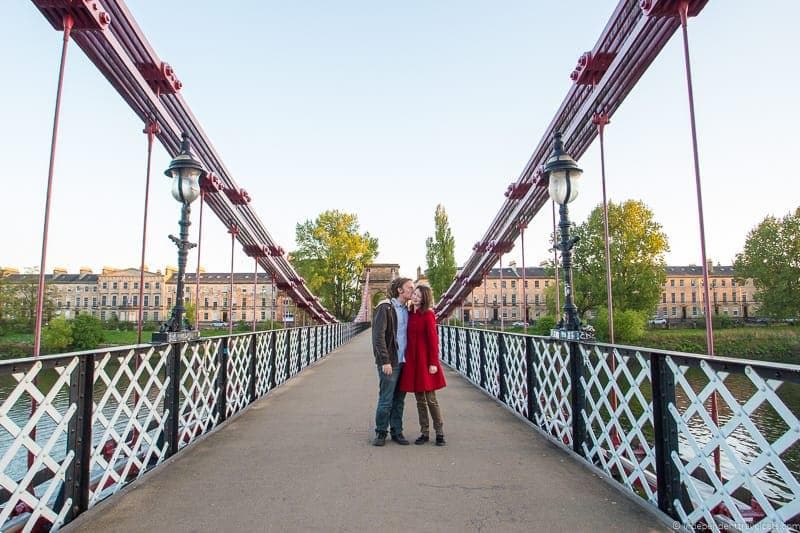 Things to do in Glasgow: Central Glasgow
There are so many things to do in Glasgow and luckily most are located within central Glasgow. Use this list to choose the attractions of interest and put together your own personalized Glasgow itinerary. All the spots in this first section are located within a 25 minute public bus ride from George Square although most are within a 10 to 20 minute walk.
George Square
George Square is the main city square in central Glasgow. It was laid out in 1781 and named after King George III. It is notable for several important statues and monuments such as those dedicated to Robert Burns, James Watt, William Gladstone, Queen Victoria, and Sir Walter Scott.
You'll also find the Glasgow City Chambers along the east side of the square. It is a common meeting place in the city.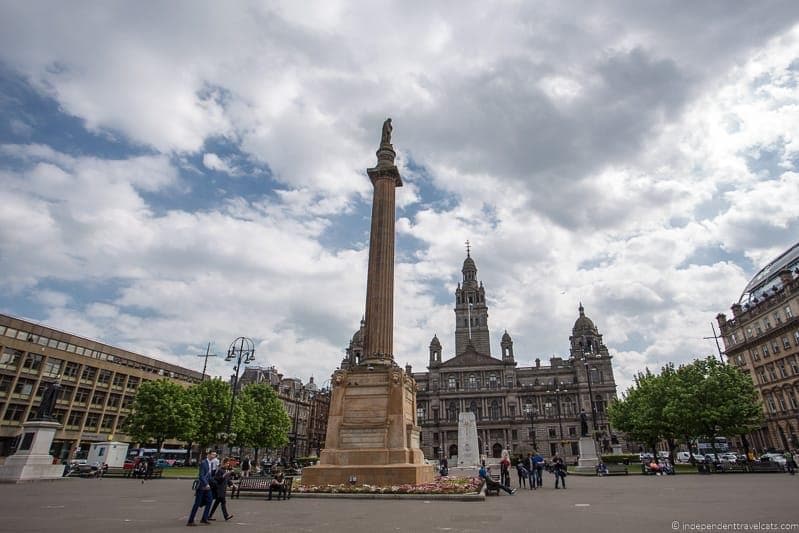 Glasgow City Chambers
The Glasgow City Chambers is a large Victorian era building that dominates the east side of George Square. It has served as a government building for the city since 1889, currently as the headquarters of the Glasgow City Council.
The building is worth seeing from the outside, but you can also take free guided tours of the inside. At the entrance you'll see the city's coat of arms and on a tour you can learn more about the history and function of the building as well as see more of the beautiful interior which includes marble staircases, mosaic ceilings, and mahogany paneling.
Tours are free and are typically given twice a day Monday to Friday, and tickets are available on a first-come, first-serve basis. You can contact the City Chambers Duty Manager by phone at 0141 287 4018 to ask about upcoming tour times.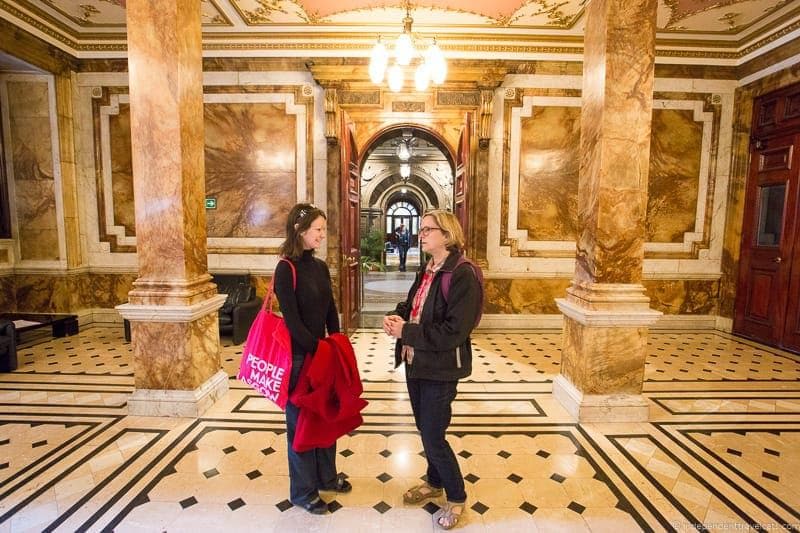 Gallery of Modern Art
The Gallery of Modern Art is located in the center of the city and is the most visited modern art gallery in Scotland. It has changing exhibitions of modern art from both local and international artists. The building itself has an interesting history, originally built in 1778 for wealthy tobacco merchant William Cunninghame. The art museum is free to visit.
In front of the art museum is one of Glasgow's most iconic landmarks, the Equestrian Statue of the Duke of Wellington. The interesting thing about the statue is the long-running placement each evening of a traffic cone on the top of the Duke's head or his horse's head (or both!). This long-running prank shows you a little of the local humor and character of Glaswegians I think.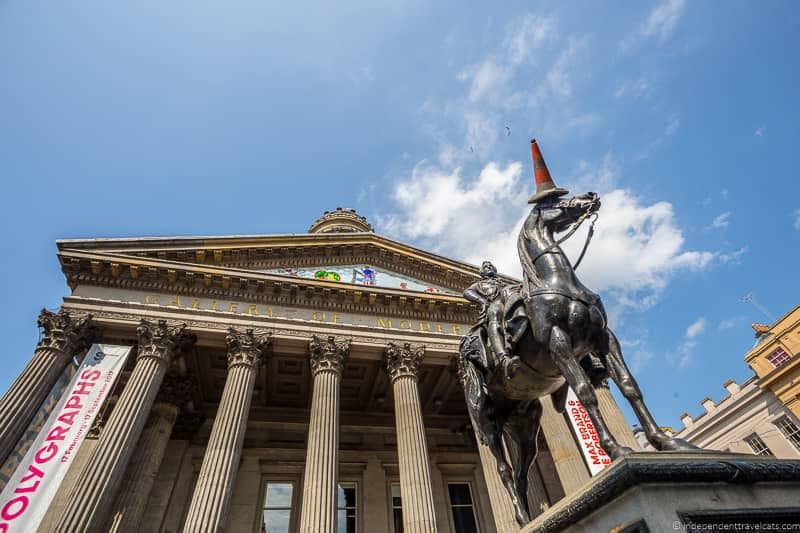 The Lighthouse
The Lighthouse, Scotland's Centre for Design and Architecture, serves as a visitor center, exhibition space, and events venue in central Glasgow. The building was designed by Charles Rennie Mackintosh—his first public commission—and formerly was the headquarters of The Glasgow Herald.
Mackintosh is probably the most famous Scottish architect and designer of the 20th century and is known for being influential as a creator of the Glasgow Style. There is a Mackintosh exhibition here, temporary art exhibitions and events, a gift shop, information center, and even a viewing gallery with a good view of the city. A guided behind-the-scenes tour of the tour is also offered, you just need to book in advance.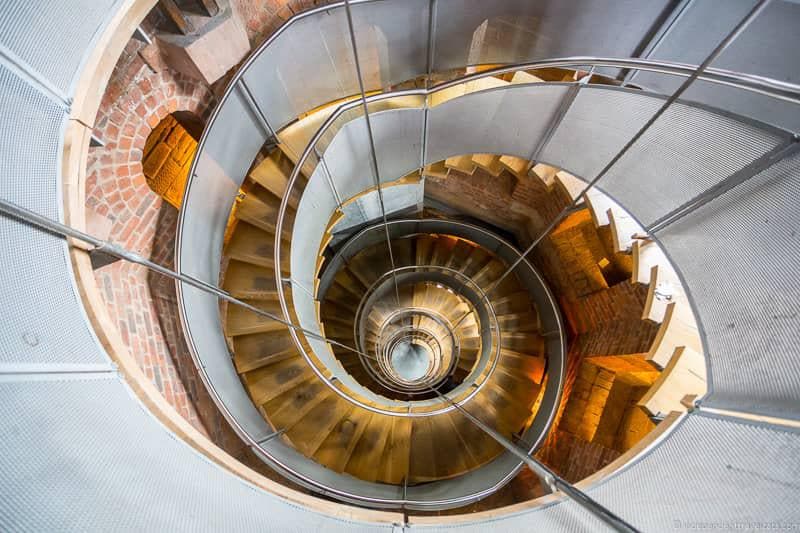 Sharmanka Kinetic Theatre
Sharmanka Kinetic Theatre is a one-of-the-kind show where kinemats (motorized machine sculptures) are synchronized to light and music. A Russian man named Eduard Bersudsky made all the figures, first in St. Petersburge and then in Glasgow. He started the show in the 1980's with theatre director Tatyana Jakovskaya, and it re-opened in Glasgow in 1996 after he left Russia.
Bersudsky started making folk art, mostly carved figures and figures made from scrap in the 1970's in Russia. Over time, the figures became more and more complex in design and movement. They tell stories from his life as well as stories about his home country, life, and death.
Laurence and I had first seen one of his works related to Robert Burns poem Tam O'Shanter that was on a temporary display at the Robert Burns Birthplace Museum in Ayrshire, and had wanted to see the show ever since. We recently got to visit the Sharmanka Kinetic Theatre and really enjoyed the show. We had no idea what to expect and it was like no other art show or performance we have seen before.
During the show you move around to the different machines as each is lit up and performs. A accompanying handout tells you a little about the machine. For example, one was called The Time of Rats, made in 1991, and part of the description stated: "The mole is like Russia – a very strong but blind animal controlled by clever rats enjoying themselves on his back."
This is a unique show and we recommend booking a ticket to see it if you have both the time and interest. You'll want to book tickets in advance. There are 40-minute and 60-minute shows and you must arrive before the show begins. You see more of the kinemats perform in the longer show.
The Sharmanka Kinetic Theatre is located within Trongate 103 which is a arts center. Worth exploring as there are sometimes contemporary art exhibitions here and there is a nice gift shop.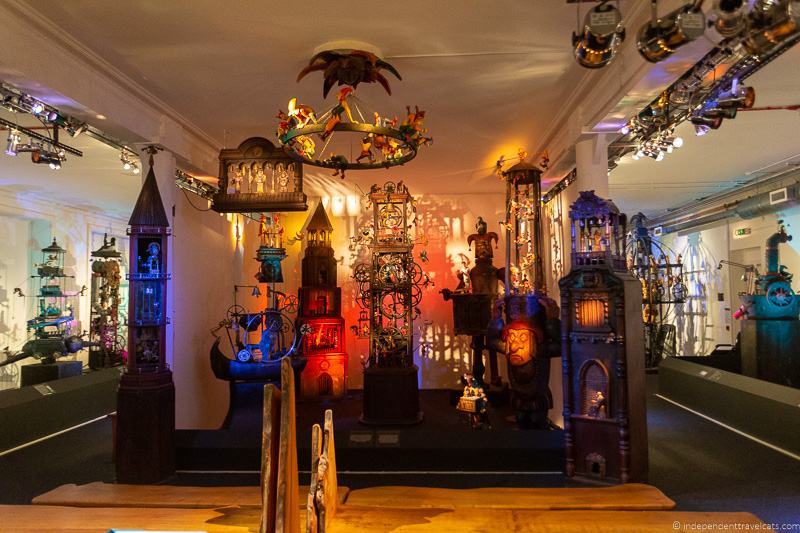 St. George's Tron Church
Saint George's Tron Church first opened in 1808 and is one of the oldest buildings in this part of Glasgow. It is dedicated to Saint George and is part of the Church of Scotland.
The church made national headlines in 2012 when the then minister of the church, Reverend William Philip, and the entire congregation (about 500 members) formally left the Church of Scotland due to the Church's discussion about permitting opening gay clergy. Since then, the Church of Scotland has inducted a new minister at the church and has been rebuilding the congregation here.
The church has opened a social enterprise cafe within the church which serves coffee, soup, scones, and snacks. It is a registered charity and proceeds go to helping local vulnerable people such as the homeless. When we last visited, there was also artwork on display by Iain Campbell related to the homeless of Glasgow. So a good place to get a cup of coffee if you are looking for one in the area.
The church is also an active church with regular services, bible studies, and other events.
Glasgow Cathedral & Necropolis
Glasgow Cathedral, also known as the High Kirk of Glasgow and the Cathedral of Saint Mungo, is Glasgow's oldest building with part of it dating from 1136. Originally a Roman Catholic church (hence its name as a cathedral), it is now an active Church of Scotland gathering place as well as an important historic building. It's here on this site that the patron Saint of Glasgow, St. Mungo, was believed to have founded his church, and he is buried in a crypt underneath the building.
There are a number of notable historical, religious, and architectural elements to be found here and it is a beautiful example of Scottish Gothic architecture. If you are really interested in the cathedral, I'd recommend that you can contact the cathedral in advance to arrange a guided visit.
Outside, you can cross a footbridge to the necropolis, which a is a large hillside burial ground and great place for a walk on a sunny day. The Cathedral and necropolis are free to visit although donations are appreciated. Nearby, you can also visit the Provand's Lordship and the St. Mungo Museum of Religious Life and Art.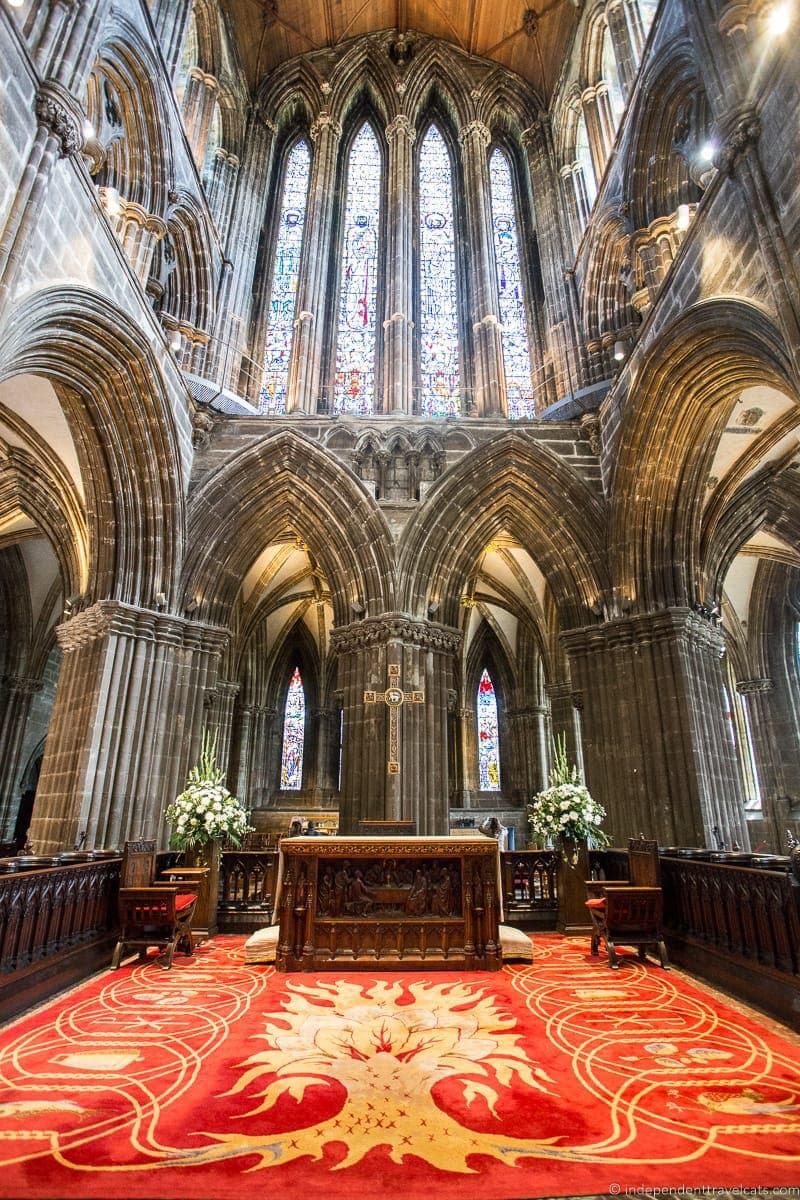 St. Mungo Museum of Religious Life & Art
A short walk from the cathedral, you'll find the St. Mungo Museum of Religious Life & Art which is a museum that not only tells the history of religion in Scotland, but also covers a number of the world's major religions. It contains a large amount of information and religious artifacts.
When we visited, there was an excellent exhibition on how death is handled among many of the world's religions. You'll also find a relaxing museum café here as well as a Zen garden, the first in Britain. The museum is free to visit.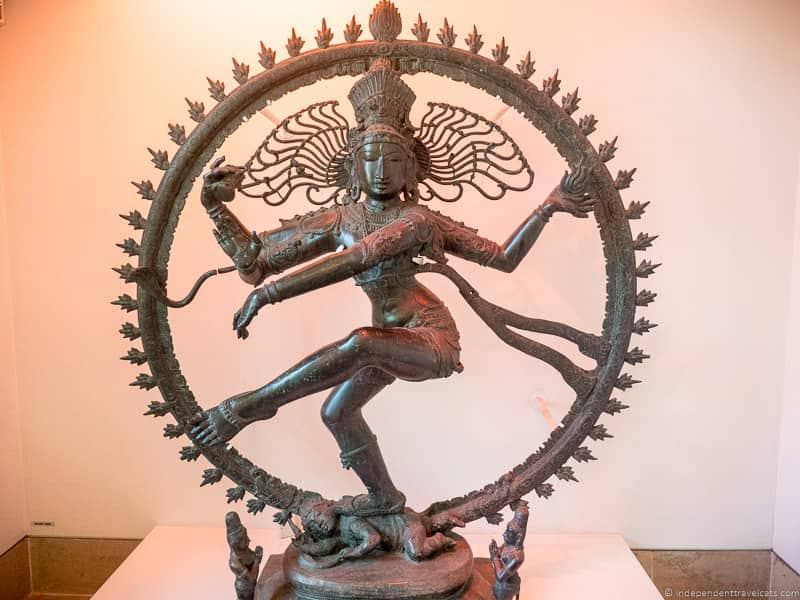 Provand's Lordship
Provand's Lordship is a medieval building constructed in 1471, originally part of St Nicholas's Hospital. It was lived in by various Cathedral clergy and is the oldest house in Glasgow.
This is one of only a few surviving medieval buildings in Glasgow. The building has been restored and is furnished to depict life between 1500 and 1700, showcasing a number of pieces of 17th century Scottish furniture donated by Sir William Burrell.
If you visit, be sure to step outside to see the pretty St Nicholas Garden, a medicinal herb garden located behind the building. Provand's Lordship is free to visit and is only a 2 minute walk from Glasgow Cathedral.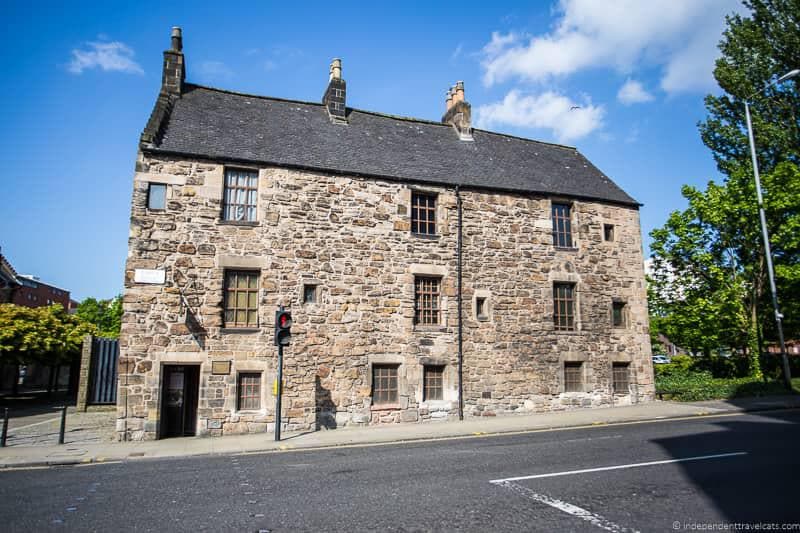 Tennent's brewery tour
Tennent's is a popular Glasgow beer brand and its pale lager beer is known as "Scotland's favourite pint". If you are not familiar with it, you'll probably start to notice all the red T's in the restaurants and bars carrying its beer while in Scotland. Wellpark Brewery in Glasgow was founded in 1740 and today you can take a guided tour of the brewery to learn about Tennent's history, brewing process, packing and distribution, and of course taste the beer.
We enjoyed our visit, as it was a well-organized and informative tour that ended with a generous beer tasting. The museum and sample room is a fun place to look around before or after the tour, having lots of memorabilia on display such as the famous "Lager Lovelies" cans. Guided tours are available daily, best to book in advance if you have a preferred tour time.
Note that guests must be wearing closed flat shoes suitable for walking around a work environment, be able to climb stairs, and children must be at least 12 and accompanied by an adult. Special access tours for those in wheelchairs or with limited mobility can be arranged if you contact them in advance.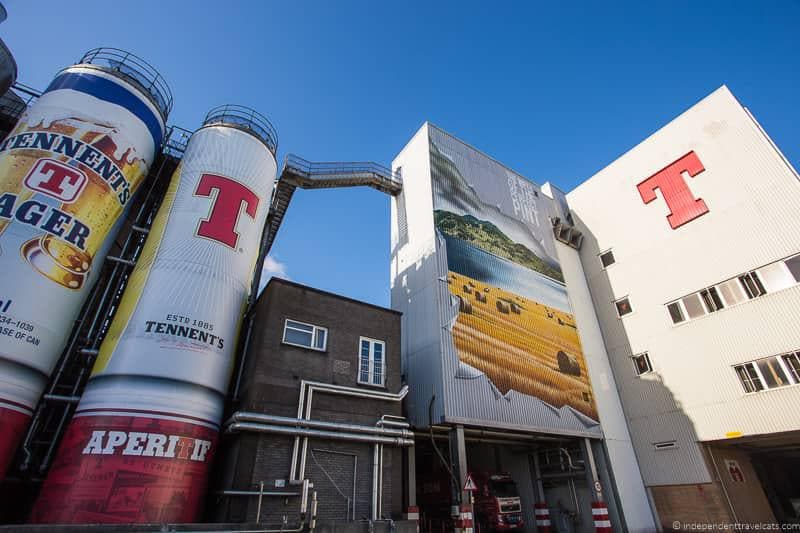 Glasgow Green
Glasgow Green is a historic park in the east part of the city that has been a public green space since the 15th century, making it the oldest park in Glasgow. The land was first given to the people of Glasgow (and Bishop William Turnbull) by King James II in 1450. It was initially mainly used as grazing lands and over the centuries has been used for a multitude of purposes. A number of historic political demonstrations, concerts, and other events have been held here.
Within the 136 acre park, you can find a number of sites of interest including the Nelson's Monument, fountains, McLennan Arch, Templeton Building (old carpet factory turned business center and living community), St. Andrew's Suspension Bridge, People's Palace, and the Winter Garden. Doulton Fountain is a notable highly decorated fountain designed by Arthur Edward Pearce for Queen Victoria's Golden Jubilee in 1887.
The park also contains a network of footpaths, children's play areas, and sports facilities. Glasgow Green is free and open to the public.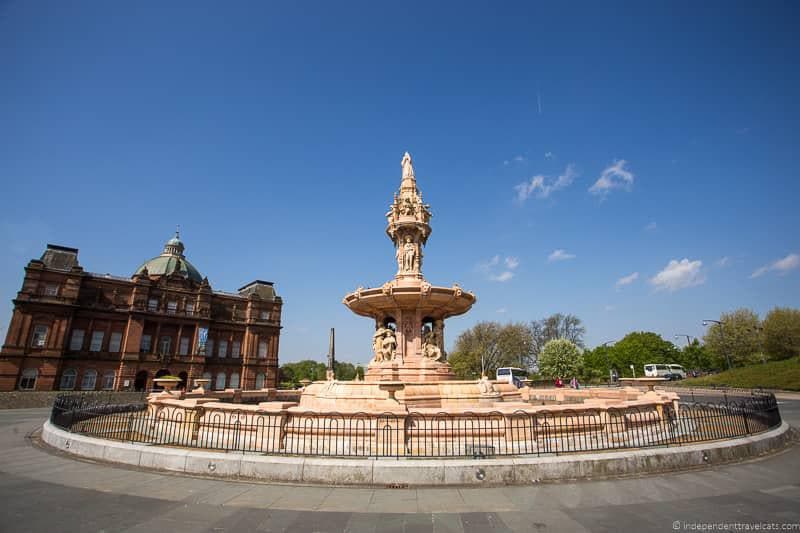 People's Palace & Winter Gardens
The People's Palace is a social history museum and cultural center set in Glasgow Green that holds a collection of historical artifacts, art, photographs, and other objects that tell the story of Glasgow and its people from the mid-18th century until modern times. You'll find information and artifacts that range from a reconstructed early 20th century one-room tenement to comedian Billy Connolly's infamous "Banana Boots". '
The building was designed by city engineer Alexander McDonald and opened in 1898 as a place for people to enjoy reading, art, and culture. The Winter Gardens, a Victorian glasshouse, is located behind the People's Palace and it contains a collection of palms and exotic plants and also houses a café. A visit here is an easy way to spend an hour or two.
Admission is free to both the People's Place & the Winter Gardens.
The Glasgow Police Museum
The Glasgow Police Museum is a small museum containing over 2,000 items related to policing both in Glasgow and around the world. The city of Glasgow Police was the first professional police force in Britain, being established by an Act of Parliament in 1800!
The museum is split into two permanent exhibitions: 1) The Glasgow Police Historical Exhibition contains artifacts and information related to the City of Glasgow Police from 1779 to recent times and 2) The International Police Exhibition has information and artifacts from police forces around the world.
The museum is currently open two days a week. Admission is free but a donation is greatly appreciated to help keep the museum operating.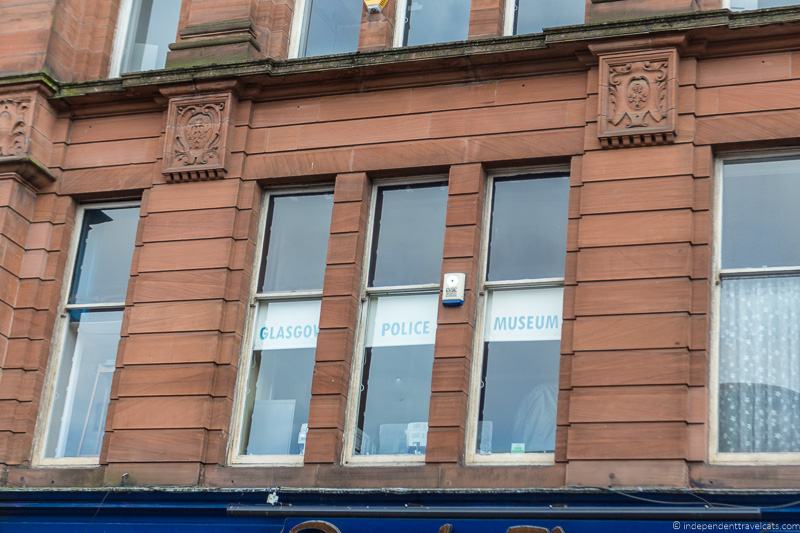 University of Glasgow
The University of Glasgow was founded in 1451, making it the fourth oldest university in the UK and the second oldest in Scotland. It has more listed historical buildings than any other university in the UK and the exteriors are easy to explore on a self-guided or guided tour. The university also has several museums and attractions that are open to the public.
All of the sites within the University of Glasgow are within walking distance of each other, including the visitor center, Hunterian Art Gallery, The Mackintosh House, and Hunterian Museum.
Parking can be difficult on weekdays as there is limited pay-and-display parking available to visitors, so taking the bus or subway may save you time even if you have a car.
University Tours
If you are interested in touring the university and learning more about the architecture and some of the famous scholars and professors, you can do a self-guided or guided tour of the university.
You can stop at The Welcome Point (open Monday-Friday), the university's visitor information center, located in the McIntyre Building near the main university gate for campus maps and information. You can book a guided university tour at the visitor center or in advance online.
On the tours you can see some of the university's most historical buildings and architectural elements as well as learn about some of its most important people, such as economist Adam Smith, television pioneer John Logie Baird, physicist Lord Kelvin, and artist Charles Rennie Mackintosh.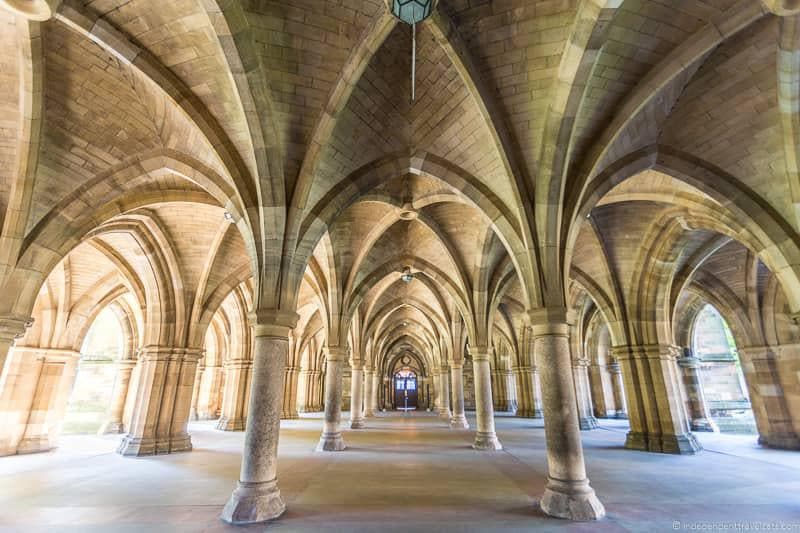 Hunterian Art Gallery
The Hunterian Art Gallery, located next to the University Library, holds a collection of over 900 permanent works of art. Although it holds art from artists around the world, it has an especially large collection of art from Scottish artists, including a large number of works by the Scottish Colourists, Glasgow Boys, and Charles Rennie Mackintosh.
Highly recommend a visit here for those interested in Scottish art. The main collection is free to see with admission charges for special exhibits.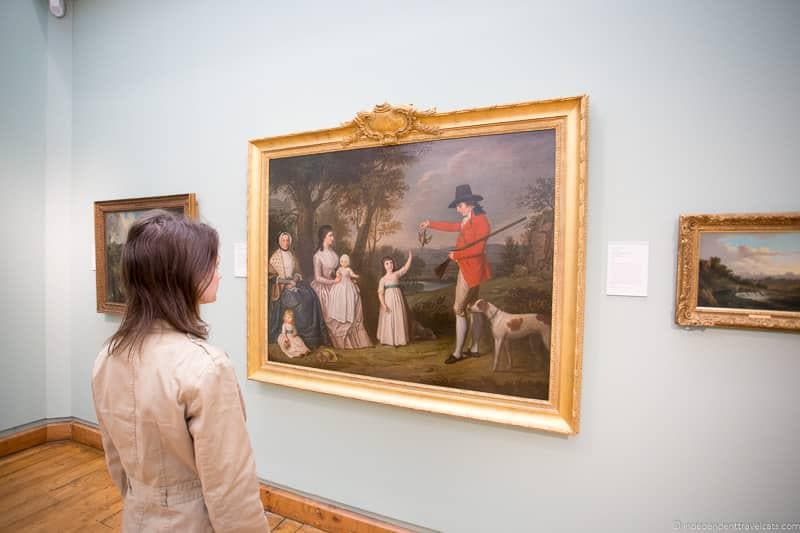 The Mackintosh House
The Mackintosh House is a reconstruction of the home where architect and artist Charles Rennie Mackintosh and his artist wife Margaret Macdonald Mackintosh lived together from 1906 to 1914. The house was not designed by Mackintosh but the original Victorian house was remodelled and redecorated by Mackintosh. The original house was demolished in the 1960's, but the fixtures and furniture were preserved.
The original interior spaces were faithfully recreated as closely as possible at The Mackintosh House and the majority of the furniture in the house is from the original house. Many of the furniture and design elements were created by the Mackintosh couple, and these were pointed out to us during the tour. This is the best place to get a sense of where and how these two artists actually lived.
The house is open to the public via guided tours for a small admission fee. You can buy tickets and access The Mackintosh House via the Hunterian Art Gallery.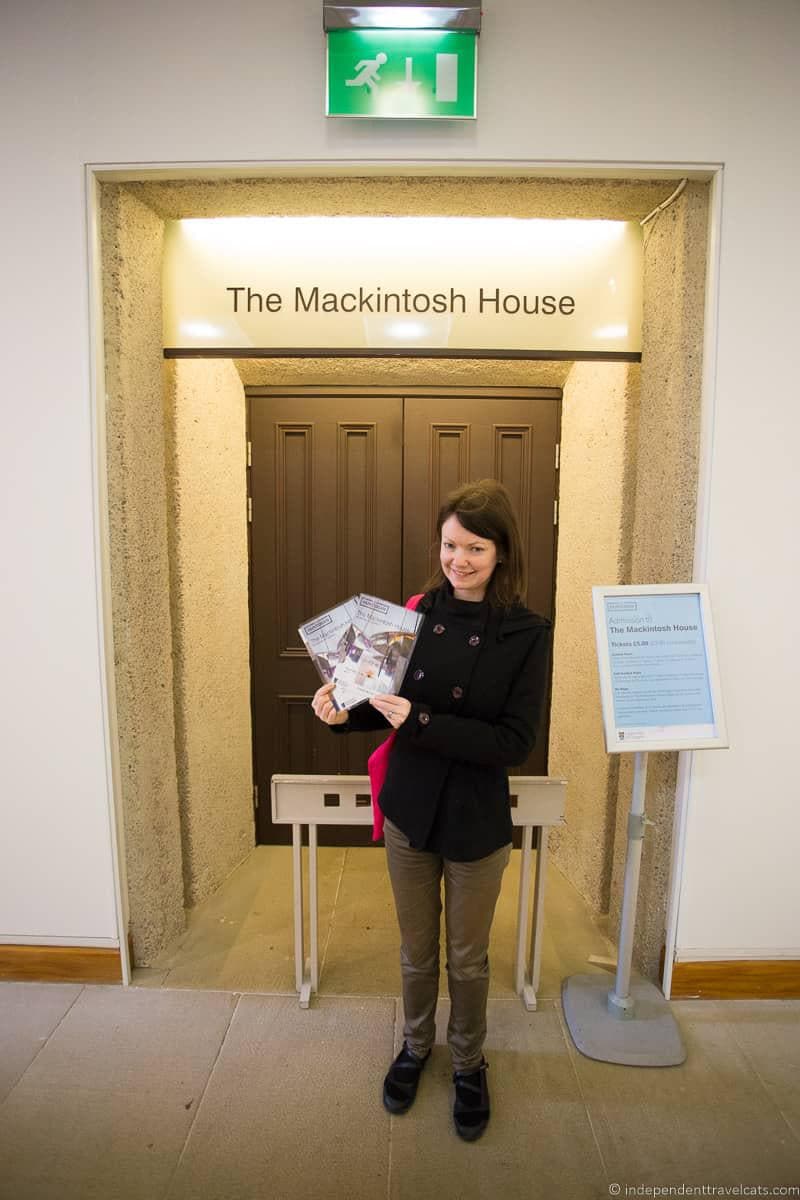 Hunterian Museum
The Hunterian Museum is the oldest public museum in Scotland, founded in 1807 by anatomist and avid collector William Hunter. It holds a large and eclectic collection of scientific instruments, fossils, Egyptian artifacts, coins, anatomical instruments, and geological specimens.
It also holds one of the largest exhibits on the Antonine Wall, which was a Roman wall built in the 2nd century AD along central Scotland. The Antonine Wall is much less well-known than Hadrian's Wall as few of its fortifications are still visible.
The Hunterian Museum is located in part of George Gilbert Scott's University buildings and is free to visit.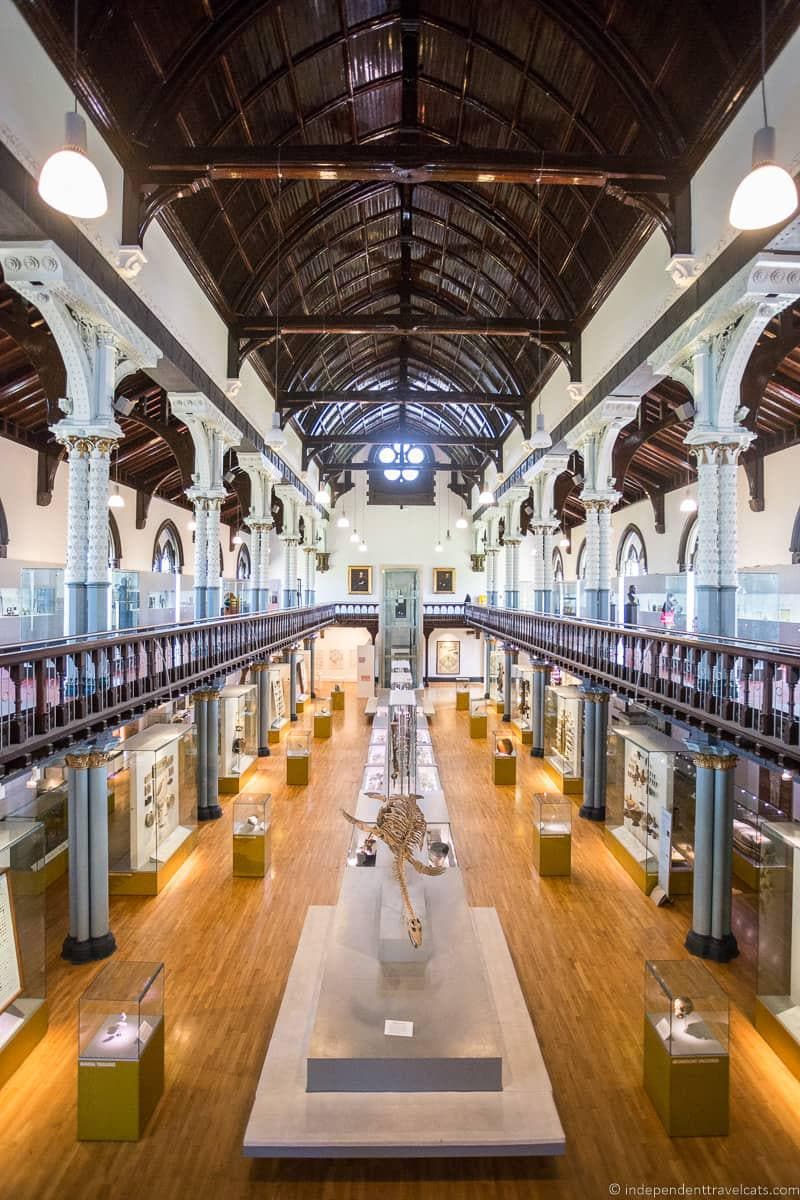 Note that there are also additional museum collections located at the university such as zoology and anatomy collections; however, these normally require an advanced appointment to visit as they often do not have set hours for public visits.
Kelvingrove Art Gallery & Museum
The Kelvingrove Art Gallery & Museum holds one of the largest collections of art and objects in Scotland. There are over 20 themed galleries displaying everything from a spitfire plane to medieval armor to Impressionist paintings. This is one of the largest and best free museums in Scotland and one of the most visited attractions in Glasgow. You can easily spend 2 or 3 hours exploring the many galleries here.
If you only have time to visit one museum in Glasgow, this would be our recommendation if you are looking for a general museum as it contains a very wide range of excellent exhibits that will appeal to a range of travelers. Note that it can get a bit crowded so going near opening time can make for a more pleasant visit.
The main collection is free to visit with admission fees charged for special exhibitions. There is also a café and gift shop on site.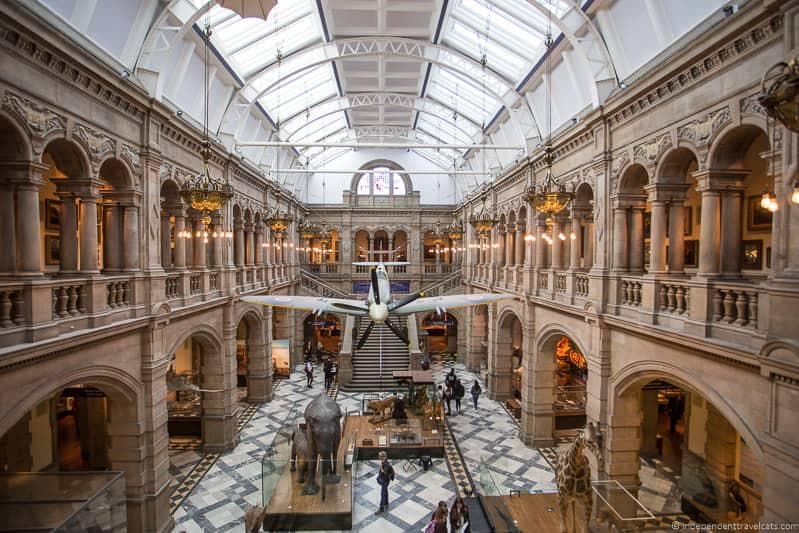 Glasgow Central Station tour
You can take a behind-the-scenes tour of the Glasgow Central Station which is the second busiest railway station in Scotland. You get to explore some of the disused Victorian tunnels, boiler rooms, and platforms hidden below Central Station. The tour, developed primarily by Network Rail historian Paul Lyons, focuses on the history, architecture, and the social history about how the people used the station, especially during WWI.
Tour guests must wear sensible shoes, and appropriate safety gear will be provided to you before the tour. Currently all tours must be booked in advance online.
Note that the tour requires quite a bit of walking, going up and down stairs, and walking through narrow corridors. This is a good tour for the railway enthusiast but may not appeal to the general traveler.
Riverside Museum
The Riverside Museum, formerly the Glasgow Museum of Transport, sits next to the River Clyde and houses a large collection of various modes of transportation from prams and skateboards to steam locomotives and rare cars.
In addition to transportation, the museum also houses historical objects and an old cobbled street area that contains shops you can explore dating from various points in the 19th and 20th centuries.
The museum won the European Museum of the Year Award in 2013 and is a great museum to explore. Admission is free.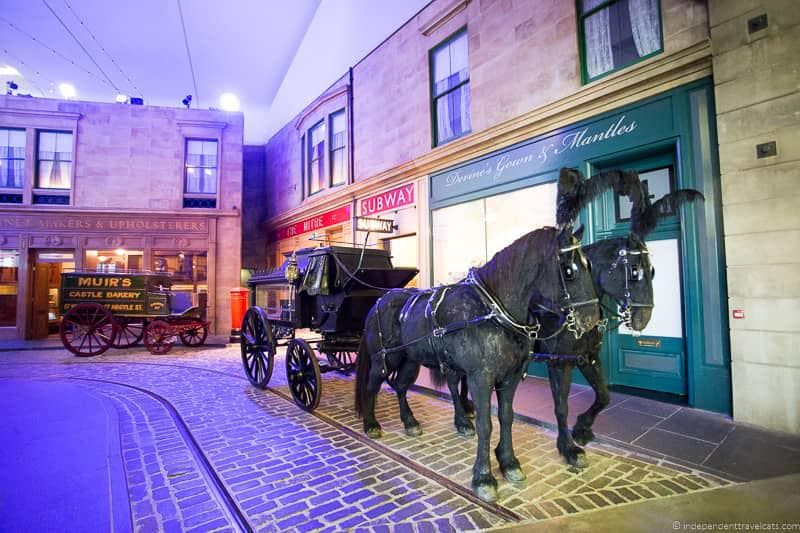 Tall Ship
Berthed just behind the Riverside Museum, you will find the Tall Ship, Glenlee. It is one of only a few Clyde-built sailing ships still afloat and the only one currently in the UK. The Victorian era Glenlee was built at the Bay Yard in Port Glasgow and served as a bulk cargo carrier, a sailing training vessel, and a training school before being turned into a museum.
The Tall Ship offers self-guided visits of the ship as well as speciality maritime themed events, activities, talks, and tours. The Tall Ship is free to enter for individuals and families, with a small charge for groups.
We recommend purchasing the audio guide to get the most out of your visit. Easy to combine a tour with a visit to the Riverside Museum.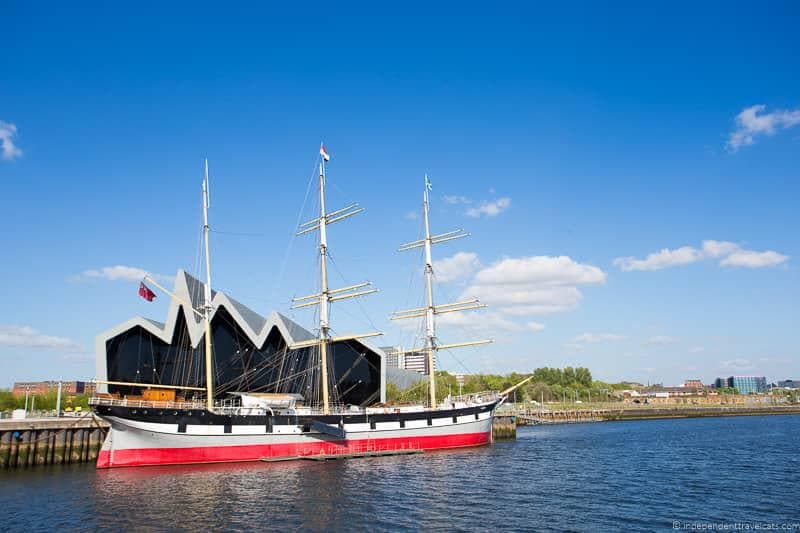 The Clydeside Distillery
Glasgow was once home to over 100 whisky distilleries! Today there are two independent single malt distilleries, and both are relatively new. They are the Glasgow Distillery and The Clydeside Distillery.
Opened in 2017, The Clydeside Distillery is a whisky distillery that is open to the public for tours and tastings. The family who runs the distillery have been tied to the whisky industry for over 100 years.
The tours provide the history of whisky in Glasgow, the family history of the owners, show the whisky making process, and end with a tasting. On the current regular public tours, you get to taste a Highland, Lowland and Islay 10-year-old single malt whiskies. The Clydeside Distillery will not have its own whisky ready for a few years.
The Clydeside Distillery also a cafe which serves sandwiches, soups, and drinks, and a gift shop.
There is also a second whisky distillery in Glasgow, Glasgow Distillery, that also offers tours (although less frequently). It produced spirits such as gin and vodka, and has recently introduced its first single malt whiskies.
If you'd rather visit a number of more central places and bars, consider doing a whisky walking tour. There is both a West End tour and a City Center tour, both are perfect for discovering some of the local Scotch whiskies in a more interactive way.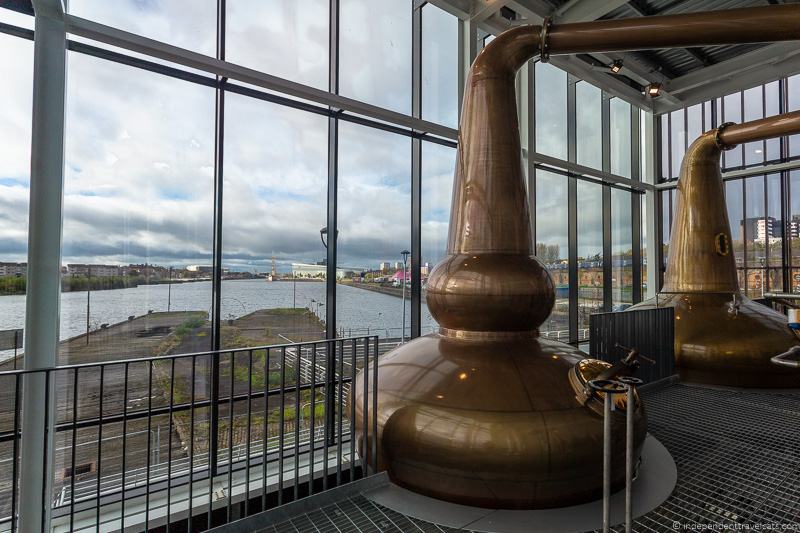 Glasgow Botanic Gardens
Founded in 1817, the Glasgow Botanic Gardens have been a special green space for Glaswegians for over 100 years. Here you'll find a collection of gardens and greenhouses, notably the large 19th century Kibble Palace glasshouse which houses a large collection of tree ferns and statues. Tours, workshops, and special events take place regularly within the gardens.
There is also a teahouse on site that serves breakfast, lunch, and afternoon tea if you fancy something to eat or drink after your visit. The gardens are free to visit and are open year-round.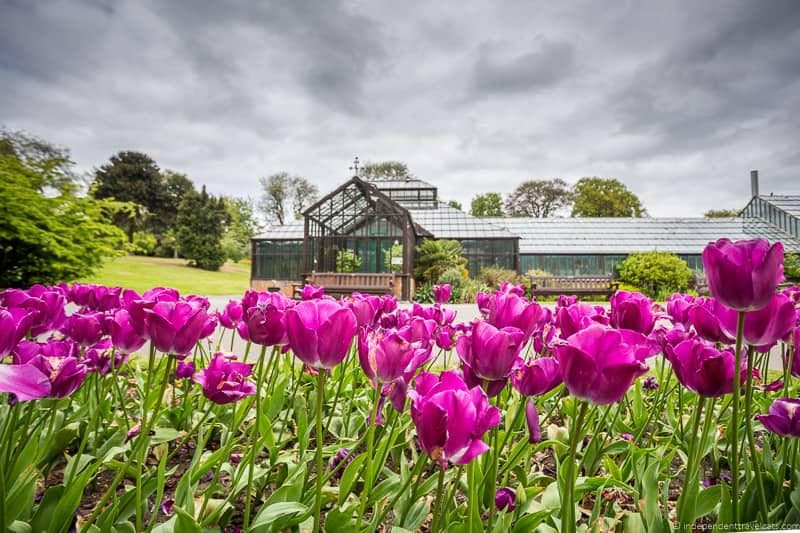 Lunchtime Theater at Oran Mor
Òran Mór is a former church in Glasgow's West End that has been converted into two bars, two restaurants, and a nightclub. While you can come here any time for a pint or a meal, we came for the popular A Play, A Pie and A Pint which is a long-running and popular lunchtime theater. It was founded in 2004 and has been running ever since, producing about 38 new plays a year!
We saw a play called Beg Borrow Steal featuring two actresses, and before the play started we were given vouchers for one drink (beer, wine or soft drink) and one pie (meat pie or veggie quiche). It was a really enjoyable way to spend a couple of hours in the afternoon, although I would think of the pie more as a snack than a full meal as they are pretty small.
The building itself has some beautiful interiors, including a celestial ceiling mural and stained glass windows. Evening performances, including theater and live music, are also regularly held here if you are seeking nighttime entertainment.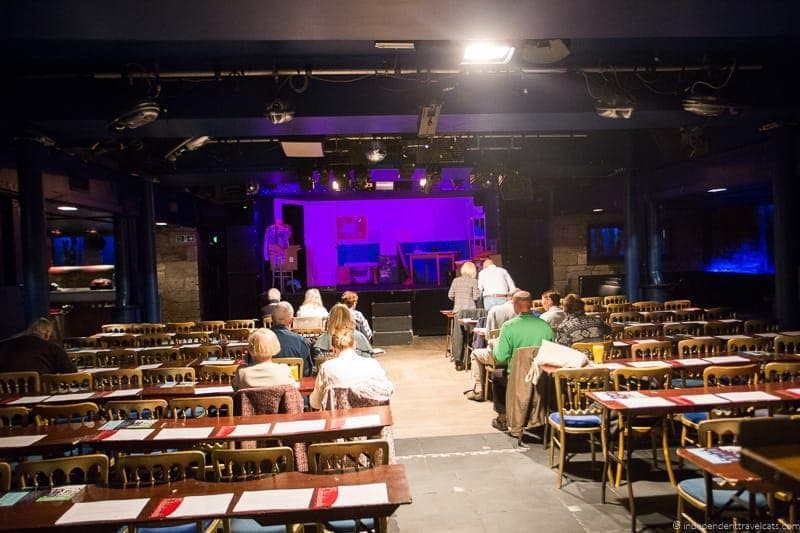 The Tenement House
If you enjoy visiting places that appear frozen in time to a past era, then you'll enjoy a visit to The Tenement House. This small National Trust for Scotland site allows you to see what it would have been like to live in a middle-class tenement in Glasgow in the early 20th century. Typist Agnes Toward lived in the Victorian apartment from 1911 to 1965 and much of her furniture and possessions are preserved here and presented as they were during her lifetime.
You can see a range of items from the time period, including black horsehair chairs, working gaslights, war-time memorabilia, box beds, and a coal-fired kitchen range. There is an admission fee, but it is free for those who are members of the National Trust – you can sign up here.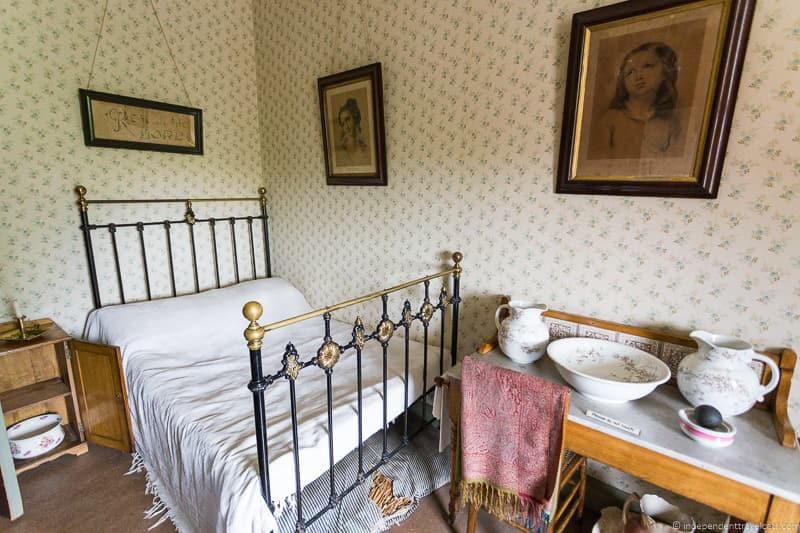 Scotland Street School Museum
Scotland Street School Museum is a former school turned museum that documents what education was like in Scotland from the late 19th century to the late 20th century. There are a number of rooms set up to show what school and education was like during various periods in Scotland, as well as informational displays and artifacts.
The building itself is notable for being designed by Charles Rennie Mackintosh who made the designs between 1903 and 1906. Mackintosh and the School Board of Glasgow clashed on the designs and budget, and one room in the museum displays Mackintosh's plans and designs and you can compare them to what was actually built. An interesting place for those with a passion for either education or architecture. Admission is free.
Glasgow Science Centre & Glasgow Tower
The Glasgow Science Centre is a science museum that has three levels of hands-on and interactive exhibits designed to make learning fun. The museum is especially designed with kids and families in mind, and we were impressed by the number of interactive exhibits on biology, physics, pollution, perception, and more. In addition to the museum, there is also an IMAX theater, planetarium, and Glasgow Tower (open seasonally). The planetarium and Glasgow Tower can be visited independently of the museum.
Glasgow Tower is a free-standing 417 ft (127 meter) tower that can rotate 360 degrees and has a viewing platform near the top. It is the tallest tower in Scotland and you can get a good bird's eye view of Glasgow from the top if you are not scared of heights!
If you are an adult interested in the science museum, I would advise to arrive early or late, or try to visit on one of the regular adult-only nights so you can have fun in the museum without the giant groups of school kids as it can get a bit chaotic. Museum also has a café and cafeteria in case you get hungry. There is an admission fee for both the museum and tower.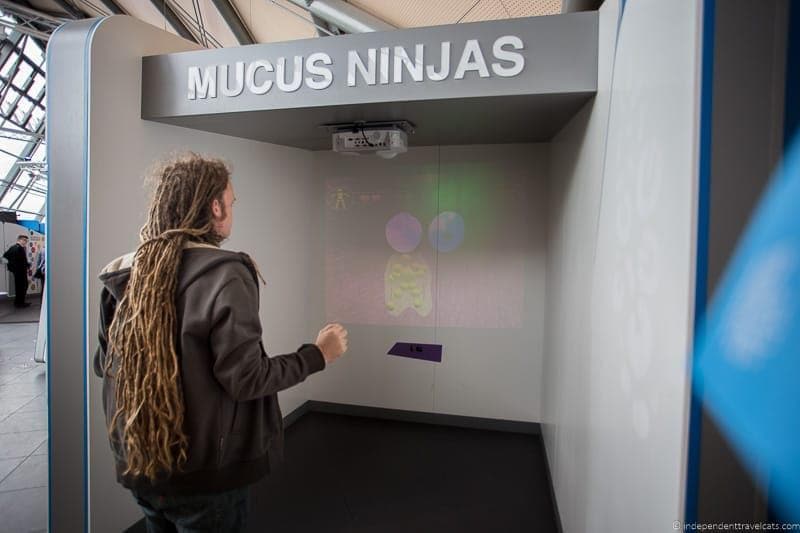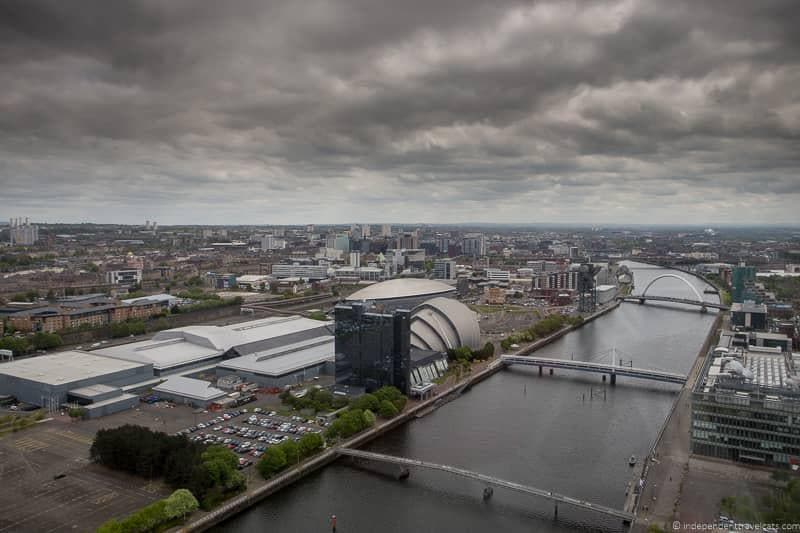 Sightseeing Bus or Walking Tour
A city bus tour or walking tour is a great way to get oriented to Glasgow if this is your first visit. The CitySightseeing Glasgow bus tour is a hop-on hop-off bus that runs about every 10 to 20 minutes (depending on the season) from 21 different stops and has on-board commentary.
When we rode the bus, it was only an extra £1 each to get 2-day tickets versus 1-day tickets which is obviously a great value if you are in the city for 2 days. If you buy sightseeing bus tickets, they often come with discounts such as discounted subway tickets and attraction discounts so be sure to ask about any additional benefits.
Walking tours are a great way to get an introduction to a city from a local. If you are looking for a walking tour in Glasgow there are a few options available and you can find a list of Glasgow tours here. Private tours, such as this half-day tour, are also available.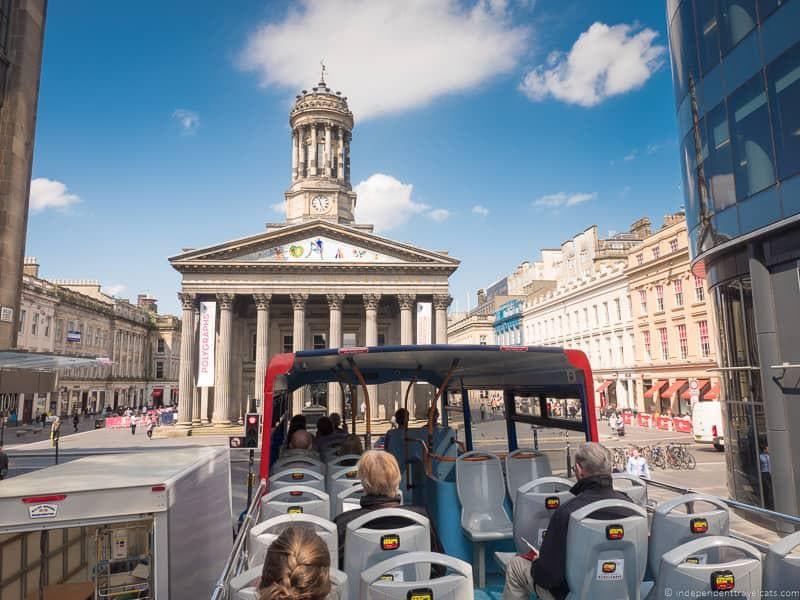 Find more Charles Rennie Mackintosh sites
Charles Rennie Mackintosh is Scotland's most celebrated architect and designer of the 20th century. If you are a fan of Mackintosh and the several sites listed in this post are not enough to sate your appetite, you can also find other sites designed by Mackintosh in and around Glasgow such as Queen's Cross church, Martyr's School (not open to public, but can view exterior), Glasgow School of Art (currently undergoing restoration work), Mackintosh at the Willow tea rooms (recently restored and reopened), and the excellent Hill House (about 30 miles from Glasgow, in Helensburgh).
The Glasgow School of Art, considered by many to be Mackintosh's best work, has sadly suffered two destructive fires in 2014 and 2018 so much of the original work has been destroyed. It is however being rebuilt based on the original design. No re-opening date has been set.
To find out more information about lesser known Mackintosh sites and to book a guided tour of Mackintosh sites, check out information from the Charles Rennie Mackintosh Society and the Glasgow School of Art.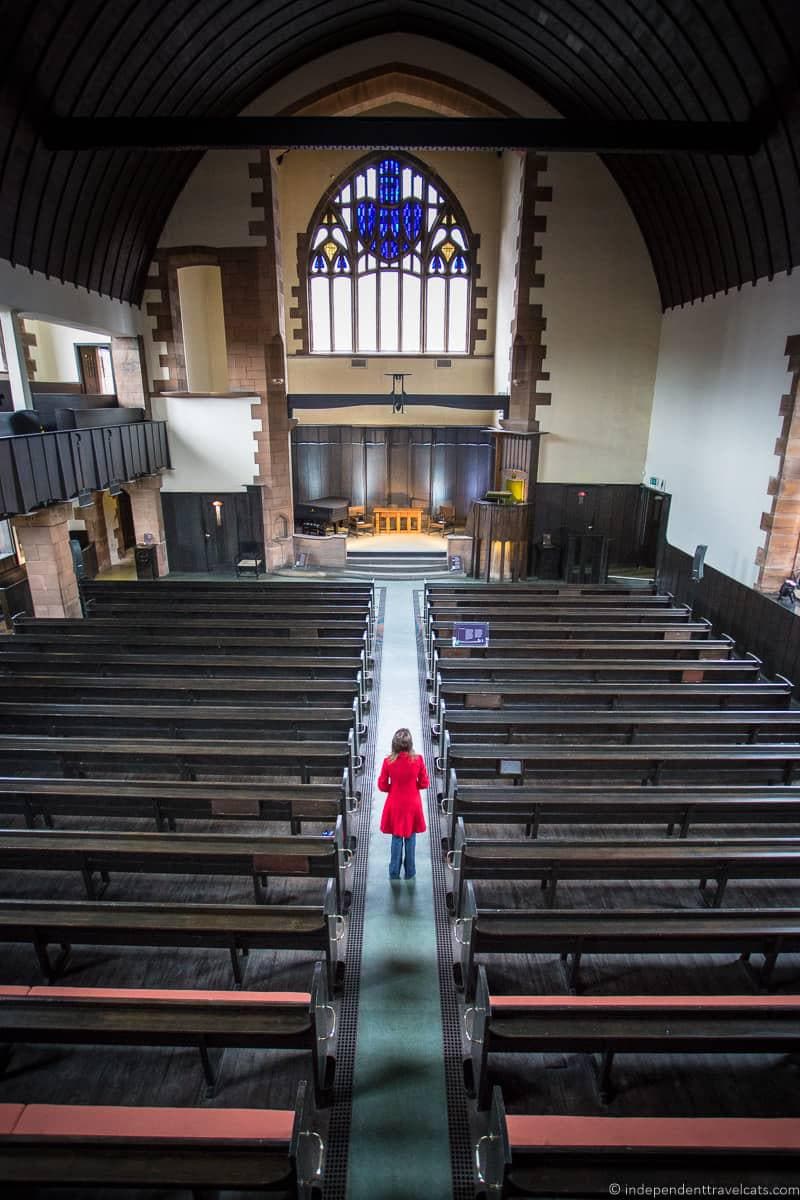 Seek out Glasgow's Street Art
Glasgow has some fantastic street art. We were surprised to find so many large and interesting street murals around Glasgow, many of the pieces are relatively new and are part of the City Centre Mural Trail.
One of our favorites depicts a man holding a bird that was located near our apartment and captivated us each day as we walked by it. The large mural was painted on the building by Glasgow-based Australian street artist Sam Bates, also known as Smug, and depicts a modern-day Saint Mungo and references one of the saint's miracles called The Bird That Never Flew where he revives a dead robin.
For some of our other many favorites murals, check out Laurence's Glasgow street art photo essay. The majority of works are in or near the city center, although there are obviously changes over time as artworks are added or removed. You can either follow the city's mural trail or you can just discover them as you visit the city center and let them surprise you.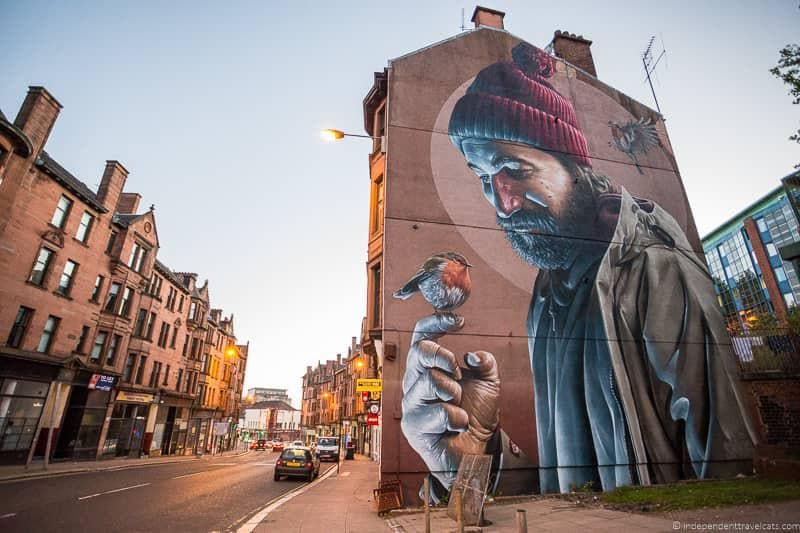 Explore the Glasgow Food Scene
Glasgow has long held a reputation for being one of the least healthy cities in terms of food, a city where everything can be fried! While you can still find the infamous deep-fried Mars Bars in Glasgow (and elsewhere in Scotland), the trend in recent years has been to healthier, local, and more vegetarian friendly dishes and restaurants.
There have been several vegetarian and vegan restaurants and cafes opening in Glasgow as well as a number of independent coffee shops. I would recommend checking out local recommendations and reviews for current favorites for good eats as it depends a lot on what type of food you are craving and new places keep popping up.
We checked out a few restaurants while in the city. We had a great lunch at centrally located Hutchesons Bar & Brasserie which has a beautiful City Grill dining room and amazing dry-aged Scottish beef (highly recommend)! We also checked out Rogano, the oldest operating restaurant in Glasgow, and although the 1930's restaurants is a bit stuffy and dark, it has excellent classic fish dishes and fresh seafood as well as Art Deco decor reminiscent of the Queen Mary ocean liner.
For a more relaxed dinner, we can also highly recommend Drygate Micro Brewery which had excellent appetizers, burgers, aged steaks, doughnuts, and craft beer. For Scottish cuisine (e.g., cullen skink, haggis, black pudding, Highland venison), you may want to check out the long-standing Café Gandolfi or the City Merchant.
If you are craving pizza, we can recommend Paesano Pizza, a local favorite for wood-fired artisanal pizzas. We can recommend Saint Judes for wings, American fare, and candy-flavored cocktails
Russian food is pretty scarce in Scotland, but we can recommend Cafe Cossachok in Glasgow. We believe it was the first (and perhaps is still the only) really Russian restaurant in Scotland. The food we had here was good and we recommend the homemade flavored vodkas!
Beer, whisky, Irn-Bru (a bright orange carbonated soft drink), and coffee are all popular drinks to have in Glasgow. For beer, Tennent's is a must if you haven't tried it as the company is headquartered in Glasgow and you'll find it served throughout the city (see earlier info about Tennent's brewery tours). There are also local craft beers spots to try as well such as Drygate Micro Brewery.
For whisky, you'll find Scottish whisky on the menu at a number of bars and restaurants throughout the city, and you can ask a bartender or server to help you choose if you are new to Scottish whiskies.
There are a number of local independent coffee shops popping up all over Glasgow, and a few we can recommend trying are Riverhill Coffee Bar, Papercup, and McCune Smith (named after a famous African-American physician and abolitionist). If you are looking to purchase some coffee to take home, you may want to pick up a bag of the popular Glasgow-roasted Dear Green beans.
For tea, we recommend making a tea reservation at Mackintosh at the Willow (217 Sauchiehall Street). This is the recently restored tea room originally designed by Charles Rennie Mackintosh.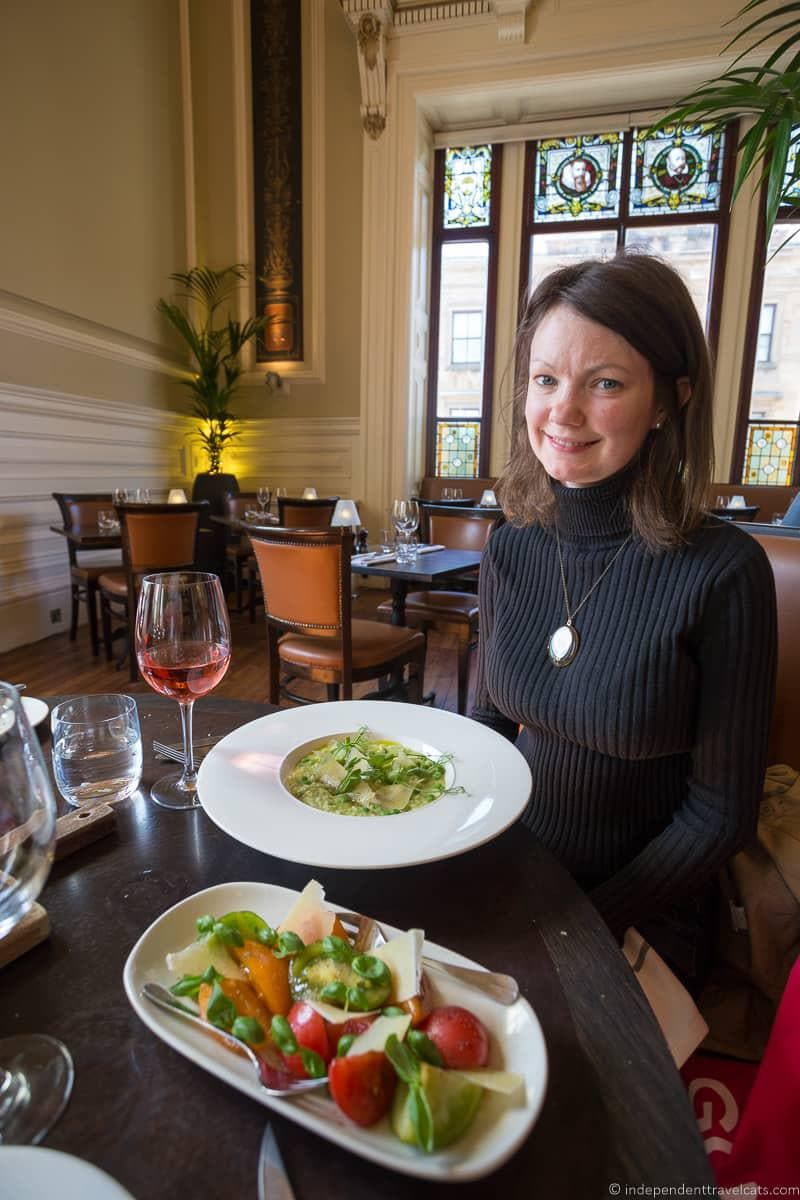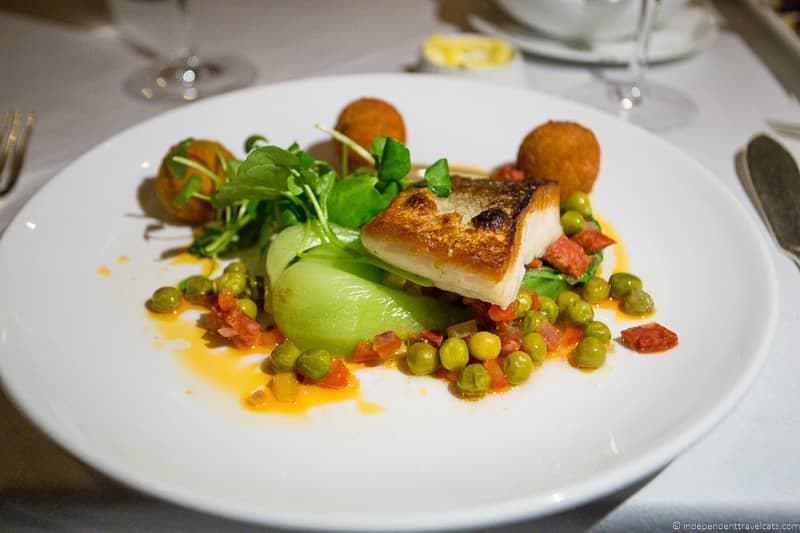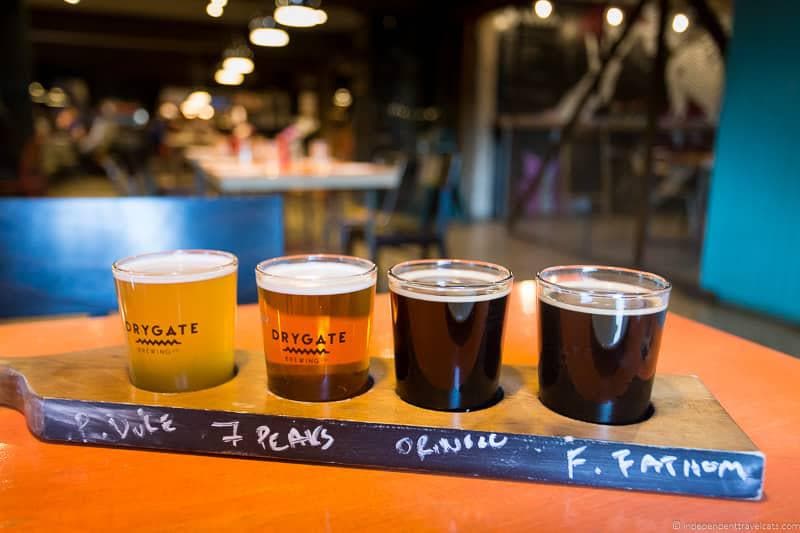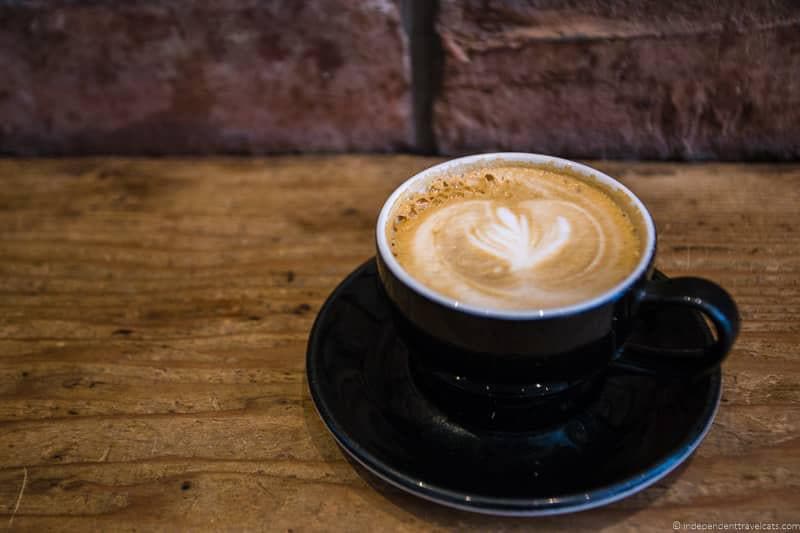 If you'd like to know even more about the food scene in Glasgow, you might want to do a Walking Lunch tour with Glaswegian food and travel writer Andrea Pearson. This food and history walking tour will take you through 1,000 years of Glasgow history and includes at least four food stops.
This tour is fun, informative, and excellent value for money. Andrea is also happy to give you recommendations to keep you eating well for the duration of your time in Glasgow!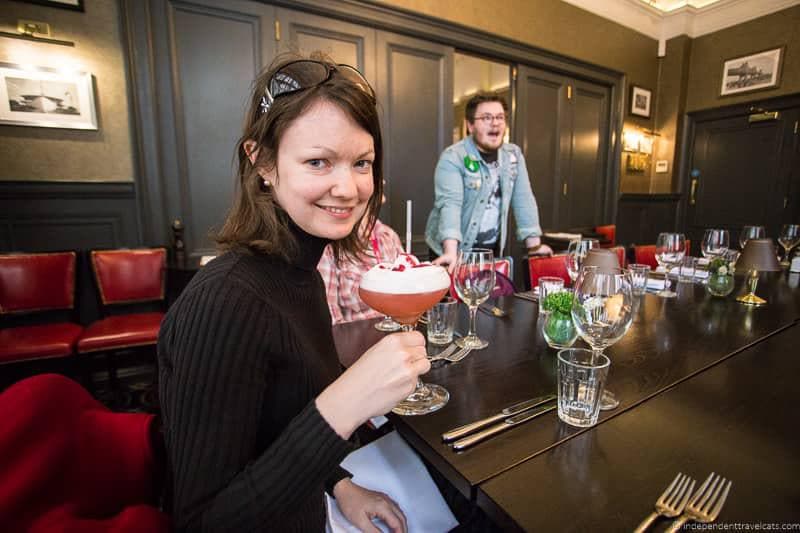 Do Some Shopping in Glasgow
As people who don't go shopping that often, we didn't realize that Glasgow is a major shopping destination in the UK. In fact, it is the second largest retail center in the United Kingdom, second only to London! T
he main central shopping area is Glasgow's Style Mile (roughly runs along Argyle, Buchanan, and Sauchiehall Streets) which includes independent boutiques, popular chain stores, shopping malls, designer stores, and speciality shops. The Argyll Arcade, built in 1827, is a beautiful shopping arcade which houses a number of jewelry shops as well as the city's oldest bar Sloan's.
If you are a Harry Potter fan and haven't already visited the Harry Potter shops in Edinburgh, you might want to make a stop at The Boy Wizard (49-53 Union Street). You can stock up on wands, books, chocolate frogs, scarfs, and other Potter related things here.
For unique art and artisanal products, we enjoyed looking around the Glasgow School of Art shop and The Lighthouse gift shop. Whether you are shopping for fashion, tech, souvenirs, or unique gifts, you are likely to find something that appeals in Glasgow.
Listen to Live Music in Glasgow
Glasgow is the best place in Scotland to listen to live music and has been a launchpad for a number of musicians and bands. Music includes everything from rock to ceilidhs, and venues range from small dive bars to well-known music arenas.
To get you started, here are a list of some of Glasgow's many live music venues: King Tut's Wah Wah Hut, Nice N Sleazy, Barrowland Ballroom, Òran Mór, The Glad Café, O2 ABC, and the Old Fruitmarket.
If you are looking for more classical music, you may want to check out the schedule at the Glasgow Royal Concert Hall, which also hosts ballets, operas, musical theater, rock concerts, and other events. Check online before you go or check around once you arrive in the city to see what music events are happening during your visit!
If you are wanting to attend a bigger name concert or event, I'd recommend booking tickets before you go as popular concerts can sell out well in advance. The largest number of shows take places on Fridays and Saturdays so try to make sure your visit falls over a weekend for a wider option of evening entertainment.
Things to do in Glasgow: Beyond Central Glasgow
If you have more than a day or two in Glasgow, you may have some time to see a couple of places beyond central Glasgow. These places are all technically in Glasgow but all sit on the fringes of the city and you'll need to take public transit, a train, or drive to reach them from central Glasgow. All are located within a 20 to 25 minute drive from the city center.
Celtic Park Stadium
Celtic Park is a football stadium (soccer for Americans) located in the Parkhead area of Glasgow. It is home ground to the Celtic Football Club which were established in 1887. It is the largest football stadium in Scotland, and is also sometime used for other events such as large concerts and the opening of the Commonwealth Games. Commonly referred to as Paradise or Parkhead by locals.
If you are a Scottish football fan, you can buy tickets to watch a game here. Or you can also take a 1-hour guided tour of the stadium which covers the history of the club and includes visits to the boardroom, dressing room, the tunnel, the dugout, pitch (field), and more. This upgraded tour option also includes a 3-course meal in the Celtic Park Restaurant.
There is also food and drinks available on-site, and a gift shop.We haven't been here yet but the tours get good reviews!
Note that there are four big football teams in Glasgow. The main local rival to the Celtics are the Rangers, but there is also the Partick Thistle and Queen's Park (an amateur club). Glasgow is the best city for football lovers in Scotland and you have lots of football watching opportunities if you visit during the season.
House for an Art Lover
The House for an Art Lover is a building in Bellahouston Park that was built based on a design made by famous Scottish architect Charles Rennie Mackintosh and his wife Margaret MacDonald. Mackintosh submitted the design in 1901 for a German design magazine competition which asked for artist's to submit a design for a "Haus eines Kunstfreundes" (Art Lover's House). Although their submission was later awarded a prize, none of the proposed houses were actually built.
However, the plans were used to construct a house between 1989 and 1996. well after his death. The designs provided by Mackintosh contained a lot of details for both the exterior and interiors that enabled engineers and designers to build and design the house as a faithful interpretation of Mackintosh and his wife's vision. It was very interesting to compare the drawings submitted by Mackintosh to the finished rooms and decorations.
The architecture and design are unconventional, particularly for the early twentieth century, and it was a rare project where Mackintosh had almost unlimited freedom regarding his artistic design. A must-visit for Mackintosh lovers.
The House for an Art Lover offers self-guided and guided tours to visitors (fee for admission) as well as hosts events related to art, design, and architecture. There is also an on-site café, gardens, and shop. You'll need to drive to reach House for an Art Lover, or take the subway, bus, or train from central Glasgow (plus a 5 to 20 minute walk depending on the mode of public transport).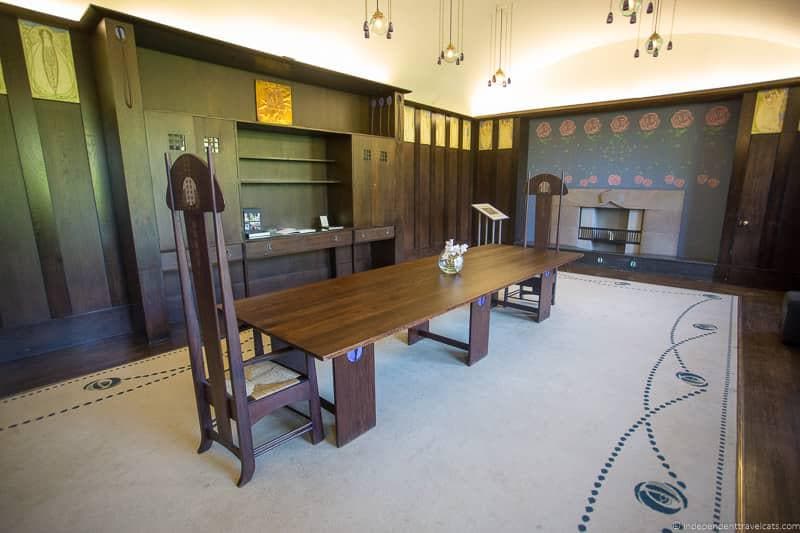 Pollok House
Pollok House is an 18th century grand country house that was the ancestral home of the Stirling Maxwell families. Today it is run by the National Trust for Scotland and visitors can tour most of the house both upstairs and downstairs, seeing where the family, their guests, and servants would have stayed and worked. The house is furnished and contains a large art collection, notably a large Spanish painting collection which includes pieces by El Greco, Goya, Coello, and Murillo.
Sandwiches, snacks, tea, and coffee are available in the downstairs café (the former kitchen) and it is a great place to get revived after an exploration of the house and gardens.
When we visited, they were doing an Escape the Past escape room game, where visitors could use their puzzle-solving skills to try to crack a mystery in a 1-hour long game that is inspired by past real-life residents of Pollok House and is set in one of the mansion's basement rooms. So be sure to check what's going on before you visit as such things often need to booked in advance.
If you fancy wandering around outside, the house has an extensive garden with over 1,000 species of rhododendrons and is situated in the large Pollok County Park, often voted as one of the best parks in the UK. To reach Pollok House from central Glasgow, you will need to take public transport (bus or train) or drive.
We had a great time visiting Pollok House and would recommend spending at least 2 hours here so you have enough time to explore both the house and gardens. I would also recommend leaving some extra time for a cup of tea or light meal. If you are interested in visiting, you can check out our full article for loads of photos and details about our visit to Pollok House (and our escape room experience!).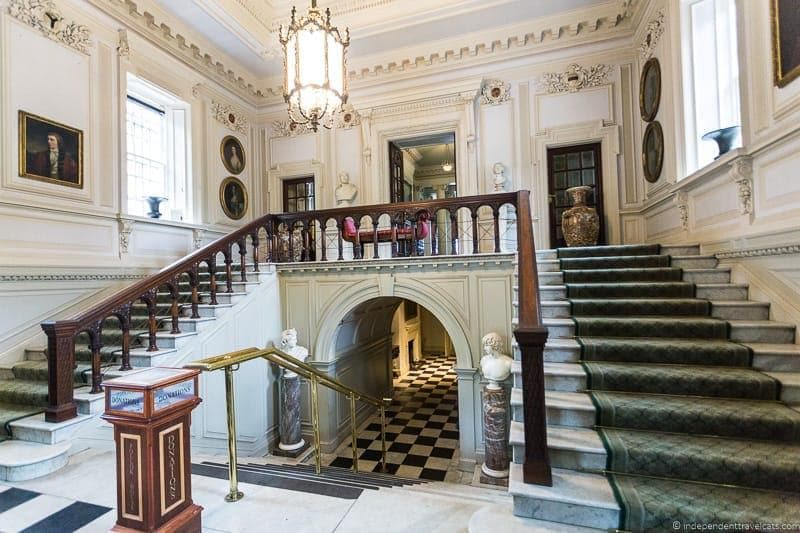 Burrell Collection
Sir William Burrell was a successful shipping merchant who loved to collect antiques, eventually donating a large collection of over 9,000 objects to the city of Glasgow. A museum was custom-built to house part of the vast collection in Pollock Country Park.
The Burrell Collection is one of the largest collections of art and antiquities amassed by a single collector and contains significant European works from the Late Gothic and Early Renaissance periods as well as Islamic art, Persian rugs, and a large amount of Chinese art. It contains one of the best collections of work by French artist Edgar Degas. The works are eclectic and varied, and include a large range of objects from tapestries and door arches to paintings and sculptures.
The museum also includes shops and café, admission is free. To reach the Burrell Collection from central Glasgow, you will need to take public transport (bus or train) or drive. A great museum to combine with a visit with Pollock House and a stroll through Pollock Country Park.
NOTE: The museum is currently undergoing significant restoration and will likely be closed to the public until Spring 2021. However, parts of the Burrell Collection can still be seen on loan at other Glasgow museums, notably the Kelvingrove Art Gallery & Museum.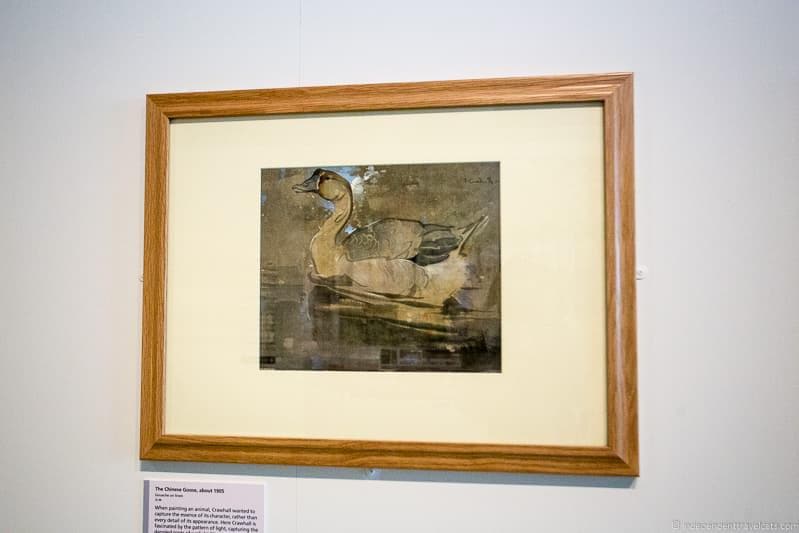 Cuningar Loop
Cuningar Loop is a woodland park and path network located on the very eastern edge of Glasgow along the banks of River Clyde. It features an extensive walking and biking path network, picnic and play areas, an adventure area and bouldering park, bike skills areas, and outdoor classroom.
This relatively new green space is a great spot to visit if you are seeking some outdoor fun on a nice weather day. Mostly frequented by local families.
The park is about a 15 minute drive away from central Glasgow. You can also take a bus to this area of the city.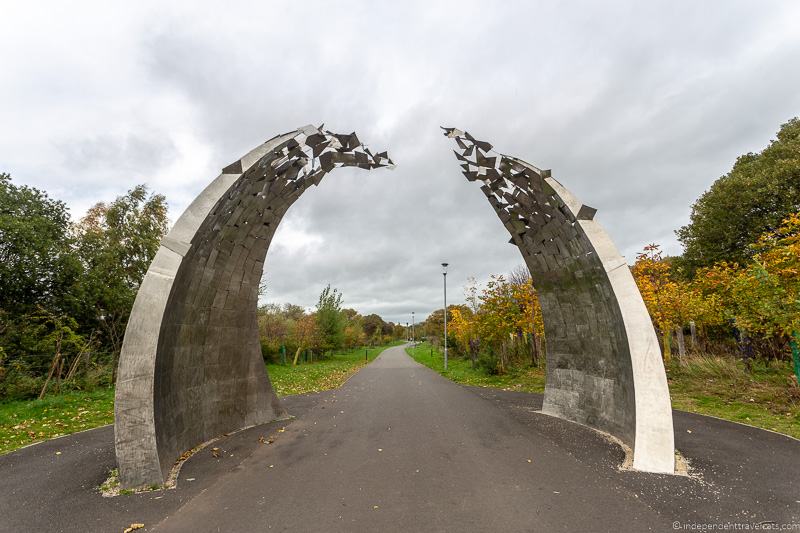 Holmwood House
Holmwood House is a Greek Revival villa built for paper magnate James Couper and his family in 1857 to 1858 by Scottish architect Alexander Thomson. Holmwood is considered Thompson's finest domestic building, and it is believed to have potentially influenced future major architects like Frank Lloyd Wright. The house passed to other families and eventually to the Sisters of Our Lady of the Missions. The Sisters lived in the house and used the grounds along with an adjacent villa as a school.
Although subsequent owners made changes to the house and painted over many of the original elements, the building is being restored back to its original style by the National Trust for Scotland. Here you'll find cupolas, columns, high ceilings, friezes, and symmetry. The dining room is one of the most impressive rooms with friezes depicting scenes from The Iliad and tapered doorways to give it a temple-like effect. There is also a Victorian kitchen garden and small coffee area.
The property will be a long-term restoration and conservation project so it's good to check ahead before you visit. An admission fee is charged, but free entry for National Trust members. Located about 5 miles outside of central Glasgow, you'll need to drive, bike, or take a train or bus to reach Holmwood House.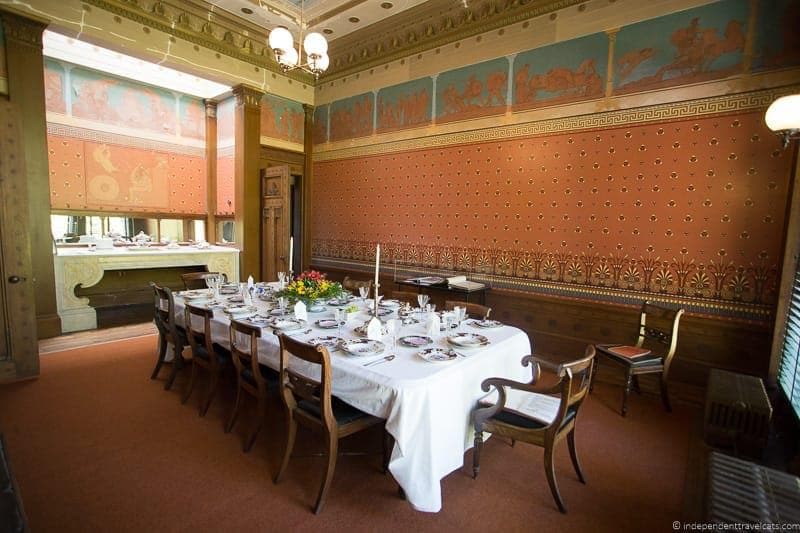 Things to do in Glasgow: Day Trips from Glasgow
Run out of things to do in Glasgow? If you have more time in Glasgow and want to venture further afield, there are even more things to do in Glasgow and its surrounds. If you are looking for a day trip or quick overnight trip, our top recommendations depending on your interests would be to visit a national park, take a trip to Edinburgh, or go on a whisky tasting tour.
We have a guide to the top day trips from Glasgow which highlights a number of day trip ideas, but we'll highlight a few of them below.
A short drive from Glasgow, you'll find a beautiful scenic area called Loch Lomond & the Trossachs National Park, Scotland's capital, the National Museum of Rural Life, and some popular whisky distilleries.
Get out of the city for some natural beauty at Loch Lomond
If you are looking for scenic landscapes or outdoor adventure, you might consider a day trip to Loch Lomond & The Trossachs National Park. Here you can go cruising on a lake in a steamship, rent a canoe or kayak, spend a day fishing, have fun at an aerial adventure park, or go climbing or biking.
If you enjoy hiking, there are a number of short and moderate hiking paths to enjoy here, and many popular long distance paths such as the West Highland Way and The Three Lochs Way run through here. If you are interested in spending the night you might want to find a cozy B&B, cabin, or farm stay to fully enjoy your time away from the city. You can easily spend a couple of days in this area.
The southern shores of Loch Lomond are about 25 miles from Glasgow, and the area can be reached by car, train, bus, or seaplane. To find out more you can read our 2 Day Glasgow & Loch Lomond itinerary and check out the Loch Lomond tourism website.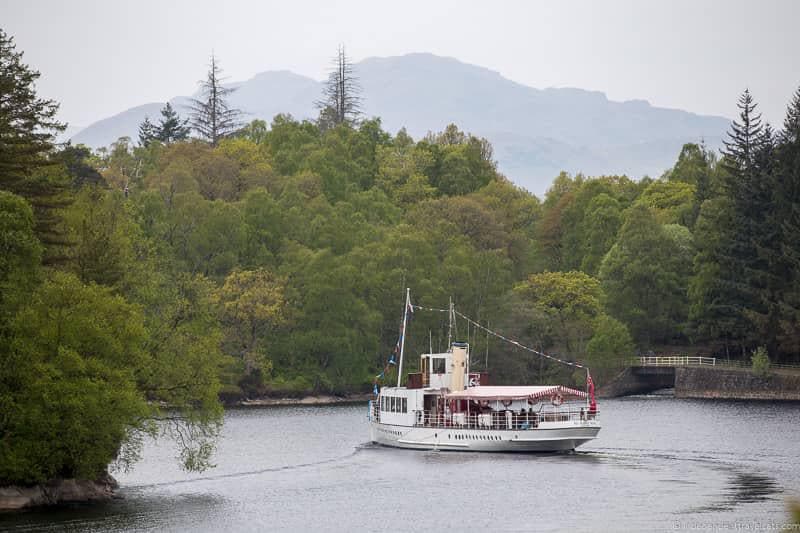 Visit the National Museum of Rural Life
The National Museum of Rural Life is in East Kilbride. Located here is a museum as well as a 1950's working farm. The museum covers the history of farming and rural life over the past 300 years and contains artifacts, a video, and lots of farming machinery. There is also a children's area and bee hives here.
You can also visit the working farm which is a 10 minute walk or 10 minute tractor-drawn hay wagon ride away. Here you'll find an farm house you can tour, barns, a garden, and several farm animals. Animals include cattle (Angus, Ayreshire, and Highland), Tamworth pigs, chickens, sheep, and Clydesdale horses. It seems from our visit that the farm is a popular stop for local families. Note that the paths and areas around the farm are often muddy so wearing comfortable boots is recommended.
The museum also has a Shielings Café offering food, drinks, and afternoon tea, and a museum gift shop.
Entrance is free for National Museums of Scotland and National Trust members, although there is an extra charge for special events.
The museum is located about a 25 minute drive from central Glasgow. It is also possible to take a bus from central Glasgow to a spot within a short walking distance of the museum.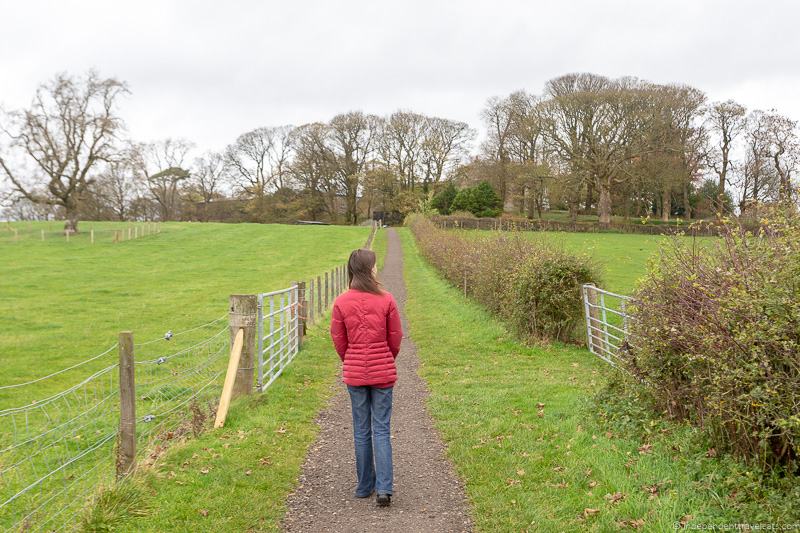 Visit Edinburgh
Both Glasgow and Edinburgh deserve at least 2 full days of time, but if you can't overnight in Edinburgh, it is worth a day trip. Edinburgh has a number of iconic views, an amazing castle, great museums, nice green spaces, and good restaurants as well as all the trappings of a cosmopolitan capital city.
You can catch the train or one of the regular Citylink shuttle buses that run between central Glasgow and Edinburgh, and if you arrive early you should have time to visit several sites in Edinburgh on a day trip. You can also book a private transfer to Edinburgh.
For a first time visit, I'd recommend walking along the Royal Mile between Edinburgh Castle and Holyrood Palace, stopping to visit attractions as they appeal and then perhaps making a short detour to the National Museum of Scotland which is a fantastic free museum. You may also want to start your visit with a walking tour or sightseeing bus tour for a good overview of the city.
To get the most out of your visit, you can check our guide to the top things to do in Edinburgh which should help you decide what you want to see and do. If you are visiting in late July or August, check out our guide to summer festivals in Edinburgh as the city hosts 6 different festivals during the busy month of August!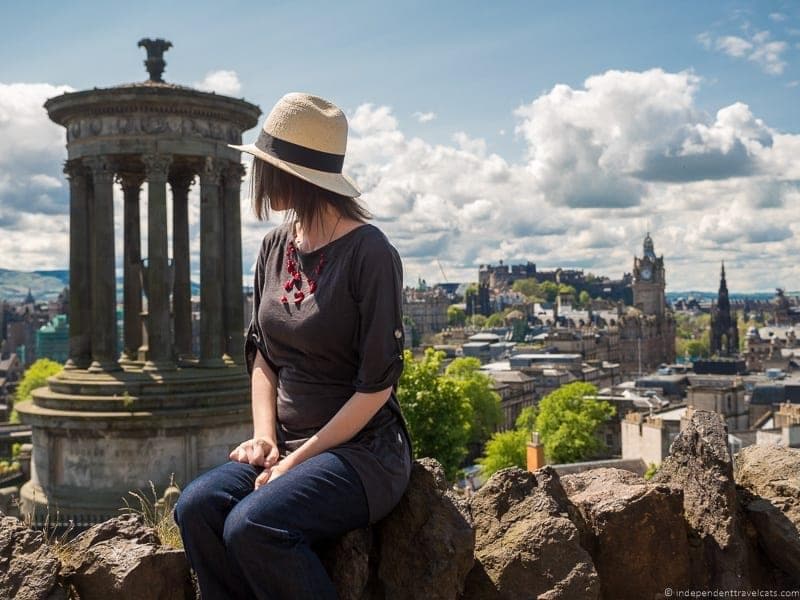 Go Whisky Tasting
Most people want to visit a whisky distillery while in Scotland, of course in Glasgow you have The Clydeside Distillery and Glasgow Distillery as well as whisky walking tours of the city.
But if you are looking for more distilleries, you can easily do a day trip from Glasgow to visit some. Probably the most famous one nearby is Glengoyne and they offer tours, tasting experiences, and a fully stocked gift shop.
Others in the area that offer tours to the public include Auchentoshan in Clydebank, Deanston in Doune (near Doune Castle), and Tullibardine in Blackford.
If you don't have a car or plan to do tastings, you should consider either taking a tour like this Rabbie's half-day bus tour that visits both Loch Lomond and Glengoyne Distillery or hiring a driver.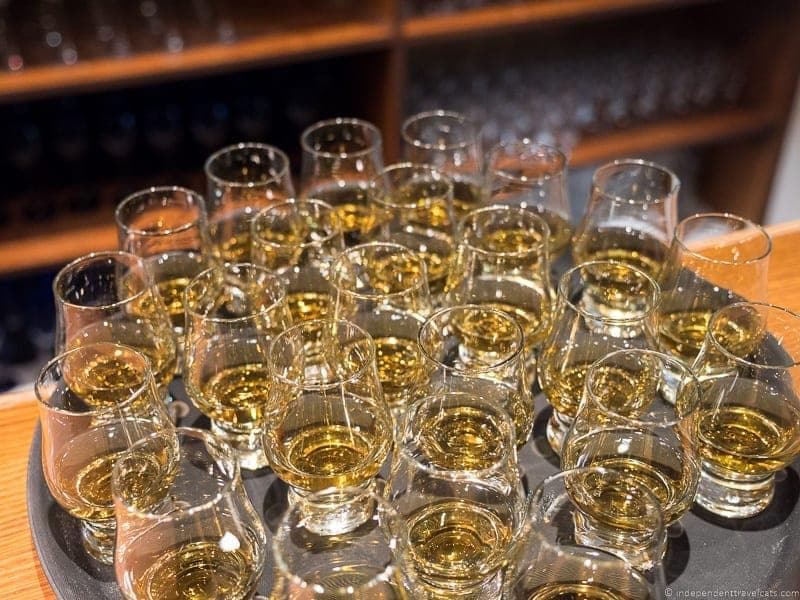 So there is our list of things to do in Glasgow Scotland! Have you been to Glasgow? If so, any favorites among the above or places you'd add to this list? If you haven't visited yet, which of these Glasgow attractions would make it on your Glasgow itinerary?
As always, feel free to ask us any questions you may have about things to do in Glasgow or planning a trip to Scotland!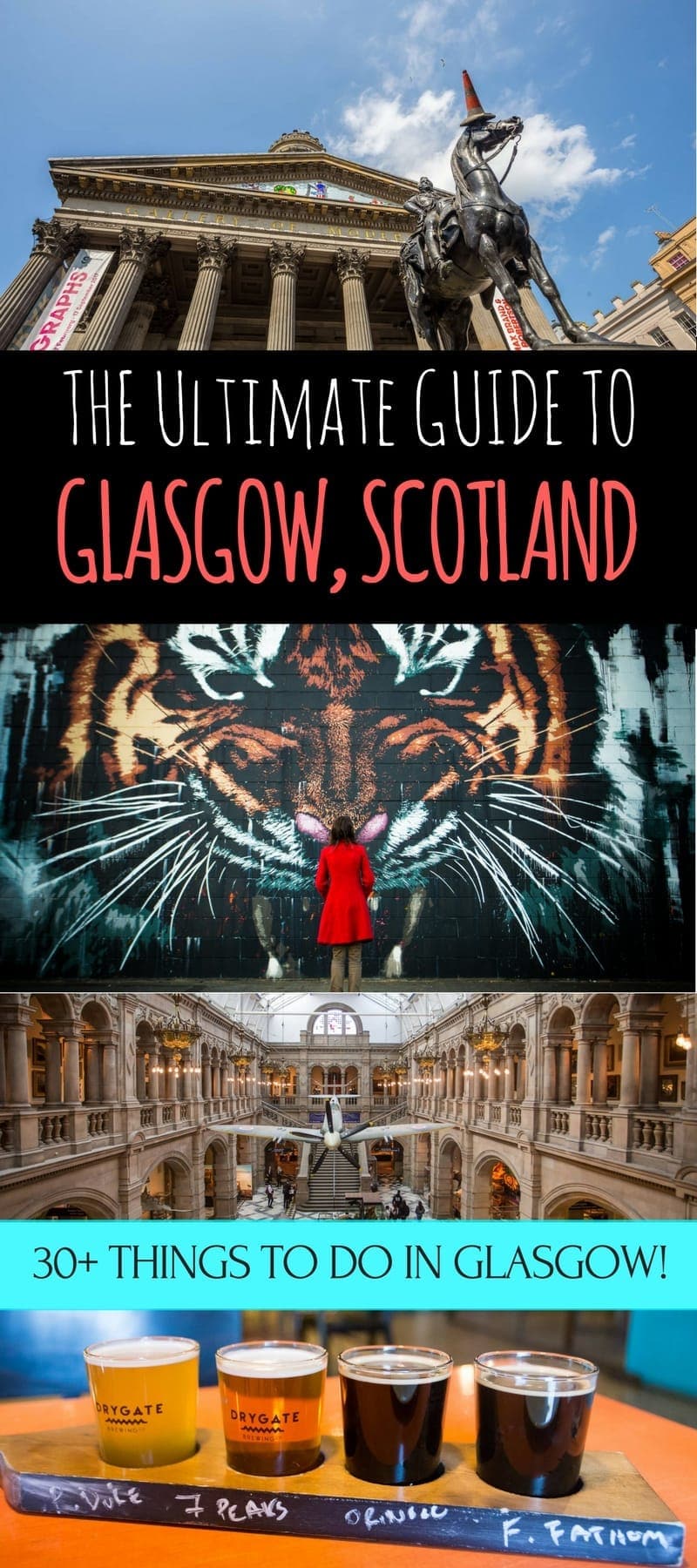 **Disclosure: We partnered with People Make Glasgow who helped us plan the logistics of our trip to Glasgow, and who also covered some of our meals and entry into local attractions in order for us to share our experiences as travel writers. However, as always, this article contains only our own honest thoughts and opinions. You can read more in our Ethics Code about how we accept work.**