The Secret Sweater shawl and travel blanket is the newest in a line of travel-worthy fashion products by San Francisco native Katherine Noyes Arnemann. This new product doubles as both a full-sized shawl and a travel blanket but is compact enough to fold up and store in a purse or backpack. The great thing is that the travel pouch is attached within the neckline area of the sweater so it folds up into itself! The shawl helps add an extra layer of warmth while also being stylish and versatile, and works well whether you are watching a sporting event, walking around an air-conditioned art museum, watching the sunset from a beach, or having a drink at a trendy bar. I loved the original Secret Sweater cardigan and was very excited to try out this new product. I'll share my experiences of wearing the shawl over the past couple of months and also give readers a time-limited 20% off discount code and even a chance to win a free Secret Sweater shawl of their own!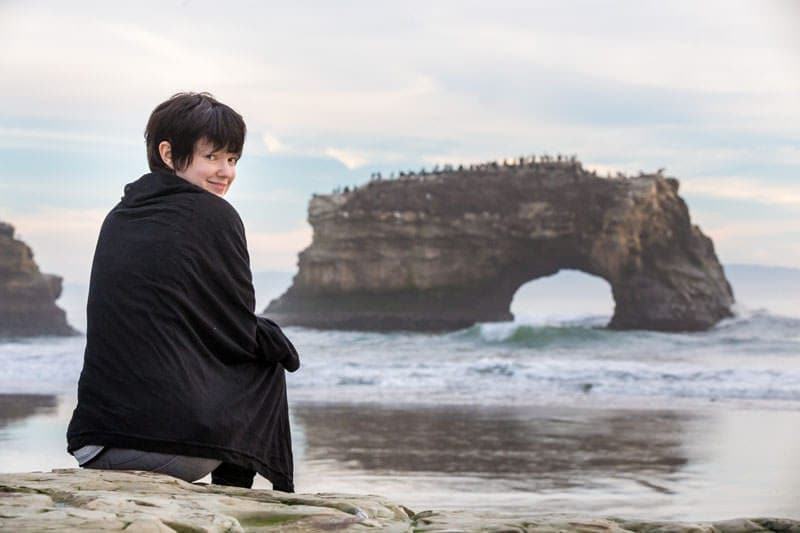 Basic Information on the Secret Sweater Shawl
The Secret Sweater shawl and travel blanket was created and designed by Katherine Noyes Arnemann who lives in San Francisco, CA. Given the notorious microclimates of San Francisco, it is no wonder that Katherine keeps whipping up new ways to stay warm! The shawl is currently available in two colors (black, whisper grey) and it is designed so one size fits all. It is knitted and manufactured in the United States (California in fact, yeah for locally made products!). It is made of 50% cotton and 50% modal blended interlock knit (quite soft to the touch) and is machine-washable. The shawl and travel blanket comes in a self-contained travel pouch (see picture above) and it is easy to roll up the shawl as it folds back up inside itself. The shawl measures 58 inches x 30 inches when open, and 9 inches x 8 inches x 2 inches when folded up. It regularly sells for USD $59.95, but check the Secret Sweater website and social media sites for special promotions and sales. You can also buy the Secret Sweater products on Amazon and receive free shipping if you are an Amazon Prime member.
To find out more information on the Secret Sweater products and its designer, visit the Secret Sweater website.
My Review of the Secret Sweater Shawl & Travel Blanket
My Experience Wearing the Secret Sweater Shawl
This is actually the second Secret Sweater product I have reviewed, the first being the wonderful Secret Sweater cardigan which I love and travel with regularly. I was very excited when Katherine announced she was launching a new product and I had to review it. I also love of course that her products are locally made in California (which is also my current home). Whereas the cardigan makes for a great middle layer, the Secret Sweater shawl and travel blanket is a great outer layer. The shawl is very well made and the material is soft to the touch. The pouch part is sewn into the back neckline area of the shawl and it is not visible when it is worn; this design feature makes it very convenient in that you don't have to keep track of a separate pouch. While I did struggle a bit to refold the shawl the first time around, I got the hang of it after looking at the handy instruction card that comes with the shawl. I was a bit worried about the "one size fits all" sizing, but the shawl fits fine on my thin and petite frame and I've seen it on much larger women and it still looks good. Also, like the cardigan, it is pretty wrinkle resistant and seems to stand up well to normal washing.
I packed it on my recent 2-week trip to Finland and it was great in the airplane as I am often cold and not all flights provide blankets. It was also great on the long bus rides. However, I didn't have much opportunity to wear it during the rest of my trip, which involved being outdoors a lot, as it was simply too cold and I was regularly wearing three to four layers of clothing (the record was seven!) so it was not really a great fit for such a cold place. It doesn't make sense to throw a shawl over a winter coat or ski suit. However it has been great for winter trips in California and I especially love having it with me in my backpack or purse for chilly mornings and evenings. Laurence loves to shoot photos at sunset which generally means I sit outside with him during some chilly evenings and the Secret Sweater shawl has been fabulous for these situations. You can see some great views of one such time when we visited Natural Bridges State Beach in Santa Cruz, California. I have also worn it in the workplace as my office seems to have no temperature regulation whatsoever and is regularly too cold or too hot, and the shawl is perfect for throwing over workwear clothing. Another one of the great things about this shawl is how stylish it looks compared to just throwing on a sweatshirt or old cardigan. It will definitely be in my suitcase for our upcoming trip to Spain and the UK in the Spring.
Any Complaints about the Secret Sweater Shawl?
The shawl and travel blanket fit me well, kept me warm, and I really have no complaints at all. But it may of course not be the perfect travel item for everyone. Even though it does fold up into quite a compact size, it does of course take up a bit of space so it won't fit in some of my clutches or smaller purses. This is also not an item made for a lot of activity as while it fit quite well even on my petite frame, it will fall off if you try to wear it while running, jumping, or being super active. Lastly, this shawl is great as an outer layer or blanket when you might otherwise slip on a light jacket, sweater, cardigan, or blanket, but it is not designed to take the place of an actual coat nor does it look great over an actual winter coat. 
Overall Impression of the Secret Sweater Shawl
Overall, I really think the Secret Sweater shawl and travel blanket is a great travel accessory for women. It kept me warm, is well-made of good quality material, looks stylish, and is very versatile. The fact that it folds up into a self-contained pouch makes it perfect for traveling. But I think for many women, this would make a great fashion accessory whether for use in the workplace, for social  and everyday activities, or while traveling.
Secret Sweater Shawl & Travel Blanket Free Giveaway!
Katherine at Secret Sweater was generous enough to not only send one of the shawls to me to try out and review, but she is also allowing us to giveaway one of these fabulous travel shawls to one of our lucky readers. Sign up to win one (1) Secret Sweater shawl/travel blanket valued at $59.95 and free shipping and handling. One size fits all. Winner gets to choose the color. If you have never checked out Secret Sweater before, I urge you to visit their website and also check out their great cardigan.
The Secret Sweater giveaway beings March 9, 2015 and ends March 23, 2015 and is open internationally. One (1) winner will be randomly selected and after confirming the winner's giveaway entries, the winner will be notified of the giveaway by email. The winner will have 48 hours to respond (so please check your email regularly!) before a second winner will be chosen. To enter, just complete at least one of the Rafflecopter activities listed below!
**Giveaway is now closed. Congrats to our winner Stela D.!**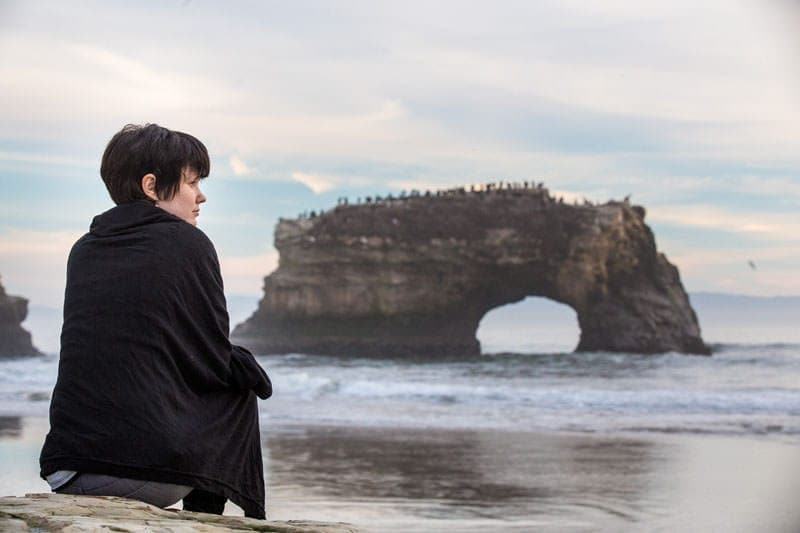 What do you think about the Secret Sweater travel shawl? Is it a travel accessory on your wish list? Don't forget to stop by and check out the Secret Sweater website and feel free to share your own reviews or ask questions!
**Disclaimer: I was given one free Secret Sweater shawl and travel blanket to wear and review; however, this article contains only my own honest thoughts and opinions.**