The Grand Est Mondial Air Ballons is the largest hot air ballooning event in Europe, and it is held every two years in northeastern France.
The Grand Est Mondial Air Ballons is held every other summer over 10 days and features the daily mass ascension of hundreds of hot air balloons. The festival also includes nightglows, flying competitions, and model air balloon demonstrations. In addition to the balloon events, the free festival also offers on-site family-friendly rides and workshops, a museum, aircraft displays and rides, exhibitors, and musical entertainment.
We love hot air balloon events, so we were excited that we were able to attend the Grand Est Mondial Air Ballons event in France in 2019. We'll tell you all about our own experience and share everything you need to know to attend this balloon festival yourself!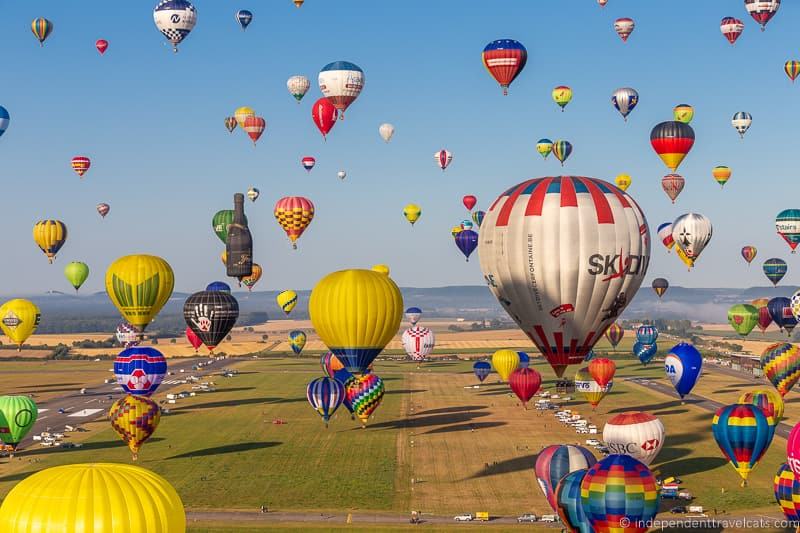 Information on Attending the Grand Est Mondial Air Ballons
Below we'll cover all the logistical information related to attending the balloon fiesta in France, including getting there, understanding the festival events, parking, booking lodging, booking balloon flights, and finding the best balloon viewing spots.

When is the 2021 Grand Est Mondial Air Ballons balloon fiesta?
The Grand Est Mondial Air Ballons is a biennial event, taking place every 2 years. It normally takes place at the end of July and lasts for about 10 days. The dates change each year so be sure to check the official website.
The 2021 Grand Est Mondial Air Ballons event (the 17th edition) will be held from July 23rd to August 1st.
The event was last held in 2019 (16th edition) from July 26th to August 4th. There will be no balloon event in 2020, so the next event will be held in 2021.
Note: This event has changed names and locations over the year. It is also widely referred to as the Lorraine Mondial Air Ballons as this was its prior name.
Where is the
Grand Est Mondial Air Ballons
event
?
All the events of the Grand Est Mondial Air Ballons festival take place at the Aerodrome de Chambley (Chambley Airfield). The airfield is located within the commune of Hagéville which is within the Lorraine Regional Natural Park in northeastern France.
The airfield is located about a 22 mile / 35 km drive from Metz, and a 42 mile / 68 km drive from Nancy. It is about 190 mile / 305 km drive from Paris.
If you need a general address for your GPS unit, you can input 11 Boulevard Antoine de Saint-Exupéry, 54470 Hagéville, France. Approximate GPS coordinates are: 49,025 N 05,865 E
There are a few parking lots (in open fields) along the D 901 road that are used for the event. You should follow event signs to park once you get near the airfield.

Getting to the Grand Est Region?
The Grand Est Region includes Alsace, Champagne-Ardenne, and Lorraine. The event itself takes place in the Lorraine region and the nearest city to the event is Metz. If you are traveling from outside of the region, you can get here by train, plane, bus, or car.
By Train
If you are in Europe, traveling by train may be a good option. The nearest train stations are in Metz, Nancy, and the Gare de Lorraine TGV. You can take a taxi or rent a car to get from the train station to the festival.
You can check on train schedules and purchase tickets on the SNCF or Trainline website.
If you have a train pass, you can also travel across France with a Eurail Pass (non-European resident travelers) or Interrail Pass (European resident travelers), just be sure to book trains that accept your pass.
By Plane
The nearest regional airport is Lorraine Airport. The airport is about a 28 mile / 45 km drive from where the Grand Est Mondial Air Ballons festival is held.
But if you are coming from an international destination, it is likely that you'll be flying into Paris, which has two major airports, Charles de Gaulle and Orly. You can then travel from Paris to Metz by train, bus, or by car.
Another option is to fly into Luxembourg Airport. It is about a 62 mile /100 km drive from the Luxembourg Airport to the site of the balloon festival.
By Bus
You can get to Metz by bus from cities throughout France and other parts of Europe. You can check bus connections on the Trainline website.
By Car
The balloon festival is located about a 22 mile / 35 km drive from Metz, a 42 mile / 68 km drive from Nancy, 102 miles /165 km drive from Reims, a 190 mile / 305 km drive from Paris, and a 62 miles / 100 km drive from Luxembourg City.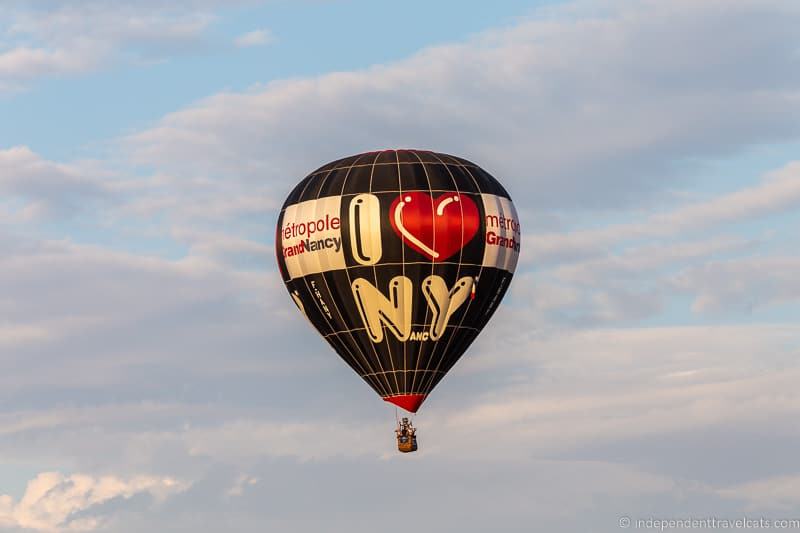 How Much is the Admission to the Balloon Fiesta?
Admission to the Grand Est Mondial Air Ballons is FREE! It is one of the largest free events in Europe. Parking is also free during the event.
What are the Main Events at the Grand Est Mondial Air Ballons?
The major events during the festival are the daily mass ascents, but there are are a number of other events planned each day as well.
Mass Ascents – These are the primary balloon events at the festival, where hundreds of hot air balloons launch in the same period of time, generally over a 1 hour or so period. You can watch the pilots drive onto the field (Pilots' Parade) and the balloons being set up, inflated, and launched from the field. These events generally take place twice a day during the festival, both in the morning around 6:30am and in the evening around 6:30pm (18:30). However, weather or other delays often cause these to take place a bit later than expected.
Le Chant des Brûleurs (Burners' Song) – If a mass ascent is canceled due to weather, the balloonists may instead do a "Burners' Song" where they set up their baskets and ignite their burners (but no balloon envelopes) to music for visitors. This event is sometimes called a "Naked Glow" at other balloon fiestas.
La Grande Ligne (The Grand Line) – This is the grand event of the festival. It is the same as a mass ascent but the balloonists form lines (typically three) along the field and the take off is more coordinated. This event is typically used to try to break the world record for the most balloons launched at a mass ascent within a 1 hour period. A helicopter flies overhead to count the balloons before they launch. The world record was set in 2017 at the event and holds at 456 balloons (it was tied at 456 in 2019). The Grande Ligne event is held just once during the festival, typically on a weekend morning.
Night Glow (Ligne de Nuit) – Taking place after the evening mass ascent, pilots inflate their hot air balloons and keep them tethered to the ground. They place them in a line. Then once dark, the pilots will periodically ignite their propane burners so that the balloons light up and glow. If you want to attend a Night Glow, be sure to check the schedule as there was only one Night Glow event in 2019.
Model Balloon Displays – These refer to displays and events involving model hot air balloons that people have made. These balloons may be made out of paper, fabric, or other materials and are smaller working versions of the full-sized balloons. Most of these are remote-controlled by the pilots. At some displays, pilots were allowing children to place their stuffed animals in the small baskets and then they could watch their toy going for a short ride.
Ballooning Competitions – There are scheduled pilots' ballooning competitions where balloon pilots compete on flying tasks designed to test their dexterity, speed, and accuracy. They also have special events for pilots who are children of pilots ("Passing the Burner" Challenge) and those who are very experienced pilots ("Very Old Burners" Challenge). There is an award ceremony at the end of the festival.
Masses – On each Sunday morning of the event, after the morning mass ascent, a mass is held in the aerodrome chapel on site. This small chapel was originally built as part of the American Air Force base and was where astronaut Michael Collins married Patricia Finnegan. In 2019, these masses were denoted as the "Mass of the Pilots" and the "Mass of Fraternity" and were led by Roman Catholic priest and pilot Eric Lorinet. The masses are open to everyone.
Flight Opportunities & Displays – There is the opportunity for the public to go up in a hot air balloon during each of the morning and evening mass ascents. During the day, flights are also offered to the public on small aircrafts, gliders, and helicopters. There is a fee for all flights. Even if you don't take a flight, you can still enjoy watching the aircraft which take off and land on the airfield.

Other Events & Activities – There are also other attractions or events scheduled each year that take place around the main balloon events, such as astronomy evenings, children's workshops, and family events. There is also the AéroMusée, aircrafts on displays, naval aviation area by the National Navy, children's rides and sports activities, exhibition booths, flight simulators, a live music stage, and food vendors within the park. Some activities are free and some have a fee.
Note that these events take place on different days of the fiesta, so check the latest online schedule to see when each is being offered. The only hot air balloon events that take place each day are the mass ascents.
How many days should I attend the Grand Est Mondial Air Ballons?
We would recommend coming for at least 2 or 3 days of the event. While you may only be interested in seeing only one or two events, almost all events are weather dependent and may be canceled. So if you allow extra time, you will have a very good chance of seeing the hot air balloons launch even if you encounter some bad weather
For example, during our four day visit, two of the balloon events were canceled. However, although there was bad weather at the beginning of the festival, 15 of the 19 balloon events did happen as planned in 2019.
If you come for a few days and get to see the balloons go up the first day, there are plenty of things you can do in the Grand Est department of France, which encompasses the regions of Alsace, Champagne-Ardenne, and Lorraine. Luxembourg, southern Belgium, and western Germany are also a relatively short drive away.
What are the Best Days to attend the Balloon Fiesta?
I would check the official festival schedule and base your visits around the events you most want to see. The most popular events are the mass ascensions which are generally scheduled for every morning and evening of the event. So you should definitely be able to attend at least one of those.
Two other popular events, which are generally scheduled just once per festival, are the Grande Ligne (takes place as part of one of the morning mass ascents) and the nightglow (takes place after an evening mass ascent). Check the schedule for other special events.
If you wish to avoid crowds, we recommend coming to the morning weekday events. We found that the morning events are a lot quieter than the evening events. The most crowded events are the Friday night and weekend events.
How do I get to the Grand Est Mondial Air Ballons Festival?
The event is located on an airfield in rural France, so the main way to get to the event is by car. But you can also get here by taxi. Cycling could also be an option if you are staying nearby.
There are currently no public transportation options or event shuttles buses that will take you to the event.
By Car
The balloon festival is located about a 22 mile / 35 km drive from Metz, a 42 mile / 68 km drive from Nancy, a 62 mile / 100 km drive from Luxembourg, 102 mile /165 km drive from Reims, and a 190 mile / 305 km drive from Paris.
There are large parking areas next to the entrance to the event. Parking is free for visitors. In 2019, there were two large grassy fields used for the main visitor parking labeled Gate A1 and Gate A2.
You should see signs when you get close for the parking. Note that in 2019, the signs into each field were small and a bit hidden. We passed them the first time by mistake, so do be sure to pay attention to signs once you are close.
Campervans, motorhomes, and other larger vehicles are welcome to park in the main visitor parking lots. However, overnight parking is not permitted.
There is a small disabled parking lot that is located near the entrance to the main Boulevard of the visitor area. In 2019, to access this area you needed to enter at Porte C (Gate C) which was only for staff, pilots, and disabled parking. Please be sure to bring proof of disability (official badge or card) to use this parking area.
Taxi or Rideshare
There are several local taxi services available, depending on where you are coming from. Many local taxi companies are based in Metz or Nancy. The taxi should be able to drop you off within a short walking distance of the visitor entrance.
Be sure to have the phone number of taxi services with you if you will be needing a pick-up from the festival as there are no taxi stands at the festival.
Note that when we were at the festival in 2019, there did not seem to be any rideshare options (e.g., Uber, Kapten) available although it appears that Uber may now be operating in the Metz area. However, I would be careful to make sure you will be able to get a ride back from the festival if you choose a rideshare option.
By Bike
If you are a keen cyclist, you can also come to the festival by bicycle. This may work well for those staying at a nearby campsite or chambre d'hôte.
However, note that there is no designated or protected place to leave a bike at the festival. But cyclists can find a pole and chain and lock their bicycles to them. Cyclists can ask a member of the festival or security staff about where might be appropriate to leave it.
Camp Nearby
We don't know of any public campsites within walking distance of the event; however, there are campsites located within a 15 to 20 minute drive or cycling distance from the event. A few of the closest campsites to the balloon fiesta are Camping de la Pelouse, Camping Paquis Corny, and Camping du Bois Joli.
There is no camping or overnight parking allowed at the airfield. The one exception to this is for pilots and balloon crew who have the option to camp on the Pilot's Square field area for 25 euros per pitch/night. If you are a registered pilot, you can read more about on-site camping option here.
Parking Tips for the Grand Est Mondial Air Ballons
Arrive early and allow extra time for the increased traffic before and after the event.
Parking is first come, first serve. The earlier you come, the closer you'll be able to park. When we were at the event, the parking areas were not full but they can become full on busy days (particularly weekends). So do be sure to come early to ensure you get a space.
The walk from the parking areas to the entrance of the event is generally between 5 to 10 minutes, depending on how close you are able to park.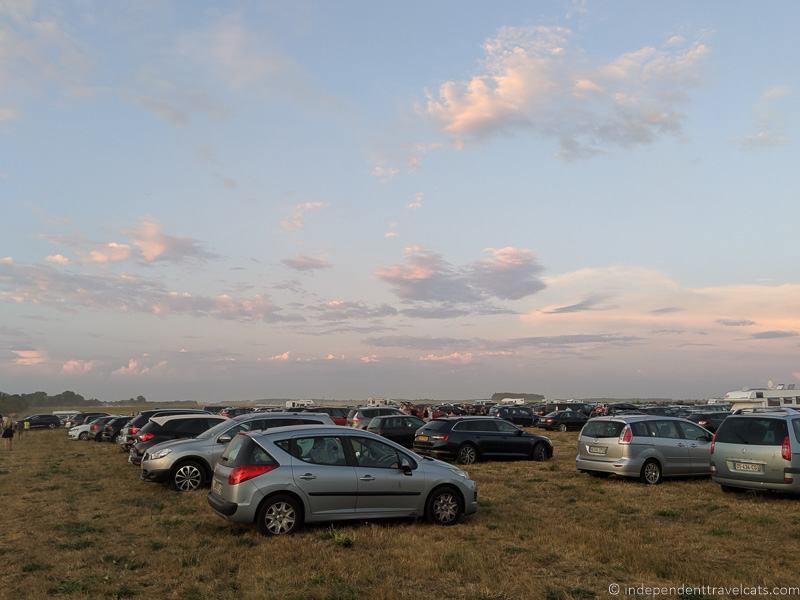 How early should I arrive for the Mondial Air Ballons event?
It depends on whether you are wanting to attend a morning or evening event, and if it is on a weekend or weekday.
In general, I'd recommend planning to arrive at least 1 hour in advance of any event you want to attend to give yourself enough time to get into the park, go through the security screening, and find a good viewing area. If you arrive early, you can take the time to explore the exhibit spaces, food vendors, children's rides, museum, aircraft displays, souvenier store, etc.
The morning events are not generally as busy as the evening events, so if you come 1 hour early for those you should be OK. An exception is the Grande Ligne as it attracts more people so I'd leave a little extra time for that day.
In the evening, it is generally busier with worse traffic and more crowds than the morning events. So I'd leave extra time for these. Friday, Saturday and Sunday nights are the most crowded.
The weekends (both morning and evening) are also much busier than the weekdays. The weekend evening events are often the busiest times at the festival. So I'd leave more time on weekends to ensure you get parking and get into the event in time to watch the balloons take off.
If you are planning to come to an evening weekend balloon event (often the busiest events), the festival staff recommend coming in the late morning or early afternoon and then spending the afternoon and evening at the park. There are activities throughout the day on weekends so it is easy to make a day out of it.
After a balloon event ends, I'd recommend sticking around for a bit (e.g., check out any free activities, get something to eat) to avoid the initial rush of traffic after an event.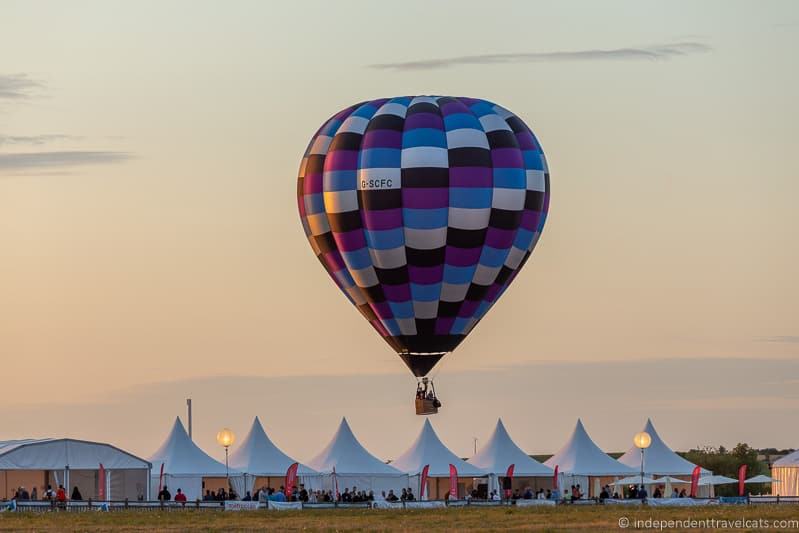 Are there upgraded experiences available?
There are no upgraded experiences available to purchase at the festival. General entry into the event is free and the public has access to all the same places during the event. Public parking is also free and all general visitors (except for the disabled) park in the same area.
If you are looking for something special, you might consider booking a hot air balloon flight during your visit which will allow you to have a bird's eye view of the event! You can see our section later in the article about balloon flights. Flights in other types of aircraft are also available during the festival.
You may notice that there are areas at the fiesta that are not open to the general public and these include areas open to pilots and crew, event organizers and volunteers, press, sponsors, and local authorities. You need the appropriate badge to access these restricted areas.
Accessibility at the Grand Est Mondial Air Ballons?
The event is held at Chambley Airfield which is a large airfield (formerly a U.S. military airbase). There is a mix of grassy areas, paved and unpaved paths, and paved and dirt roads. Although there are some uneven surfaces, the visitor areas for the balloon fiesta are mostly flat.
There is a special disabled parking lot that is located near the entrance to the main Boulevard of the visitor area. The parking lot is a flat grassy dirt area, but is located right next to one of the entrances.
In 2019, this was marked as Porte C (Gate C) and was only for staff, pilots, and disabled parking. Please be sure to bring proof of disability (badge or card) to use this entrance as otherwise you will need to mark in the regular visitor parking area. Parking is free for all visitors.
There are wheelchair-accessible toilets available on site, and most entrances to the buildings and tents at the event have been made wheelchair accessible. If you have questions or need assistance, please go to the Information Booth and ask a staff member.
We saw several people in wheelchairs as well as a few people using canes and walkers, and all seemed to be enjoying the event. The main road and field is mainly flat, but those who have difficulty on grass or dirt terrains should consider traveling with a companion, as there are a lot of grassy or dirt surfaces.
If you are interested in taking a balloon flight at the festival, this may be possible. There is one hot air balloon that is equipped to take wheelchair users and passengers with disabilities. To book a flight and discuss passenger safety requirements, please contact the organization in advance.
Are dogs allowed at the Grand Est Balloon Fiesta?
Yes, dogs are welcome at the hot air balloon event. Visitors must keep dogs on a leash throughout their visit and all dog litter must be picked up and disposed of properly.
Other pets are also welcome as long as they are kept on a leash or in a carrier. French people seem to bring some odd pets to events. We saw a man walking around with a cat on his head and another man with a pet pigeon on his shoulder.
Pet owners should be aware though that this may not be the best event to bring animals as it is often crowded and there are a lot of loud noises from the planes, balloons, and other attractions which can scare and cause stress to animals.
What items are Prohibited at the event?
There is a mandatory security screening that all visitors must go through to get inside the festival space. So be ready to open up any purses or bags for security officials to make the process go quickly and efficiently.
Prohibited items include drones, knives, firearms, and any other weapons or items that may be considered dangerous.
Visitors are allowed to bring in food, lawn chairs, strollers, tripods, backpacks, and leashed dogs.
What about Food, Drinks, and Toilets?
There were several food vendors selling food and drinks during the event. There were baguette sandwiches, burgers, salads, pizza, pasta, and hot dogs. There was also ice cream, candy, churros, and snack vendors. Beverage options included coffee, soda, bottled water, and beer.
During our visit, there were also a few local farmers and food vendors selling local cheeses, meats, honey, jam, wine, etc. at the event. So if you are camping or staying at self-catering lodging, you might be able to pick up some food items as well.
There were free public toilets available at the event. When we attended there were toilets in three different locations at the event and although they were portable, they had flushing water and sinks.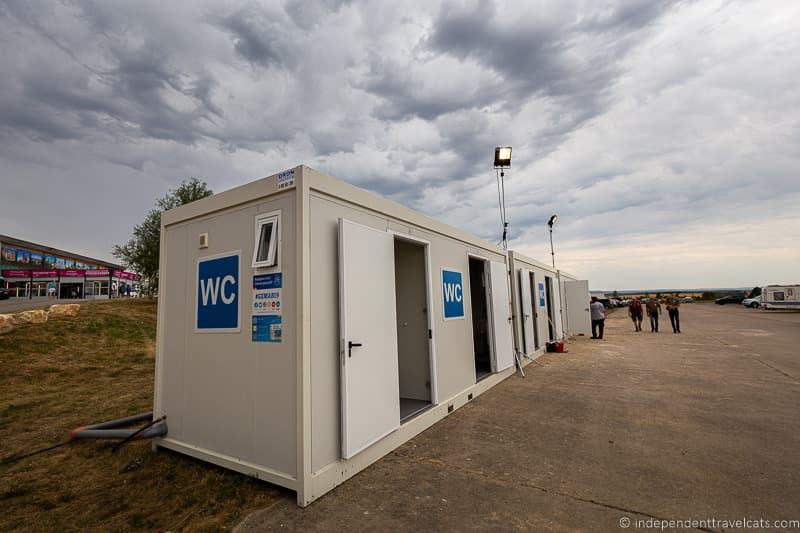 Where to stay during the Grand Est Mondial Air Ballons?
We definitely recommend booking your lodging once you know when you want to attend the festival. The limited lodging options located nearest to the festival often book up a few months in advance, especially for the weekend dates.
There are limited accommodation options, mostly small B&B's, campsites, and holiday homes, located within the Lorraine Regional Natural Park, but there is a wide range of options within the city of Metz which range from hostels to luxury hotels.
In terms of location, if your main goal is to be close to the event, we recommend finding a spot nearby in the Lorraine Regional Natural Park. There are lots of chambre d'hôtes (French version of a bed and breakfast) and holidays homes within the park. You can also check out apartment listings on Vrbo (can see nearby spots to the airfield here).
If you prefer a hotel and some city amenities, we recommend staying in the city of Metz. It has a wider range of accommodation which includes budget chain motels and 4-star hotels. If you stay in Metz, we recommend staying in a central location so you are within walking distance of some of the city's main attractions, stores, and restaurants.
Although we'd recommend Metz if looking for a city, other potential options could be Verdun or Nancy. Both are located within a 1 hour drive of the Chambley Aerodome.
Some recommendations for where to stay in Metz:
Some recommendations for where to stay outside of Metz (most are located within the Lorraine Regional Natural Park):
If you are looking for a room or apartment in the area, we also recommend checking out these local listings on Vrbo. There are also a lot of other apartment booking websites out there.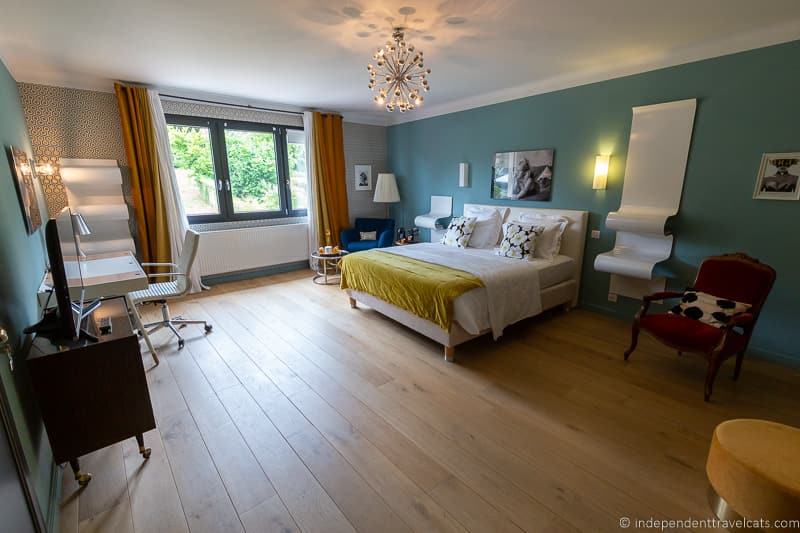 Camping
during the Grand Est Mondial Air Balloon Festival?
Many visitors to the Grand Est Mondial Air Balloon Festival camp nearby during the event, and there are a number of campsites nearby.
There is no public camping or overnight parking allowed at the airfield with the exception of registered balloon pilots. However, there are a number of campsites located within driving distance of the Chambley Aerodome. These range from primitive campsites to fully-equipped ones with lots of amenities; you can do a search here.
A few of the closest campsites to the balloon fiesta, all located within the Lorraine Regional Natural Park, are Camping de la Pelouse, Camping Paquis Corny, and Camping du Bois Joli. If you are wanting a campsite within the city of Metz, there is a municipal campsite in the city.
Most campsites in France take advance reservations online and/or by phone. We recommend making a booking in advance to guarantee a pitch, especially if you want certain amenities, as the campsites around the balloon event will be very busy. But you are likely to be able to find something same day as well if you don't have a reservation.
How do I know if the Fiesta is going to be cancelled due to Weather?
Sometimes, such as in the case of a bad storm or a really bad weather forecast, the organizers will cancel an event hours in advance or even a day in advance. However, in most cases you will probably not know about cancelations or delays until the event is about to start or maybe even after it was already scheduled to start.
Hot air balloons are highly weather dependent and it is not safe for them to fly if their are poor conditions related to wind, rain, visibility, etc. The mass ascent events are the events that are the most weather dependent and are the events that are mostly likely to be delayed or canceled due to weather.
Sometimes the weather may be questionable and flying is left to the judgment of the pilots with some pilots deciding to fly and others staying grounded. Other events such as the Burners' Song and evening balloon glows are also weather-dependent but have fewer restrictions.
If you are at the event, you'll hear periodic updates on the field through the speaker system about any delays or cancellations. However, we had a hard time hearing these and they were sometimes only in French. So if there is an announcement and you were not sure what it said, you may want to ask an event staff person.
The best place to get live updates online in our experience is from the event's official Twitter account, which tweet most updates in both French and English. The local radio stations and TV news stations will also be providing updates throughout the event.
We've been to several hot air balloon events now, and the weather is always the most frustrating and unpredictable factor. Cancellations due to weather happen each year and the number of cancellations and delays vary each year so they are fairly impossible to predict in advance. in 2019, 4 out of the 19 events were canceled, many were delayed, and some events were rescheduled.
But if you go to the Balloon Fiesta with this knowledge and are flexible to return another day, then you can make the most of the situation.
If you have flexibility, I would check the weather forecast and try to plan to go on the days that are predicted to be sunny with low wind and clear skies if you can. However, just be prepared for the possibility of cancellations and try to have a flexible schedule if you can.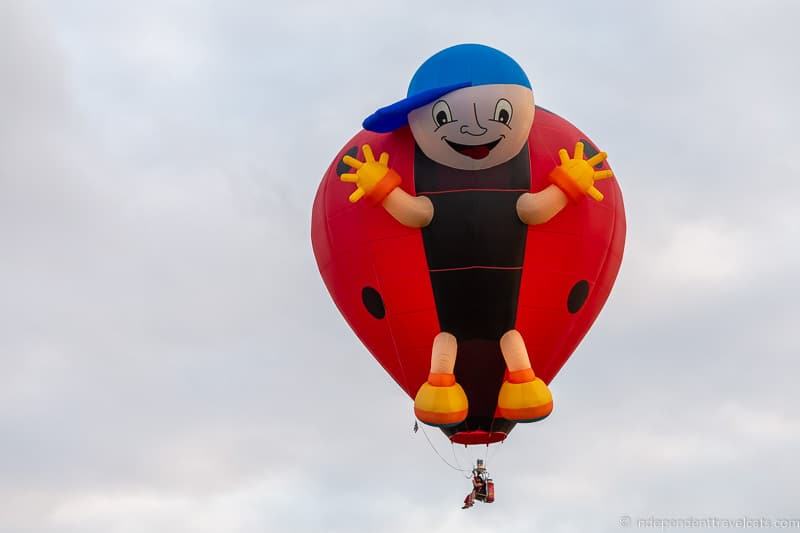 What happens if a Balloon Fiesta event is canceled?
Since admission to the event and parking is free, there are no tickets to refund or exchange.
If you are already at the airfield, even if the balloon event is canceled, the other events on the schedule will likely still take place. The trade booths, rides, and food vendors should still be open as well if there are other events taking place. So if you are already there, it is still worth taking a walk around and exploring to see what's happening.
If you have booked a hot air balloon ride at an event that is canceled (this happened to us), you will be given the opportunity to book an alternative time or date (if one is available) or be given a refund. Be sure to check the booking terms for the flight.
Can I Ride in a Hot Air Balloon during the Balloon Fiesta?
Yes! You can join a balloon flight as a passenger during the Grand Est Mondial Air Ballons. The passenger balloons take off from the same field as the other balloons during the festival's mass ascents. You will see them advertised in French as baptême de l'air (baptism of the air).
You need to pre-book your balloon flight as I believe they stop taking new reservations once the festival begins. The flights are generally offered on each morning and evening that a mass ascent is scheduled. The price of a balloon flight (as of the 2019 event) is 250 euros per person.
Children must be at least 6 years of age, meet a certain height requirement, and be with a parent or guardian.
If you have any concerns or special requirements, you should contact the organization directly before booking. During the festival, there is one hot air balloon that is equipped to carry wheelchair users and those with disabilities.
The route and length of the flight can differ based on the weather and landing conditions, but the average flight is about 60 minutes. We did a flight and had gentle winds and our flight was longer than usual, lasting about 90 minutes. You will receive a flight certificate and pin after your flight.
All the hot air balloon flight rides are organized by the Pilâtre de Rozier organization. You can learn more and book a flight online here. Be sure to read all the terms and know the policy for what happens if your flight is canceled.

If you are not visiting during the festival, you may still be able to arrange a hot air balloon flight from the aerodrome and should contact the team at Pilâtre de Rozier to chek on flight options. If you are looking for other places to ride hot air balloons in France, you can take a look at these options.
Can I see the Balloons from outside Chambley Airfield?
Yes, during and right after the balloon mass ascent events you have a good chance of seeing balloons from other spots within the Lorraine Regional Natural Park (Parc Naturel Régional de Lorraine). The park consists of small villages and rural areas.
The problem is of course that you never know which direction the balloons are going to go and how far. During the events we attended, the balloons never drifted that far away and many actually landed within the large airfield or in fields nearby. So I would not choose a spot too far away if you decide not to go to the airfield. I'd also choose a hilltop or elevated spot if you can.
If the winds are stronger, some of the balloons may drift out of the large park and into one of the nearby cities like Metz or Verdun, but you have a much less chance of seeing them in the cities than if you head closer to the airfield.
The best place to see them though is from the airfield itself as you know you'll get to see them there. Sometimes the balloons drift away from the crowds after they launch, but if the wind blows the balloons over the viewing area, it is a spectacular sight!
Note for nightglows and Burners Song events, you will only be able to see these spectacles from within the viewing area of the airfield.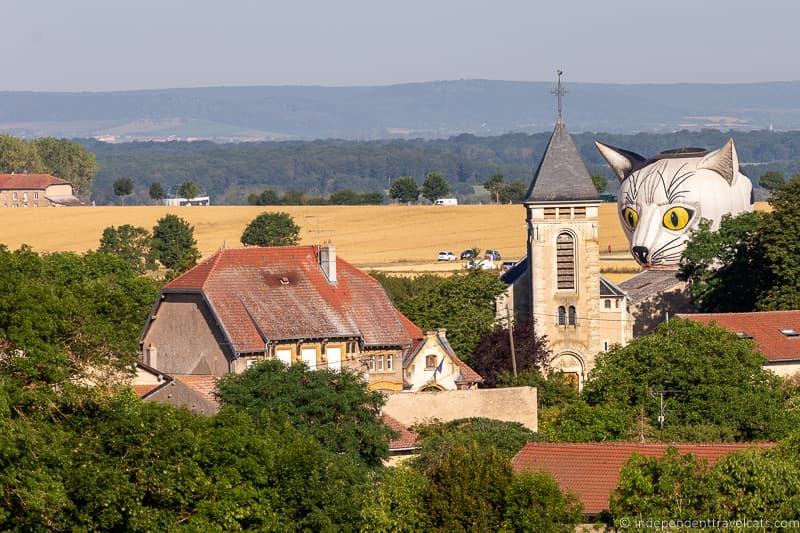 What if I don't speak French?
Given that the event is held in France, the primary language of the event is French and most visitors are French speaking. But if you are reading this post, your first language is probably English and you may be wondering if it is easy to navigate if you don't speak French or speak limited French.
I will say that it does of course help to speak French at the event, but you can easily get by without speaking much French. Most of the event staff understand at least a little English and some speak it very well.
As with any traveler to France, we would definitely recommend learning some basic phrases in France. Although many people in France learn English, this part of France is more rural and less touristy so expect fewer locals to speak English than in other parts of France like Paris.
The event schedules and most of the public information is distributed in both French and English. But some general announcements at the event were only made in French, some of the exhibitors only spoke French, and of course, most of the visitors were French speaking. However, given that most things are pretty universally understood (security screening, ordering food, finding a toilet, going on a ride), most things are easy to do with some pointing, smiling, and a few French phrases thrown in.
Laurence is fairly fluent in French, so this made it easier for us, especially since we had to talk to a lot of people as press. We were at the event over 4 days and definitely found ourselves gravitating and making friends with the other English speakers.
If you are a pilot or crew member attending the event, note that all important information, including pilot briefings, safety information, and radio contacts are given in both French and English.
How do I Find Out More Information?
The best place to find out more information about the event is to check out the official website for the Grand Est Mondial Air Ballons which provides the full event schedule, information on parking and getting there, and information about booking balloon flights during the event.
You can also contact the Pilâtre de Rozier team (the organizers of the Mondial Air Ballons event) directly, and you can find their contact information here.
If you have a general question about the event or traveling to this part of France, feel free to leave us a comment at the end of this article and we are happy to try to help!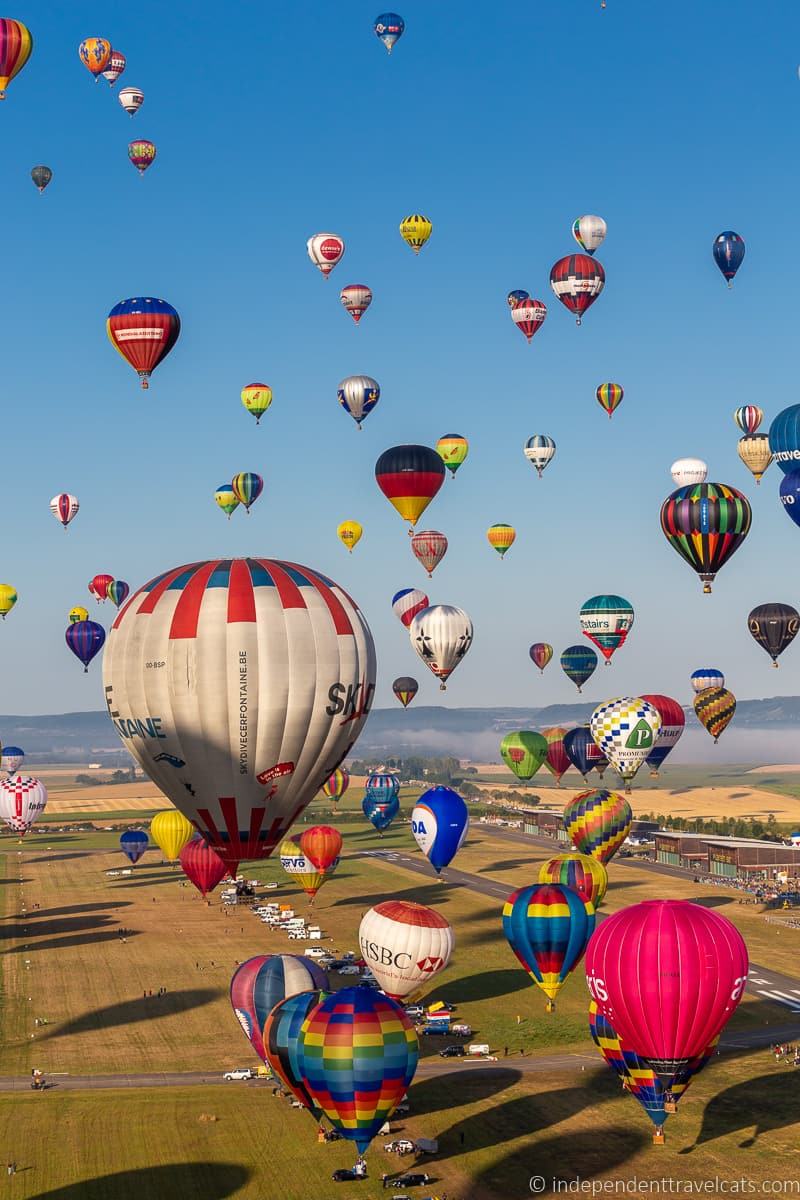 Our Experience Attending the Grand Est Mondial Air Ballons
Laurence and I have actually been very fortunate to attend a number of hot air balloon events around the world. My first hot air balloon festival was the Albuquerque International Balloon Fiesta, the most well-known hot air balloon festival in the world. That was back in 2014 when living in Albuquerque. I've been in love with hot air balloons ever since.
Since that time, Laurence and I have flown in a number of hot air balloons (current count I think is 7 times for me and 8 for Laurence) and attended several hot air balloon events. In 2017, we attended the Bristol International Balloon Fiesta which is the largest annual balloon festival in Europe. We've also attended the smaller but picturesque Château-d'Oex International Hot Air Balloon Festival in Switzerland.
Although the Bristol event usually attracts more visitors, the Mondial Air Ballons event in France is able to host a lot more hot air balloons with its much larger space. So we were excited to attend this balloon festival in France, which is the largest gathering of hot air balloons in Europe!
France is after all the birthplace of hot air balloons. In the late 18th century, the Montgolfier brothers would create the first hot air balloons. The first riders of an untethered hot air balloon were Marquis d'Arlandes and Jean-François Pilâtre de Rozier in 1783. The organization that runs the Grand Est Mondial Air Ballons festival is named after de Rozier who is from nearby Metz.
In addition to being part of what is often considered the first manned flight (of any aircraft), Pilâtre de Rozier was also one of the first known fatalities of a hot air balloon. He died in 1785 with flight companion Pierre Romain during an unsuccessful attempt to cross the English Channel.
Of course, those first balloon envelopes were made of paper, taffeta, and sackcloth and heated by smoldering ground fires before being launch. Most of the modern-day hot air balloons we see today were first developed by American engineer Ed Yost in the 1950's.
We planned our stay for 4 nights, so we would be in the area for the first 4.5 days of the balloon fiesta. We knew that bad weather would likely cancel some of the events (it did indeed), but we would still have an almost guaranteed chance of seeing at least one mass ascent. In between events, we planned to explore the park and the city of Metz.
We decided to stay within the Lorraine Regional Natural Park since we knew we would be driving to the Chambley Airfield over multiple days for the balloon events. We booked our accommodation a couple of months in advance and stayed in a B&B (this one) which was about a 25 to 30 minute drive from the airfield.
We also decided to book a hot air balloon ride for one of the morning mass ascensions, and we booked this a couple of months in advance.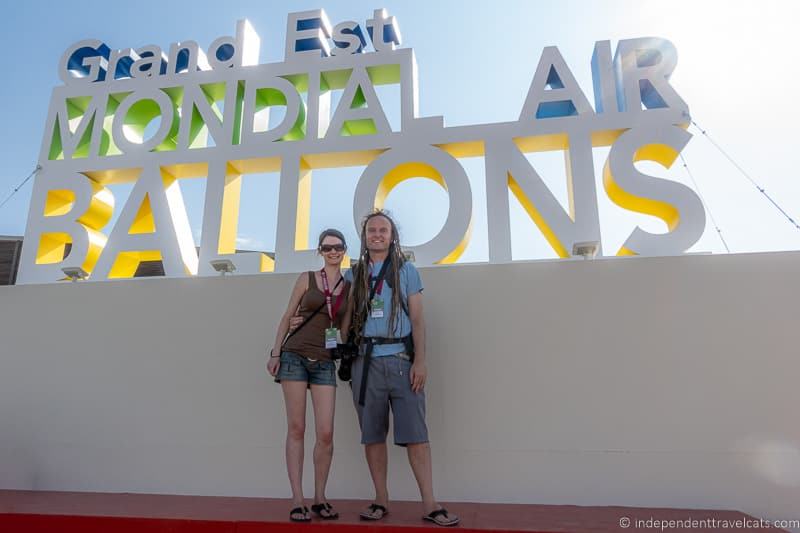 General Stuff
The first time we drove to the Chambley Airfield, we were a bit unsure if we were going the correct way. The Lorraine Regional Natural Park is mostly rural and the airfield is situated around farms and fields. So as you drive along this 2-lane road you may feel, like us, that you are driving in the middle of nowhere!
Parking is on grassy fields next to the airfield. Just be sure to watch out for the signs for the turn off into the fields. In 2019, they were pretty small and we passed one without noticing it the first time.
Traffic was never that bad for the morning events or during the afternoons for us. We always arrived early and stayed late to avoid traffic. Because of this, we had only minor traffic delays. There were staff directing traffic out of the parking areas and then police were keeping it flowing smoothly at the nearby roundabouts and intersections.
Expect worse crowds and more traffic delays during the weekend and evening events, especially the Friday evening, Saturday, and Sunday events. We recommend staying for evening entertainment on these evenings to avoid the crush of people leaving as soon as the balloons finish launching. Don't be in a hurry and be patient as thousands of people are trying to get to their cars and use the same 2-lane road as you to exit.
There is one main public entrance and you'll go through a quick security screening where you'll need to open any purses and bags. You can also grab an event leaflet here that includes a schedule and map of the event. Then you are in the main event area and can wander freely.
The public area of the event is all spread out along the main road here, called the Boulevard. Here you'll find exhibitors, food vendors, a few children's rides and games, an entertainment stage, toilets, etc. You can also go inside many of the buildings which house different things, including a small aviation museum, a souvenir gift shop, exhibitors and craftspeople, aircraft displays, etc.
There were fewer food vendors than we expected but there were still several places to get food. Just note some are only open during meal times, although there was at least one place that was serving sandwiches and drinks throughout the day.
Most of the entertainment during the event is free. For instance, there was the opportunity to walk inside a hot air balloon, see model balloons, look at aircrafts being displayed, listen to live music, and learn about weather forecasting. But you do have to pay for the children's rides (there were a few smaller children's rides), flight simulators, and if you want to take a ride on any of the aircraft.
The balloons are set up and take off for all the events within the large airfield, which is fenced off from the public area. To watch the balloons, visitors can stand anywhere within the public areas along the Boulevard.
The viewing area for the Mondial Air Balloon is almost entirely flat, so you'll want to get a position near the fence for the best views of the balloons being set up and launched. In 2019, the public areas nearest the BalloonVille Parternair area and the Esplanade were two good choices. But once they start taking off, you'll be able to see them from just about anywhere you stand.
Similar to the Bristol Balloon Fiesta, visitors can't get super close to or walk around the balloons as you can at the Albuquerque Balloon Fiesta. This is due to safety regulations and only the pilots and balloon crews are allowed on the airfield.
But from the viewing area, you still can get really good views of the balloons, especially if they drift over the crowds!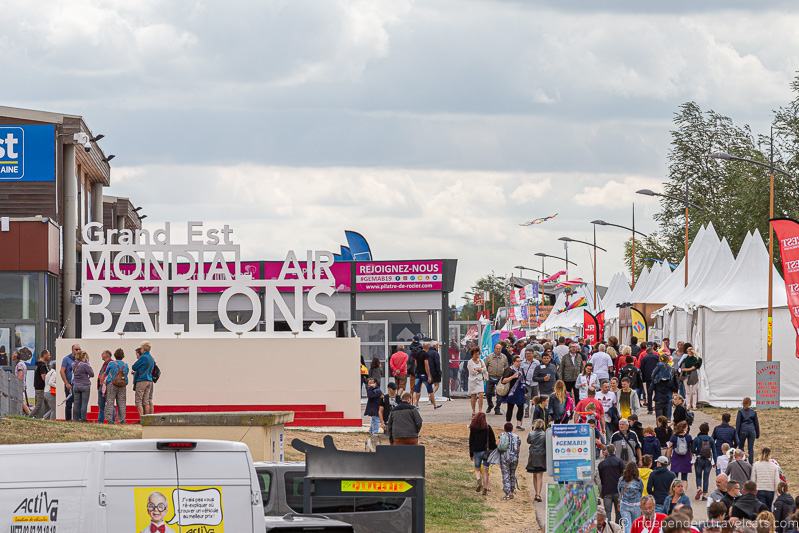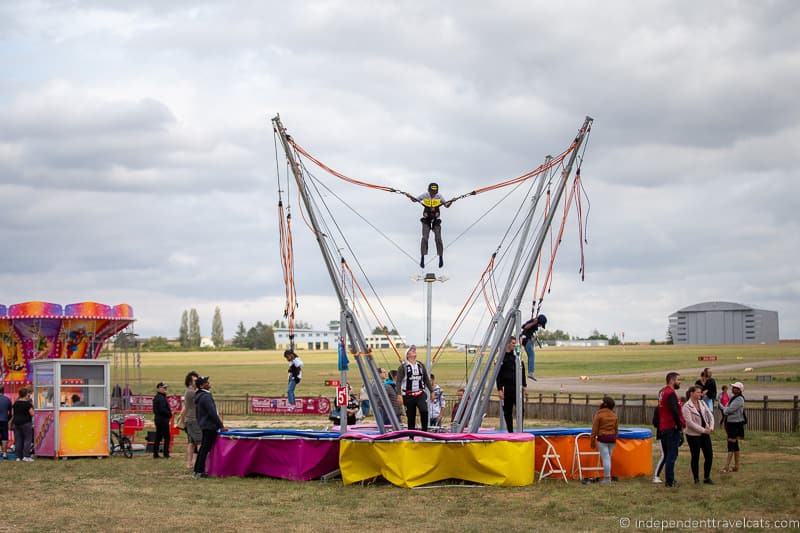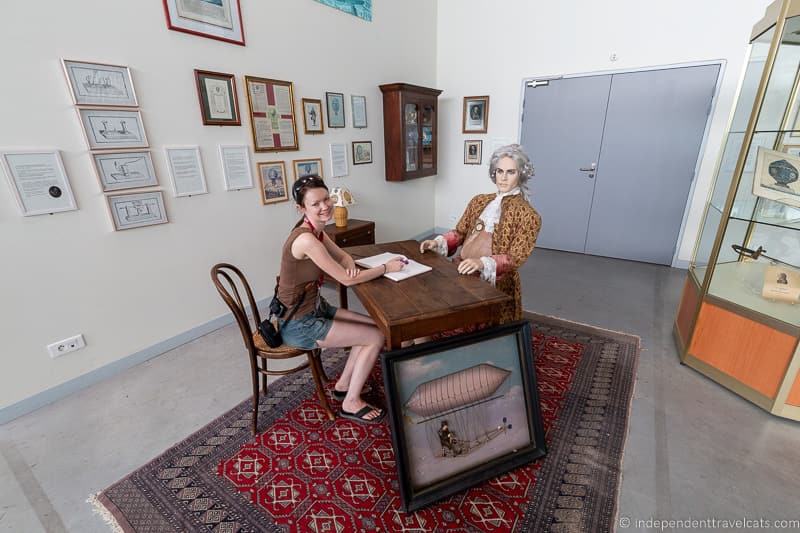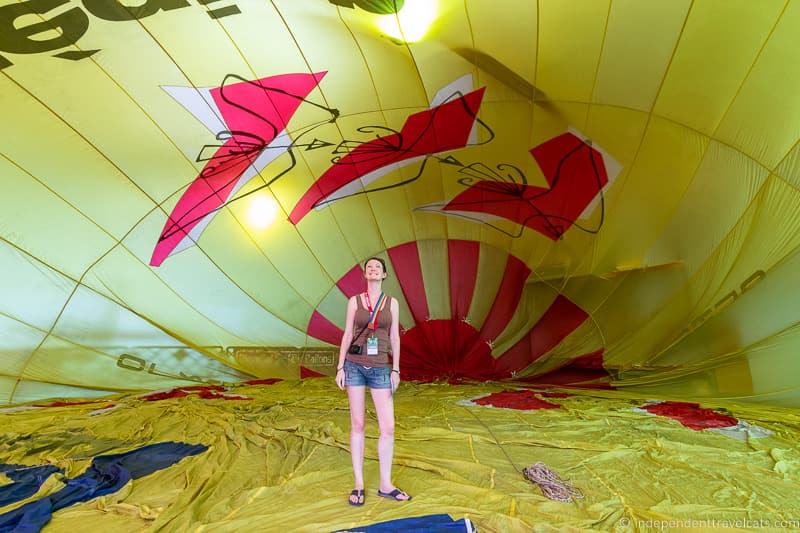 The Airplane & Helicopter Flights
We wanted to make a special note about the airplane and helicopter rides offered during the festival.
In addition to aircraft being on display at the event, the public also had the chance to book short flights in several different small airplanes as well as autogyros and helicopters. These flights don't happen during the hot air balloon events, but take place in between the morning and evening balloon ascents.
You can't pre-book these flights, but you can purchase the flight tickets at the event. These were much less expensive than the hot air balloon flights, and were very popular with kids and adults alike. We think most of the flights were about 20 minutes in duration. The flights are of course weather dependent.
We didn't do one, since we had already booked a hot air balloon, but we enjoyed watching the planes take off and land on the airfield. We thought this was a very nice addition to the balloon festival and a very good use of the airfield space.
If a hot air balloon flight is out of your budget or they are sold out, this is a good way to still get a taste of soaring in the skies!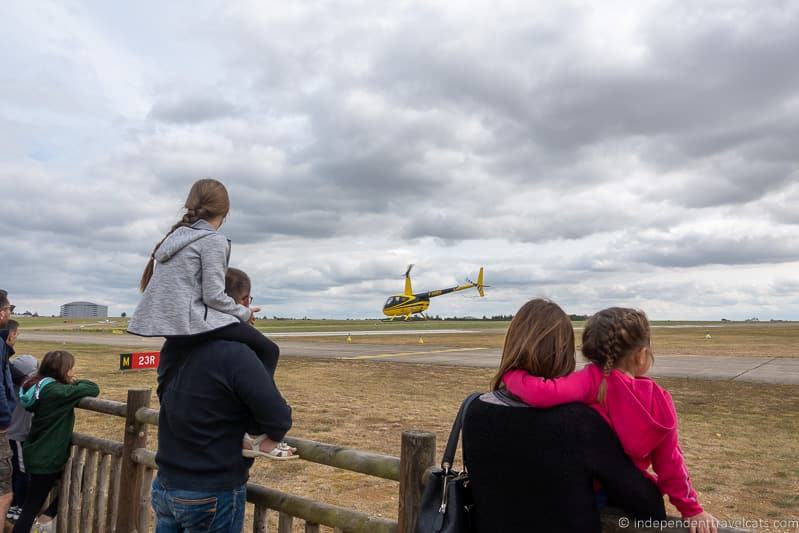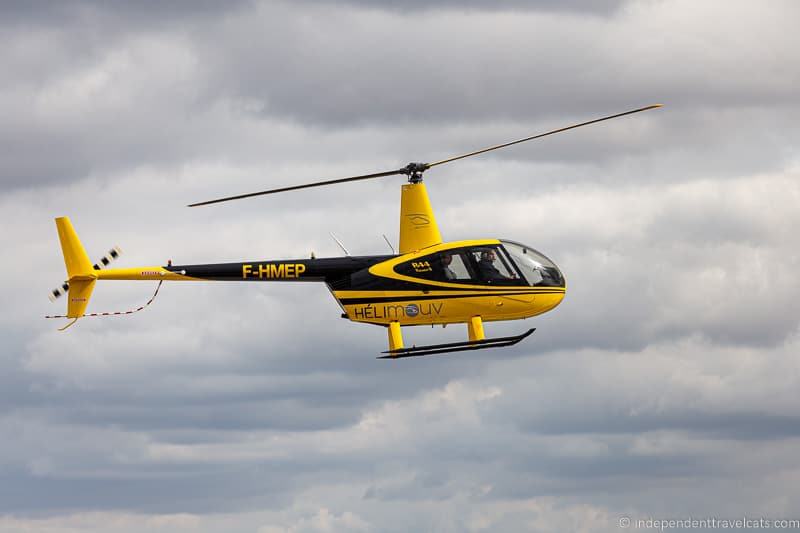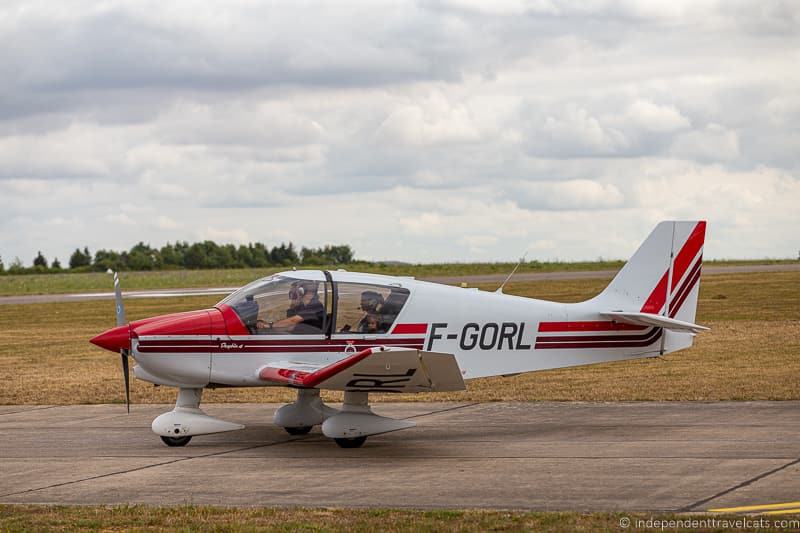 Views of the Hot Air Balloons from the Public Viewing Areas
As mentioned, spectators are not allowed on the airfield where the hot air balloons are set up and launched due to safety regulations in France. This area is only open to pilots, crews, those taking a balloon flight, and approved press.
We had access to the field during most of the launches as media, but we wanted to share some photos here to give you an idea of what the views are like from the public viewing areas.
The shots below are from the beginning of an evening Sunday mass ascent. At first, the people watching were only about 1 person deep, but later got to 3 or 4 people deep in some places. But it was never difficult to find a good place to stand while we were there.
Be mindful that mornings are not as busy as evening events. So if you come in the evening, I'd get a spot early before the balloons start launching.
We recommend getting a standing position near the fence for the best views of the balloons. In 2019, the public areas nearest the BalloonVille Parternair area and the Esplanade were our two favorite spots. But once they start taking off, you'll have views of them in the sky from just about anywhere with a view of the airfield.
As you can see, you will likely be close to several of the balloons and have a good view of the set up and launch of the ones nearest the public areas.
Oddly, there are some balloonists who always seemed to set up very far from the public view, even when a smaller number were launching, and these balloons are very hard to see. Given the huge field, this was a bit strange. But there were many balloonists who set up close to the public viewing area.
So you can still get good views, just know that some balloons will be far away. I'd bring binoculars if you have them as that will give you a better views once they are launched in the air and get further away.
Once they are airborne, it is really up to the winds and the directions can change during the ascent. It is wonderful when the balloons come towards the crowds and float over the Boulevard!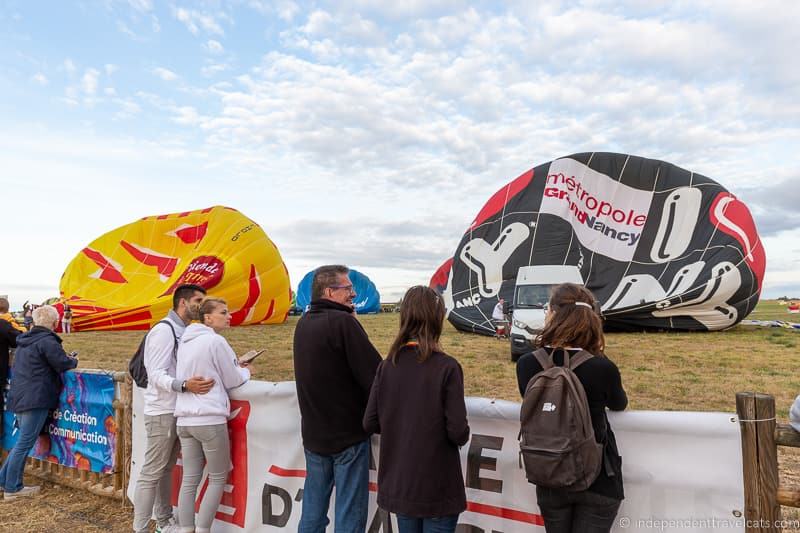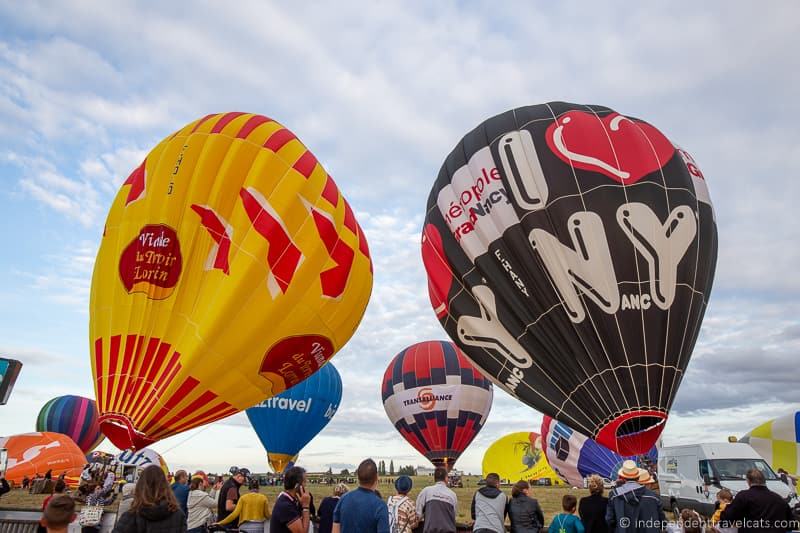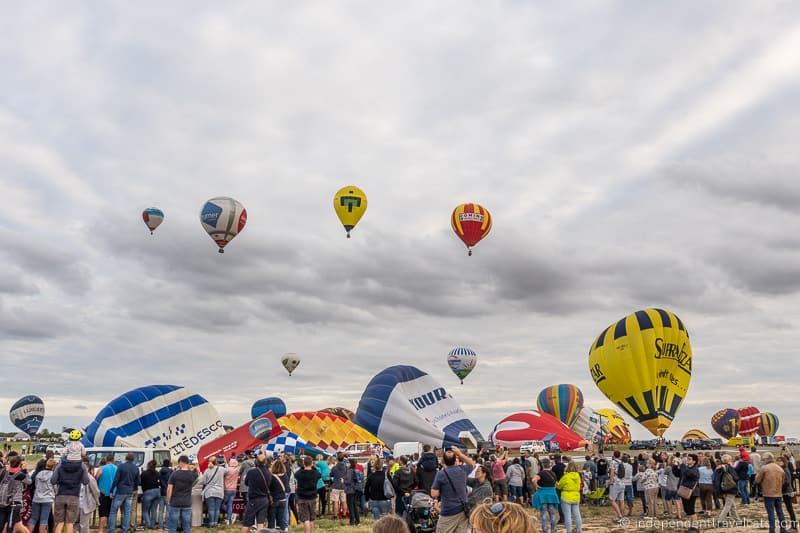 Mass Ascents at the Grand Est Mondial Air Ballons
The mass balloon launches are my favorite events at balloon fiestas as you get to watch hundreds of hot air balloons fill the sky at one time. The Grand Est Mondial Air Ballons usually has two mass ascents each day, one in the morning and one in the evening.
There were close to 500 hot air balloons registered at the festival in 2019, and although they don't all fly every day, there were plenty of balloons to see.
The only problem with morning mass ascents is that they start so early! This is why they are less crowded than the evening mass ascents, but you have a better chance of getting a front row view in the mornings.
We attended one morning mass ascent and two evening mass ascents. We actually went to two morning mass ascents, but one was canceled due to weather. One of the morning ascents was the Grande Ligne.
The first evening mass ascent we attended was delayed due to bad weather. So there was a lot of waiting to see what would happen. Eventually a balloon, one of the British balloons, successfully inflated and took off. Soon many other balloons followed suit. Many pilot decided not to fly that night, but it was still a good display and left us wanting more!
As you might imagine, the evening mass ascents attract more people as most people don't relish getting out of bed before 6:00am! So don't worry if you are not an early riser, the evening mass ascents have the same set up. But if you want a less crowded experience, we do recommend going to one of the morning mass ascents.
The mass ascents start with the Pilots' Parade where the pilots and crew drive out their balloons in trucks to the field. During this they are allowed to display their country's flag and play music if they wish.
Then the balloon crews start setting up their balloons. They will unpack them, roll out the envelope (the "balloon" part), and then start inflating. The excitement really begins to build once the crews start inflating the hot air balloons and they begin to take shape.
The first balloon to launch is always met with a lot of cheers as it floats off into the air. This means that others will start launching as well.
There didn't seem to be a lot of organization during the mass ascents in terms of order, and balloons seemed to launch as they wished. Pilots were still driving onto the field and setting up long after the first balloons had taken off. So keep an eye on the field as balloons may take off from any corner!
The balloons launch for about 1 hour during the mass ascents, but the time watching is likely to be much longer. As it takes a while for the setting up part and there is often a bit of a wait until the first balloon launches. In some cases, they may be waiting for better wind conditions.
After a short while, the skies become filled with balloons. If you are lucky, the balloons will come directly right overhead of the viewing area and right over the heads of the crowds. But their direction just depends a lot on the direction of the wind, as the pilots have little control over the direction of the balloons.
In addition to the regular teardrop shaped hot air balloons, you'll also see special shaped balloons launch during the mass ascents. A couple of favorites were a cat and a kangaroo.
You'll also probably spot a few racing balloons (smooth slender profiles, note the St. Michel racer balloon in the photo below) and a couple of hopper balloons. Hopper balloons don't have a basket and are just one-person balloons where the pilot sits in a harness rather than a basket (see the Kangaroo balloon photo below).
Our favorite part of any hot air balloon festival is seeing the skies filled with dozens or hundreds of colorful balloons! This is the reason we keep going to balloon events. The Mondial Air Ballons is a great place to see mass ascents as you have a chance to see them twice a day!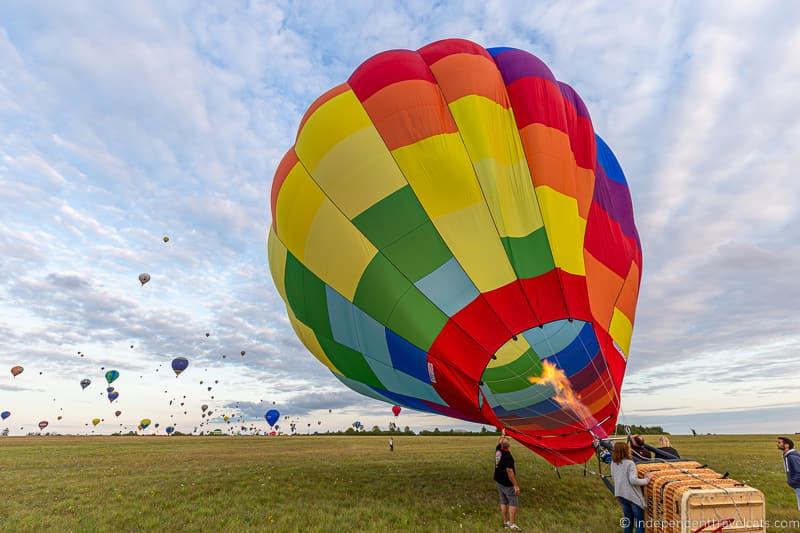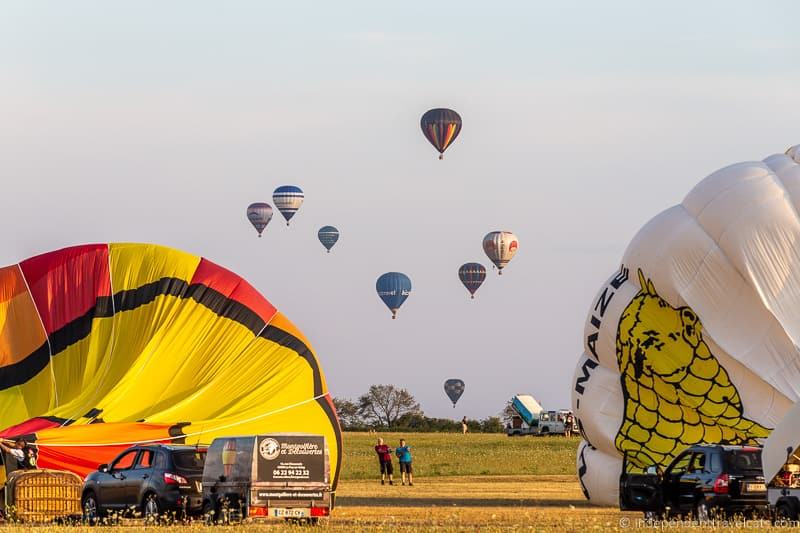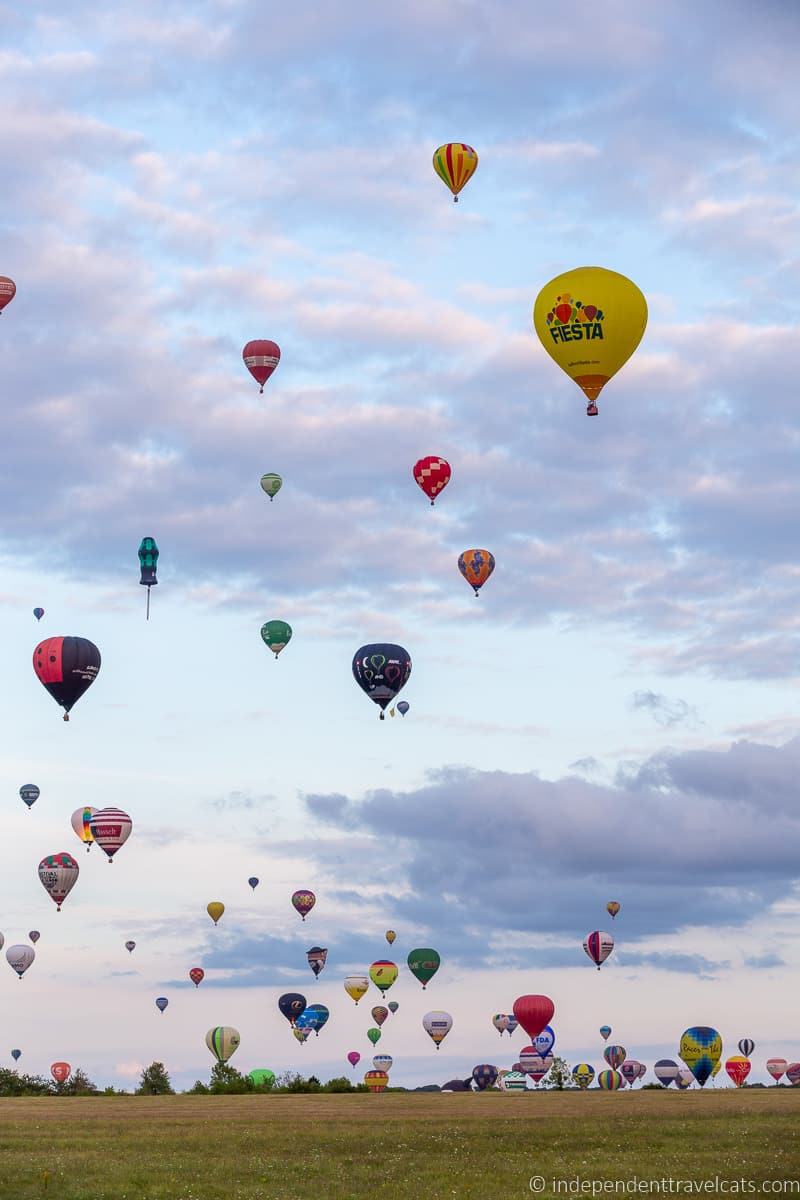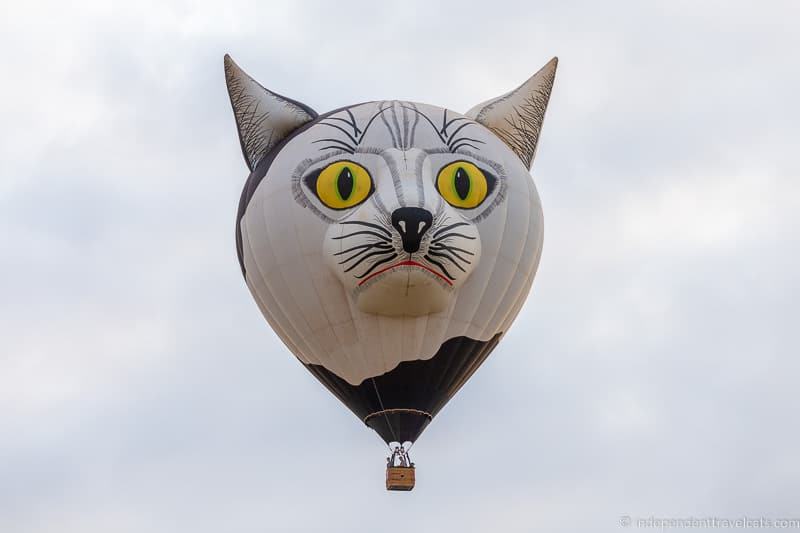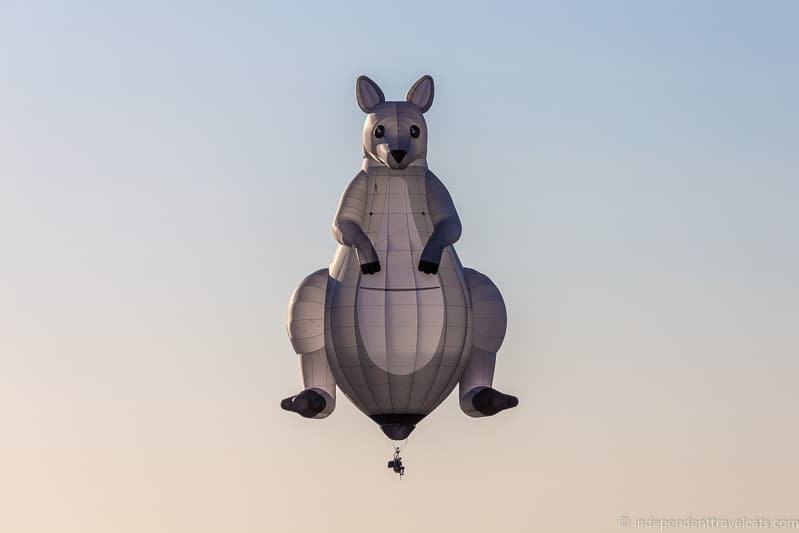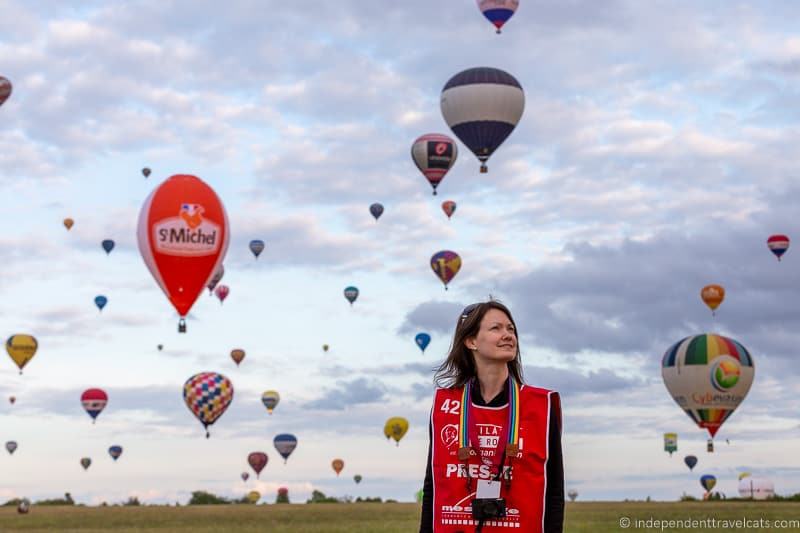 Riding in a Balloon during the Grand Est Mondial Air Ballons
Visitors have the chance to book a ride in a hot air balloon for any of the morning or evening mass ascension events. All balloon rides during the festival are booked through the Pilâtre de Rozier organization.
Laurence and I knew we wanted to do a hot air balloon ride at the festival. At first, we were going to try to get on one of the press flights, but given that these are limited and there were a lot of requests, we decided to play it safe and book a flight in advance on our own.
After we booked online, we were mailed (by postal mail) a packet that included our flight tickets and the information we needed for our flight. If you do a flight, be sure to bring your flight confirmation and tickets with you.
This was not our first hot air balloon flight, as we had both flown several times before. You can read about some of our past flights such as hot air ballooning in the Spanish Pyrenees, ballooning in Costa Brava, during the Albuquerque balloon fiesta, during the Bristol balloon fiesta in England, during the Château-d'Oex International Hot Air Balloon Festival in Switzerland, and ballooning over Napa Valley. We've also done hot air ballooning in Cappadocia, Turkey.
We had booked for a Saturday morning flight. So we got up around 4:30am, had a quick shot of espresso at our B&B, and got ready to head to the festival. Luckily, our very kind B&B owner had packed us a breakfast the night before and even given us a thermos to take coffee.
We were one of the first people there that morning and arrived early. So we sat in our car to have a little breakfast before going to check in.
After a bit of sitting around and waiting, we learned that the morning mass ascent was canceled and no balloons were going to be allowed to fly that morning. We were disappointed but not that surprised as the weather forecast had not been positive for that day. We were able to reschedule for later in the week.
The same routine was repeated for Monday morning, hoping for a better outcome. After checking in, we heard that the mass ascent was to go ahead as scheduled that morning. Yes!
We actually got really lucky. Not only did we have good weather this morning, but we ended up going up during the Grande Ligne event. This was very coincidental, as it had been scheduled for Sunday morning, but had gotten canceled and moved to Monday. We'll talk more about the Grande Ligne event in the next section.
After being checked in, we were given bracelets and then led to a passenger van that took us out on the field with all the balloons. Here we met the pilot and the crew of our balloon.
Our balloon pilot was named Filip Audenaert and he is the manager of a balloon ride company, Filva Ballonvaarten, that provides balloon fights around Belgium. Our balloon was a 14-person passenger balloon called Chouffe, a bright yellow balloon with a picture of a gnome. The balloon advertised La Chouffe, which is a Belgian blond beer known as the "gnome beer".
We got to watch our balloon be set up along with the many hot air balloons around us. This was going to be a more regulated set up and take off than usual as it was the day of the Grande Ligne so it was more organized and controlled than the regular mass ascents. Everyone had to set up at the same time in one of three long lines along the field.
There were 10 other passengers going up in our balloon, so a total of 12 passengers and the pilot. The wicker basket is divided into four passenger compartments so we were split up so 3 people were in each section, giving us plenty of space.
After some of the first balloons starting going up, we took off as well. There were soon a lot of balloons in the air and the sky was quickly filling up.
We spent a lot of time taking photos that morning and the views were great. But we never really went far from where we took off. We floated over the airfield, the crowd, and over some adjacent fields. We never left sight of the airfield. The winds were gentle and it was very good conditions for ballooning.
We were up in the balloon for close to 90 minutes which was one of the longer balloon rides we had ever had. This was due to both really good conditions and Filip trying to find an ideal landing spot. The company told us that the average ride is 60 minutes and there is never any guarantee about the length as it just depends on the weather, wind conditions, and landing conditions.
Our landing was good, not too bumpy. We then waited until the crew arrived in the field and then got out of the balloon and help the crew with packing up the balloon. This took about 30 minutes or so and then we were driven in a van back to the airfield.
We went back to the check in point and were each given personalized flight certificates and a pin. We were also offered free photos that were taken by the pilot using a GoPro during the flight; these were emailed to us about a week later. This was a nice touch and the first time we'd been given free photos after a balloon flight.
The only thing that we found a bit disappointing about the ride was that there was no food or drinks offered before, during, or after the flight. So go in knowing you will probably not be given anything to drink or eat, we had coffee and a small breakfast before checking into our flight.
Given the amount we paid, we were expecting at least some morning coffee before the fight and a Champagne toast after the flight. I think this is the only balloon flight we've taken (that wasn't a press flight) that didn't include a glass of sparkling wine. Given the Grand Est region includes the Champagne region, we hope they will add this in the future.
However, other than the disappointment with the lack of coffee and Champagne, we had a really great experience. The flight itself was magical, we felt safe during the flight and landing, and being a part of the Grande Ligne mass ascent was amazing!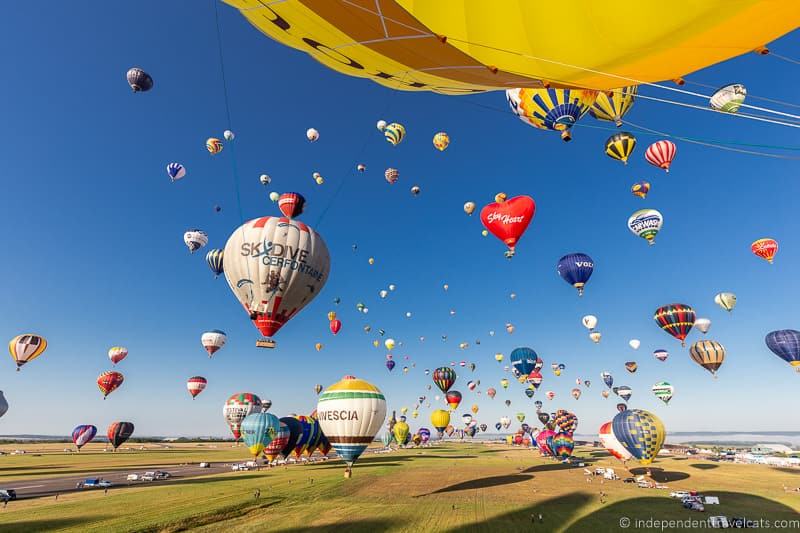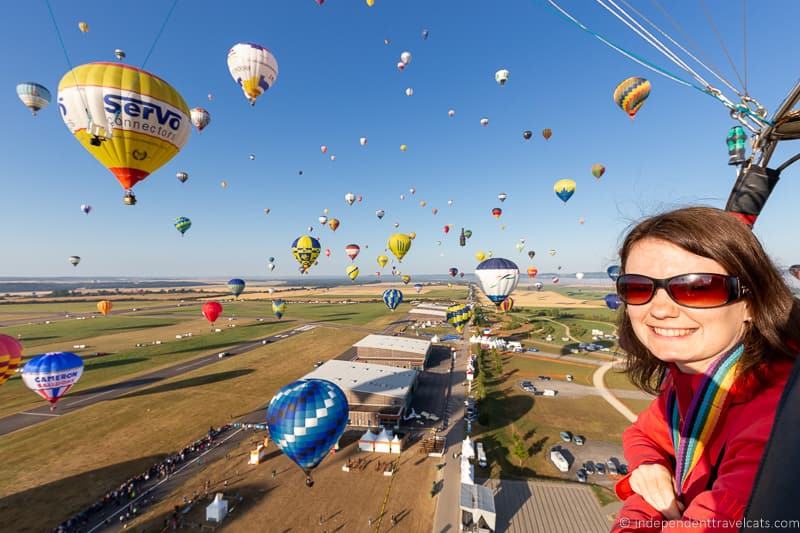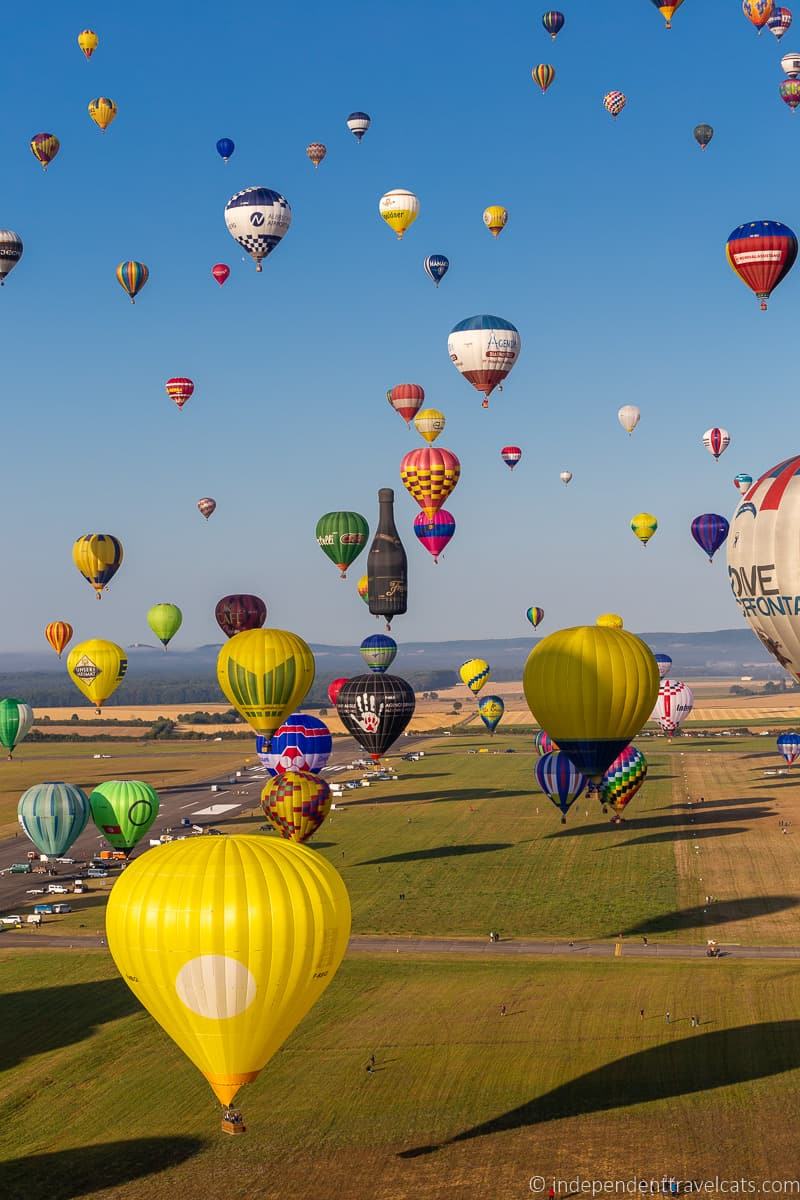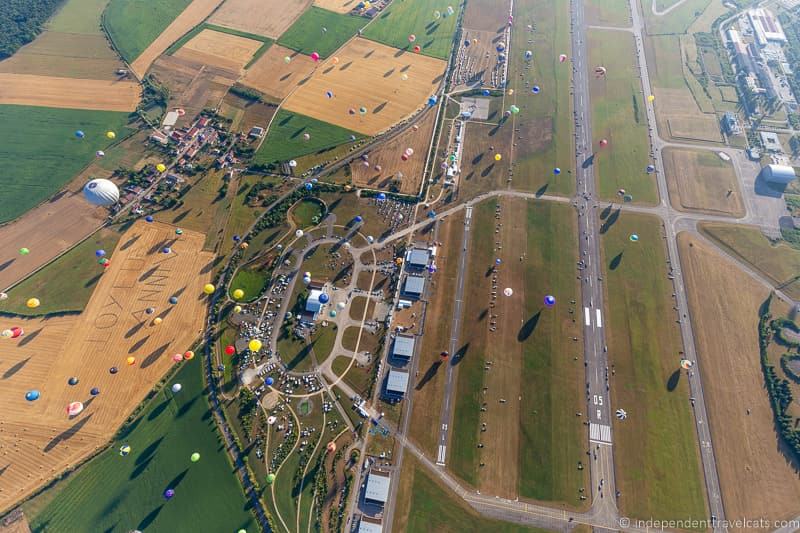 La Grande Ligne
As noted earlier, the Grand Est Mondial Air Ballons main mass ascent is called La Grande Ligne, or the Grand Line. The balloons line up in 2 or 3 long lines on the field and all launch into the sky within a 1 hour period.
It is during this early morning event every 2 years that the festival attempts to break the world record for the most balloons launched together within a 1 hour time period. The French festival holds this record, which is currently at 456 balloons which was set in 2017. In 2019, the festival organizers were hoping to launch 500 balloons as part of the Grande Ligne.
If you are familiar with the Albuquerque Balloon Fiesta, you probably know that they regularly have 500 hot air balloons going up in Albuquerque's mass ascensions. However, the world records only counts the number of balloons that go off in 1 hour. For safety reasons at Albuquerque, the balloons launch in two waves over about 2 hours during mass ascents.
The event was impressive and was fun to be a part of, since that happened to be the day of our hot air balloon ride. The morning was foggy when the first started to launch and the lines were so long, we couldn't see the end of the lines on either side from where we were standing. It is quite a spectacle!
We found out later that they did not break the record this year, that there were actually 456 balloons that launched that morning. The exact same number as in 2017, tying that world record. They didn't break the record, but it was still very impressive to see!
If you have a chance to go to the Grande Ligne event, I'd definitely go as it is normally the most impressive of the mass ascents. You may also get a chance to see a world record get broken!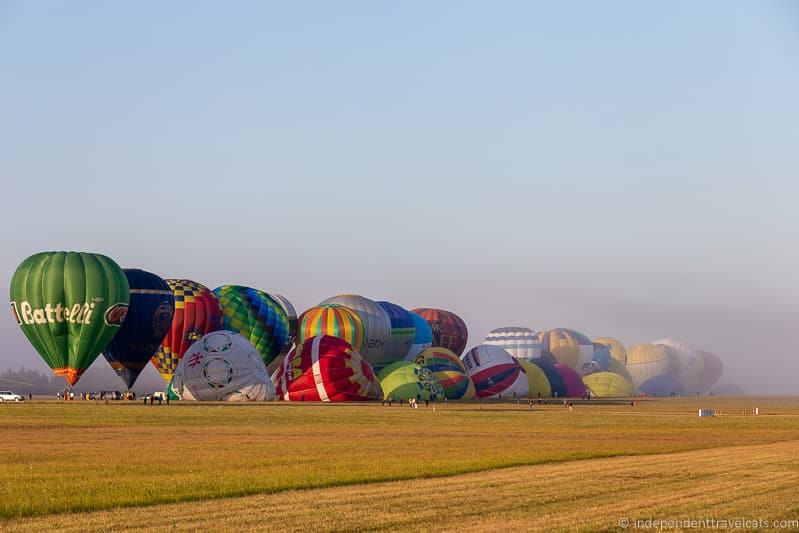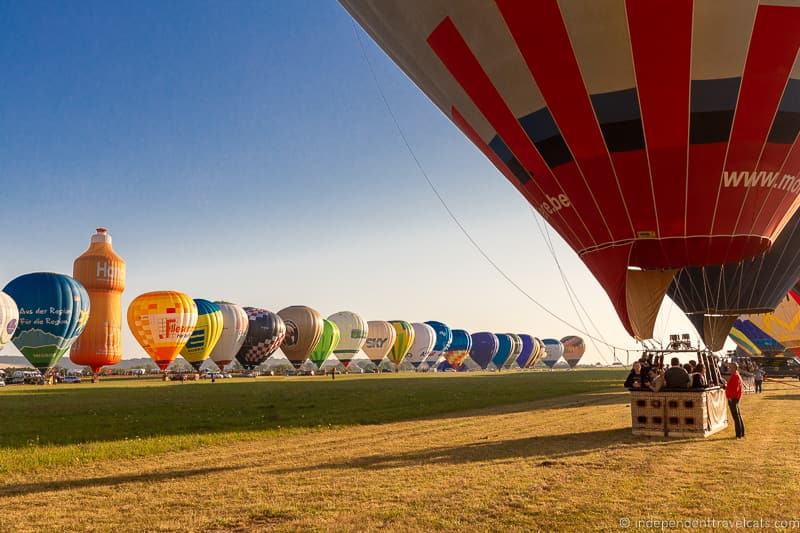 Evening Events
The main evening event at the festival is the Night Glow, but this only was scheduled to take place one time during the 2019 festival. So if you want to see this, be sure to check the schedule in advance and plan accordingly.
We, unfortunately, did not have a chance to attend the Night Glow, as it was scheduled for the evening after we left the region.
There are of course the evening mass ascents which are scheduled to take place daily. We attended an evening mass ascent, but these take off in daylight before sunset. These happen in the same way as the morning mass ascents as we described earlier.
Note if an evening mass ascent doesn't happen, the pilots will often do a Burners Song (burners and baskets with flames set to music) on these evenings instead once it is dark.
But other smaller evening events that were scheduled after the evening mass ascents ended were astronomy workshops and model balloon displays. So we did get to see these.
We recommend checking out the evening activities as this will then allow you to miss the main traffic rush that begins as soon as the mass ascension ends.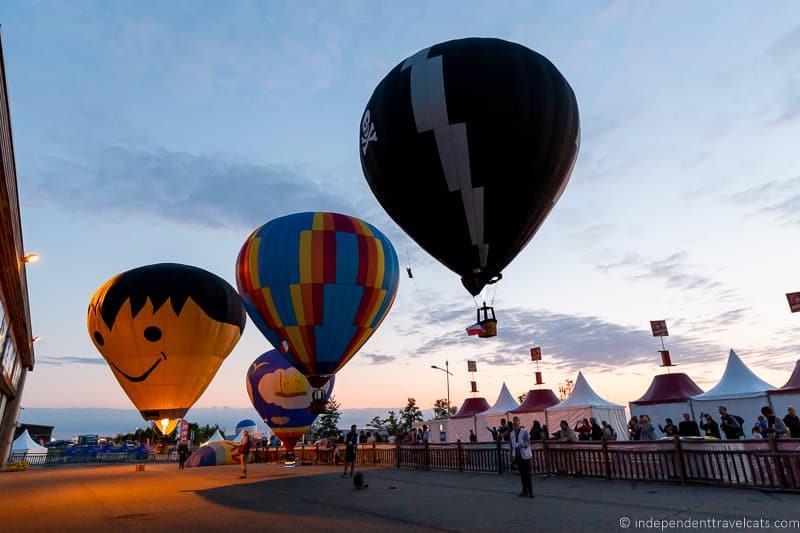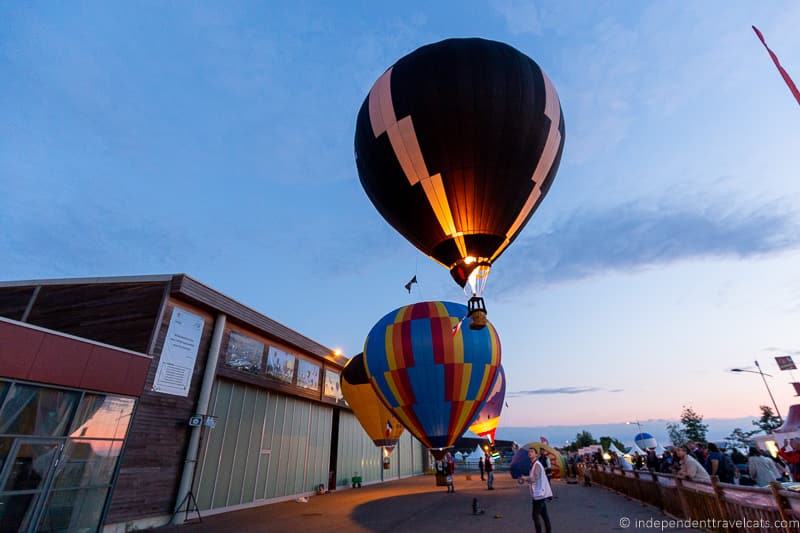 Some Tips for Making the Most of the Mondial Air Ballons Event
Here are some reminders and tips for making the most of your visit and time at the Mondial Air Ballons event!
If you want to go, start planning and booking early! It is one of the largest events in the region so it is a busy 10 days here. Be sure to book your lodging in advance and figure out how you plan to get here. If you want to take a balloon flight during the event, be sure to book it in advance.
We recommend that you plan your trip so that you are in the Metz area for at least a couple of days so you have the best chance to see the balloons. The hot balloon launches are very weather dependent and bad weather or strong winds cancel some of the events every year.
If this is your first hot air balloon event, you might want to learn a bit about the history of ballooning and how hot air balloons work before the festival. This can be particularly educational for kids and get them more excited. There are also educational workshops and other activities scheduled for kids during the event.
We recommend a visit to the AéroMusée, which is the small museum located at the airfield. The museum covers the history of hot air ballooning, ballooning events, and has a collection of art and souvenirs related to ballooning. One part of the museum also covers the history of the airfield, its time as the Chambley-Bussieres Air Base, and special information about American pilot and astronaut Michael Collins. Note some information is in French only. There was a special entrance price of only 1 euro per person during the festival.
Show up as early as you can for the hot air balloon events for the best experience. Weekends are much busier than weekdays and evenings are busier than mornings, so plan accordingly. If you are planning to attend a weekend evening event, it is recommended that you come in the afternoon and spend the day at the festival to be sure to get parking and avoid bad traffic.
Bring a light jacket or sweater and dress in layers, and be prepared for the possibility of rain. The weather was hot in July/August when we were there but it was still cool enough in the early morning hours that I wore a sweater. It can be chilly before sunrise and in the evenings after sunset.
Be prepared to take lots of photos! Pack your camera and all the things you need with it (extra batteries, charger, memory cards, etc.).
Although the hot air balloon events are the main attractions of the festival, be sure to check out what else is happening while you are there. There is often other entertainment happening in the afternoons and evenings.
Don't forget to plan some explorations of the area if you are in the area for a few days or more. This is a great area of France to base yourself for day trips around the region. Areas within day tripping distance include the Lorraine area, the Ardennes, the Alsace, the Champagne region, the Vosges, and Luxembourg.
If looking for a good guidebook, I'd recommend getting one to the specific region or to choose a country-wide one that includes the areas of Lorraine, Champagne, and the Alsace. Some of the France guidebooks don't cover or barely cover these regions. You can compare guidebooks here.
If you are looking for a good driving map, we normally use Michelin maps in France. You can see ones for the Grand Est here.
So that is our guide to the attending the Grand Est Mondial Air Ballons. If you ever have the chance to go to this hot air balloon festival in France, I would highly recommend going as it was a fun and colorful experience—and it's FREE!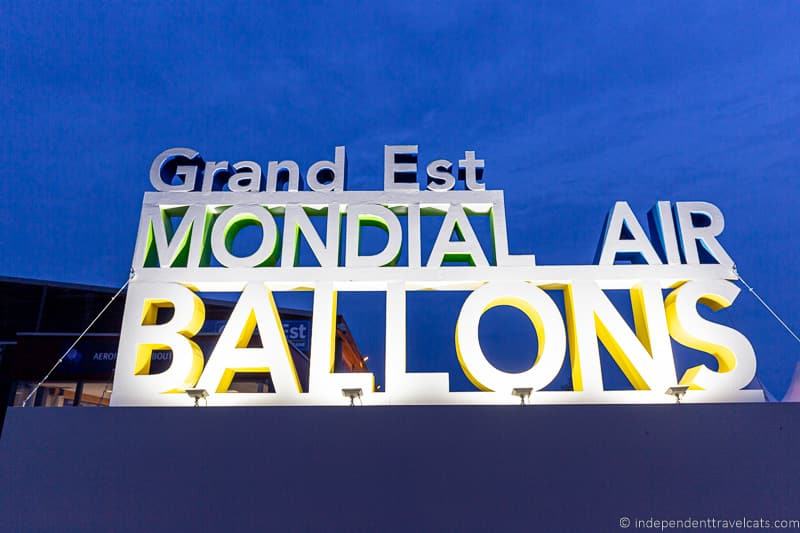 Have you been to the Grand Est Mondial Air Ballons? Or another hot air balloon event? If so, we'd love to hear about your own experiences and any tips you may have for future attendees.
If you are planning a trip and have any questions about attending the Grand Est Mondial Air Balloon or anything related to visiting this area of France, just ask us in the Comments section below. We love hearing from you!
PIN this post on Pinterest so you can find it again to read later: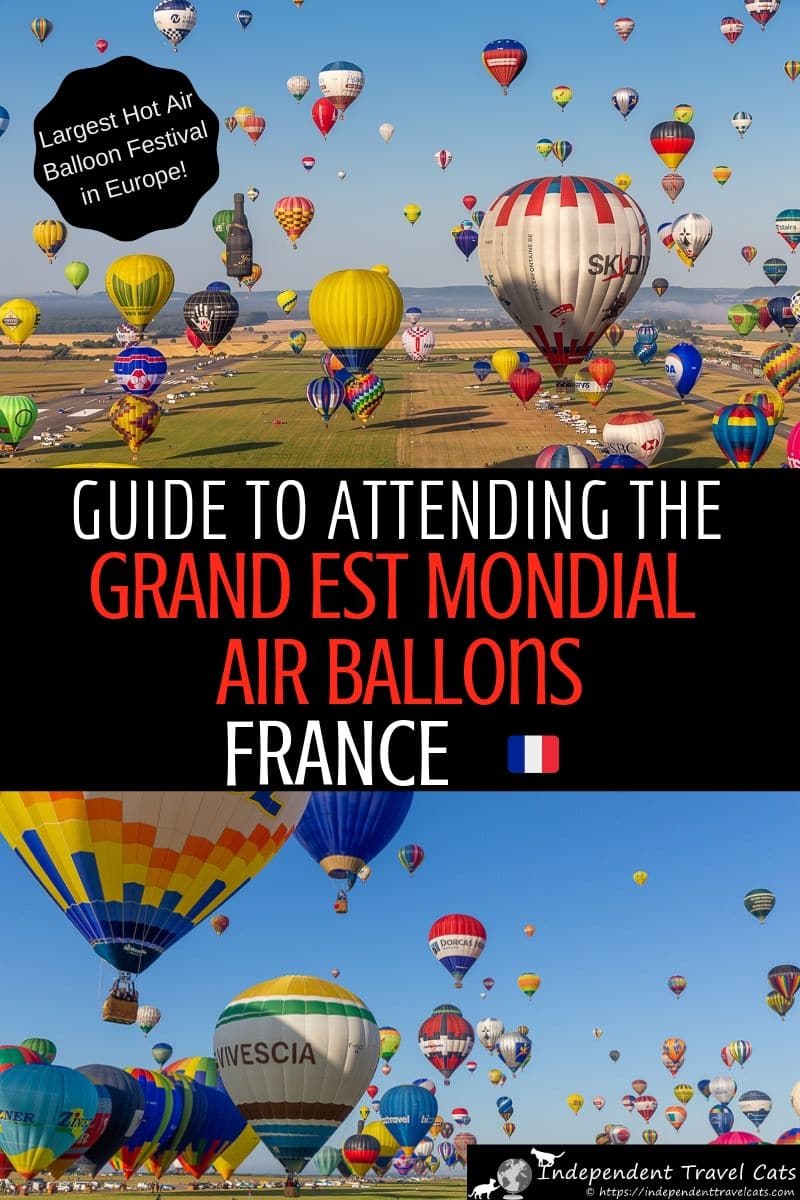 **Disclosure: We were provided with parking passes and access to the Press areas as media attending the event. However, we paid for our own transport, accommodation, food, and balloon flights. As always, this article contains only our own honest thoughts and opinions. You can read more in our Ethics Code about how we work**